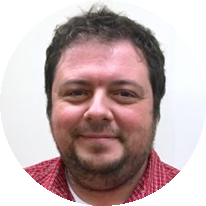 Dr. Joseph Baker has been elected as a national Councilor of the Council on Undergraduate Research, or CUR.  Professor Baker will serve a 3-year term as a Councilor in CUR's Chemistry Division, beginning June 2018.
Councilors compose the governing body of CUR.  They attend the annual business meetings held each June, serve on divisional and Council-wide committees where they participate in helping shape the future of undergraduate research nationally.
Councilors have been elected because they are leaders in the community or because they show unusual promise of leadership. They demonstrate this leadership in the Council by seeking solutions to problems faced by the broader research community.
About the Council on Undergraduate Research (CUR)
The Council on Undergraduate Research (CUR) is a national organization of over 13,000 individual and 700 institutional members representing all disciplines and over 900 institutions of all types.  The mission of the CUR is to support and promote high-quality undergraduate student-faculty collaborative research, scholarship, and creative activity.  CUR believes that the best way to capture student interest and create enthusiasm for a discipline is through research in close collaboration with faculty members.
For More Information