Research is the animating force of science—and of a School of Science education. Our students learn to be scientists by learning to do research. Overturning old assumptions. Revealing new knowledge. Sharing our discoveries with the scientific community in the conviction that the small victories of the lab accumulate into the major advances of science. Scientific inquiry drives undergraduate education in the School of Science, energizing our curriculum and defining our culture.
As research apprentices and junior collaborators, our students tackle authentic research questions with the potential to add significant insights to our body of knowledge. Through the many opportunities to conduct research, in and out of the lab, on and off-campus, our students not only develop the attitudes and aptitudes of the scientist, they learn to take responsibility, display initiative and creativity, and work collaboratively and productively as part of a team. These are skills valued well beyond the laboratory and across all scientific and mathematical endeavors.
So successful are we in integrating research throughout the undergraduate experience that the Council on Undergraduate Research recognizes TCNJ as a national exemplar for high-quality undergraduate research—one of only three institutions in the county to receive the honor.
Integrating Research throughout the Curriculum
Our curriculum is designed around scientific discovery, with research integrated across both classroom-based and laboratory courses. Guided by teacher-scholars who are influential scientists and mathematicians, students learn foundational research skills, from reading the primary scientific literature to mastering classic and cutting-edge research techniques using advanced instrumentation. Through these shared curricular experiences, students learn to work collaboratively on inquiry-based investigations, as they construct hypotheses, develop research proposals, and engage in the technical, investigative, and analytical skills of the scientist.
Our undergraduate researchers . . .
enjoy extensive faculty attention and hands-on practice, with a student-to-faculty ratio of only 13-to-1
learn professional skills, like collaborating on teams, writing papers, and presenting results
can get extra support to stay on track for research-based careers as Gateway Scholars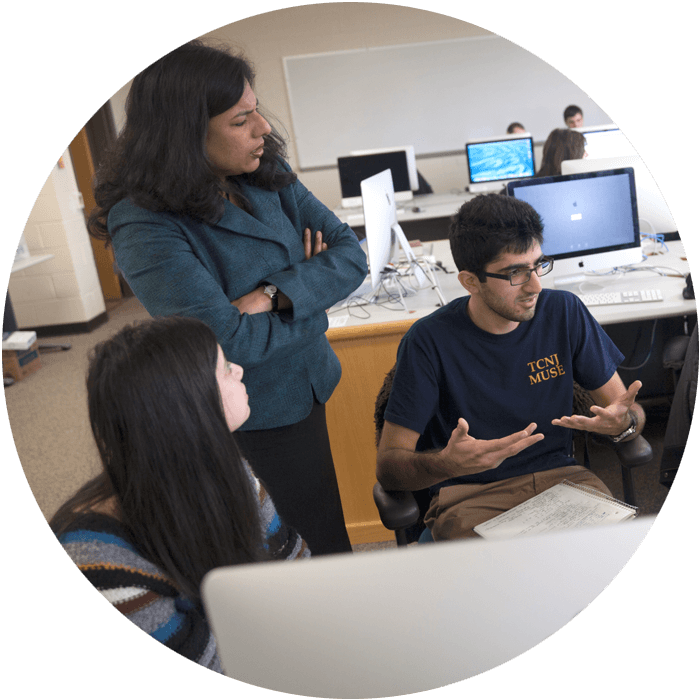 ---
Partnering in Faculty-Mentored Collaborative Research
Our students are strongly encouraged to conduct faculty-mentored research as part of their curriculum, choosing an independent project or a mentored internship in an ongoing research program. Students might run lab experiments using advanced instrumentation, or foray into the field to collect data and gather specimens. Close guidance from faculty mentors ensures that students take ownership of their research as junior collaborators, not passive observers. Each year, nearly half of our students contribute new knowledge to science through mentored research.
Our undergraduate researchers . . .
conduct faculty-mentored research during the academic year, over the summer in our MUSE program, or both
have full access—including their own lab keys—to our state-of-the-art research facilities and instrumentation
share their work in on-campus showcases like the Celebration of Student Achievement and at off-campus scientific conferences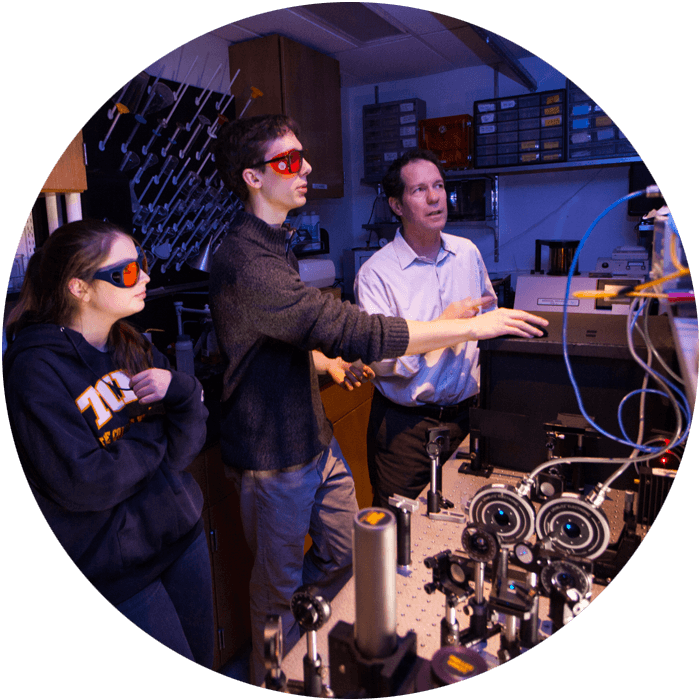 ---
Conducting Research Beyond Campus
With a strong theoretical foundation and extensive practical experience, our students have the qualifications to pursue outside research opportunities. Many land research-based internships at museums, universities, medical centers, industrial laboratories, and government agencies and research centers. Others choose a research-intensive study abroad experience, through international providers or our own exclusive partnerships. From National Science Foundation-funded positions to prestigious Fulbright and Goldwater fellowships, our students claim remarkable success in winning highly competitive research experiences.
Our undergraduate researchers have . . .
earned coveted research internships across the country and as far away as Taiwan and Kenya
won competitive REU, or Research Experiences for Undergraduates, positions at the University of Hawaii, UC–Berkeley, and others
been recognized for research excellence by the School for Field Studies and the Fulbright and Goldwater foundations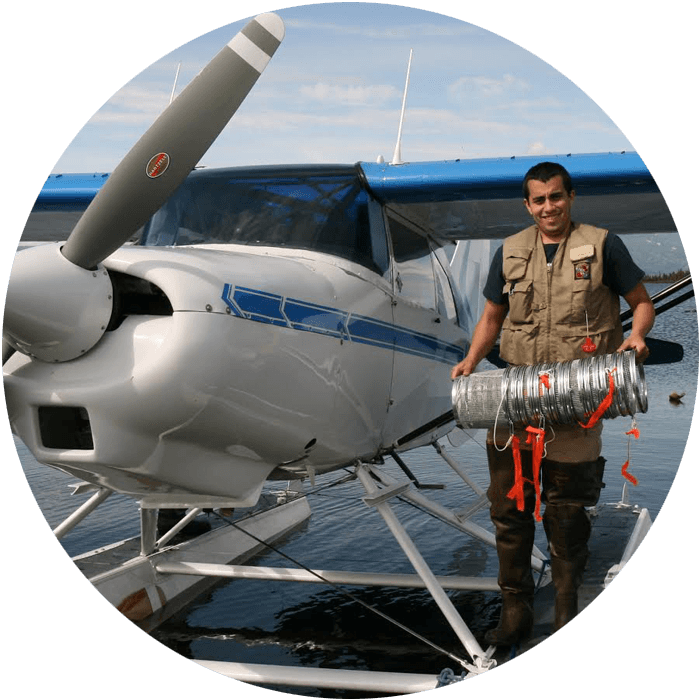 ---
Sharing Research with the World
As the science and math innovators of the future, our students learn more than the technical skills of research—they learn to navigate the entire research process. Working as junior collaborators with faculty mentors, our undergraduates write grant proposals, apply for research funding, publish papers, and disseminate their findings at scientific conferences, nationally and internationally. Our students create new knowledge and share it with the world, becoming experienced scientists and mathematicians well prepared for research careers and advanced study.
Our undergraduate researchers . . .
present their research findings at 120-plus scientific conferences a year, from San Diego to Barcelona
publish in peer-reviewed journals in such research areas as gravitational waves and synthetic gene design
earn research grants from major funders and conference invitations from respected professional organizations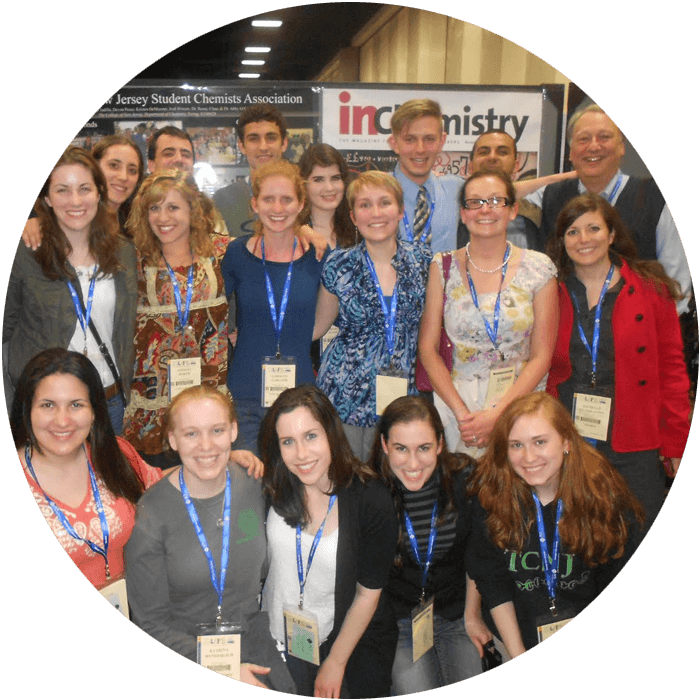 ---
Collaborating with Exceptional Teacher-Scholars
Our faculty members are world-class teacher-scholars who are passionate about working with undergraduates. They are also recognized as world-class scientists and mathematicians who earn awards and external grant support for their innovative research. Our students benefit directly, with expanded access to scholarships, research assistantships, and new instrumentation. More importantly, by collaborating with leading researchers in their fields, our students train as scientists alongside mentors who model the creativity that fuels intellectual and scientific breakthroughs.
Our teacher-scholars . . .
increased grant submissions by 500% and won more than $14 million in external research funding over the past decade
conduct research recognized in Nature, The New England Journal of Medicine, New Scientist, and other publications
earn invited appointments to national research foundations and deliver invited lectures at international scientific meetings