Science makes modern life modern, from plastics to antibiotics, from microchips to spaceships, from solar power to optical fiber. The true wonder of science lies in its capacity to solve problems that matter in our everyday lives. Scientists and mathematicians with the ingenuity to connect marvelously dissimilar spheres are the drivers of scientific innovation, producing solutions not only for the sake of science but also for the benefit of people and society.
That's why we challenge our students to explore the world around them, seeing both its problems and its possibilities, and then to connect the two through science. Already curious and enterprising, our students add their own interests to the mix, creating eclectic new connections by exploring the rich curricular and co-curricular life of TCNJ.
By breaking down the silos that block innovation, our students develop the fluidity to comprehend, connect, and communicate across multiple contexts. Our students graduate as lifelong learners, primed for success in team-based, solution-centered, 21st-century science.
Across Schools and Disciplines
Studying in a strong liberal arts-based college, our students learn to appreciate other disciplines and develop an affinity for integrating disparate elements into complex solutions—the hallmark of innovation. With access to seven wide-ranging academic schools on one close-knit campus, our students connect with ideas and inspirations from fields beyond the realm of science.
Our guest speaker series brings together an unlikely assemblage of experts—chefs, chief executives, and chemists; musicologists and entomologists; journalists, historians, and computer scientists; theologians and evolutionary biologists—who inspire students to think creatively about the remarkable connections among their disciplines and the world of science.
Interdisciplinary courses allow our students to learn with peers who think, work, and create differently. One novel course, for example, challenges students in computer science, music, mechanical engineering, and interactive multimedia to work collaboratively in teams to design robots that can conduct the TCNJ Orchestra.
One-of-a-kind campus events emerge from our collaborations with other TCNJ schools and units: a lecture and concert on the music of insects (School of the Arts and Communication); a molecular gastronomy lunch showcasing the science of cooking (Dining Services); an exhibit of artworks created with living plants (Center for the Arts).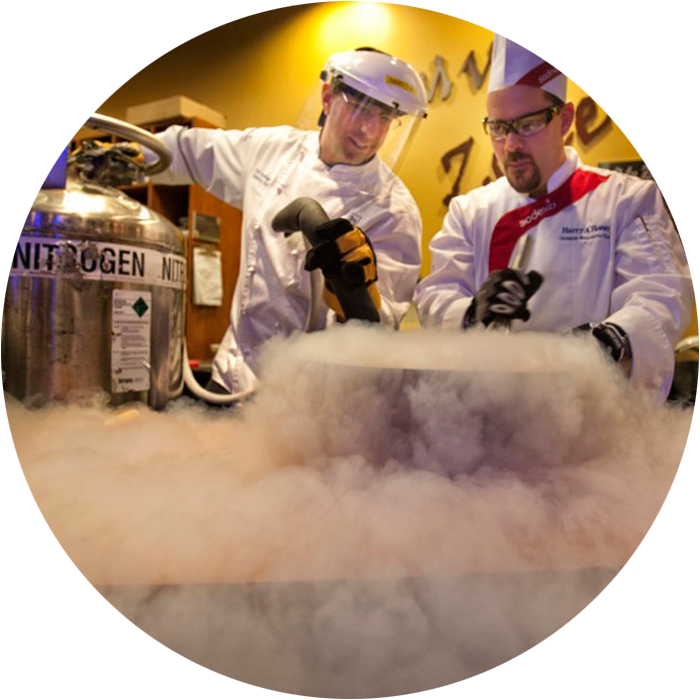 ---
Across Cultures and Communities
Solving problems that matter to people in their everyday lives—that's the work of science. The most effective scientists and mathematicians have the ability to connect meaningfully with all people across ever-changing contexts. We send our students out into the world, to see science practiced across cultures and to apply their own skills and knowledge for the benefit of people and their communities.
Community-based projects let our students work on real solutions for local clients like Habitat for Humanity, which uses a database created by our computer science students to keep track of brownfield sites.
Faculty-led short courses explore the places that revolutionized science—Germany for atomic physics, the Galapagos Islands for evolutionary biology—connecting our students with different cultural traditions in science.
Science outreach to schools connects younger students to the possibilities of college and STEM careers; recently, two of our students spent a year visiting high schools around the state as Governor's STEM Scholars.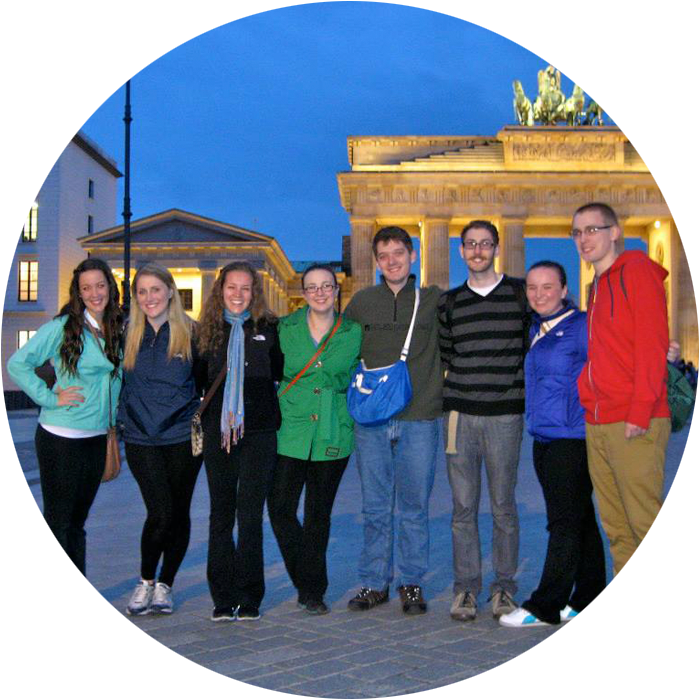 ---
Across Curricular and Co-Curricular Life
Will you spend all your time in the lab? Not a chance. Our students are an adventurous lot, eager to take advantage of everything TCNJ offers. Through campus involvement, our students pursue their diverse interests and apply science-based skills—like leadership, teamwork, and integrative thinking—to the new context of community life. It's a model for a productive and well-rounded life as a scientist and a citizen.
Clubs and organizations give our students—a physics major who loves swing dance, a chemistry major who heads the campus EMS squad—an outlet for their eclectic passions. Of course, science is covered, too, with science interest clubs, science honor societies, and student chapters of professional science organizations.
Athletics and fitness options abound, whether your forte is varsity athletics (science students include brother-sister tennis players and a cross-country Scholar-Athlete of the Year), sports clubs, or intramural sports. Or exercise both body and brain at TCNJ's full-service aquatic, fitness, and recreation centers.
Music and the arts intersect with science in surprising ways. Our students explore these connections through courses (the chemistry of color), museum exhibits (molecules that changed the world), and guest lectures (art and design in science). Science majors also perform in TCNJ's by-audition musical ensembles (Wind Ensemble, Chorale) as well as student-led musical and theater groups.
Student government and school-sponsored events ensure that science students have a hand in shaping campus culture. Our Student Advisory Board, for example, serves as a liaison between school leaders and students while also creating a college-wide science presence through events like our annual Week of Science.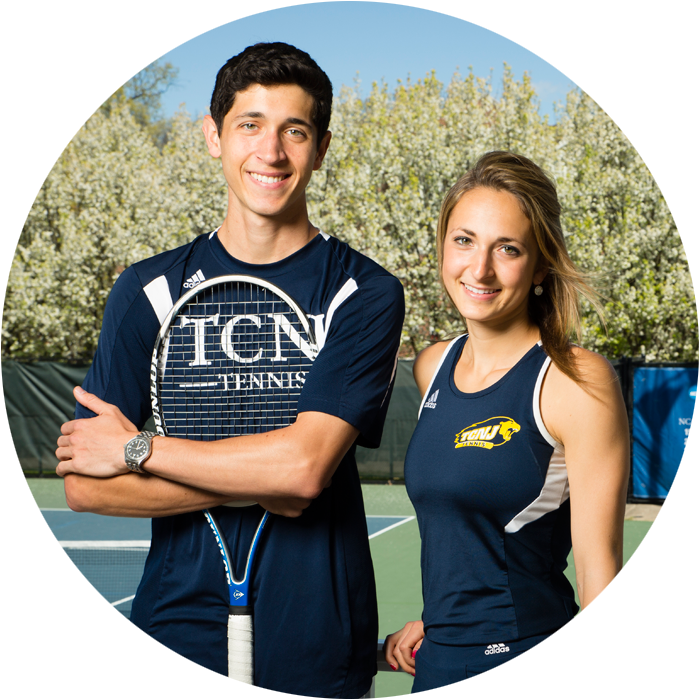 ---
Across Campus and Careers
Something great happens when academia reaches beyond its own sphere: ideas turn into innovations that much quicker. The School of Science is a locus for connecting scientists and mathematicians—from academia, industry, government, R&D, and non-profits—in productive partnerships that benefit people and advance society. And that opens new opportunities for our students, on and off campus.
Outside internships give our students life-changing and résumé-worthy experiences that match their professional and personal interests—and often turn into a job or grad study offer. Students land exciting internships in both industry (Merck, American Museum of Natural History, New Jersey State Police Crime Laboratory) and research (National Institutes of Health, School for Field Studies, Weill-Cornell Medical College).
On-campus colloquia and conferences bring influential scholars, scientists, and industry experts to campus, meeting and interacting with students. Recent guests include a chief science officer at Eli Lilly; executives from Novo Nordisk; an award-winning science journalist; and inorganic chemists gathered from across the region.
Celebration of Women in Science, an annual campus event, connects women across the science pipeline—high school students and their teachers; TCNJ undergraduates and their professors; alumni scientists and guest scientists—in encouraging one another to pursue scientific goals and careers.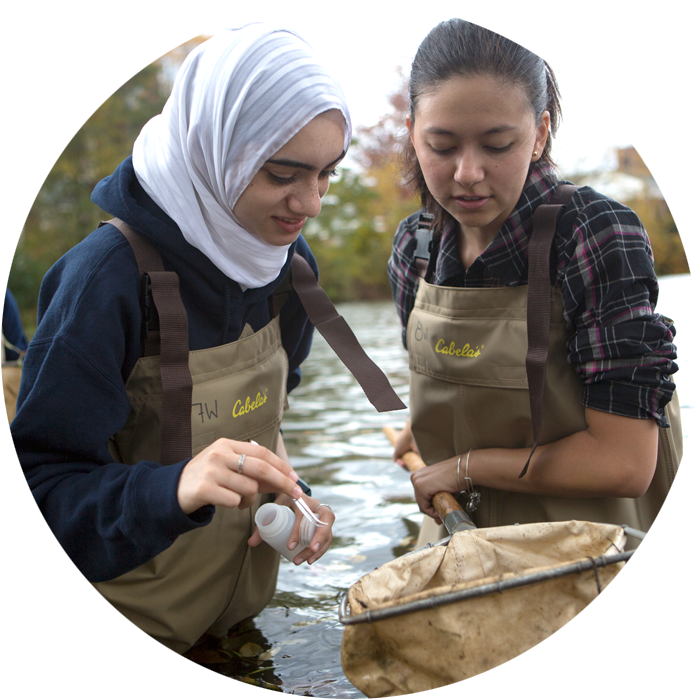 ---
Across National and Global Networks
Our hyper-connected world has sparked a revolution, allowing scientists to collaborate unhindered by time and geography. On-campus and overseas, we connect our students with the global science network. By experiencing science as an international endeavor now, as undergraduates, our students enter professional life at ease with a cross-cultural and cross-continental exchange.
Scholars of international stature visit our school, connecting students with the great minds and global impact of contemporary science. A few of our recent guests: the director of the Vatican Observatory; the first woman to win the Turing Award; and three Nobel Prize winners: an astrophysicist, a geneticist, and a geophysicist.
Professional conferences let our students share their work with national and international colleagues. Our student-faculty researchers traveled to more than 120 conferences last year alone and have presented across the country (New Orleans, Anchorage, San Diego, Denver) and around the world (Geneva, Barcelona, Canterbury, Seoul).
Exchanges with international universities allow School of Science students to study in science-intensive programs at our overseas partner schools—and vice versa. Physics students gravitate to our partners in Berlin, Germany, and Melbourne, Australia; mathematics students to our partners in Budapest, Hungary.