A Man of Many Sciences

For assistant professor of chemistry Dr. Joseph Baker, the field of science has always been about deep exploration. From organic chemistry to astrophysics to computational biochemistry, Dr. Baker has delved into various scientific topics throughout his career that have not only expanded his breadth of knowledge but also nurtured his passion for the discipline.
Dr. Baker began his academic journey in his hometown of Las Vegas at the University of Nevada, Las Vegas as a physics major. Yet, even as an undergraduate student, he began to participate in research outside of his particular area of study, working with an organic chemist, an astronomer, and a physical chemist. After earning his undergraduate degree, he then pursued his PhD at the University of Arizona with the intention of staying within the field of physics, deciding on a concentration in neutrino astrophysics.
However, his academic interests took a turn when a new chemistry professor – Dr. Florence Tama – gave an insightful lecture on computational biochemistry that inspired Dr. Baker to join her laboratory group. This area of study would become the primary focus of Dr. Baker's future research as an academic and as a professor.
"[In computational chemistry], we use computers to build models of proteins and then simulate the proteins," Dr. Baker explains. "These models, over the last fifty to sixty years, have demonstrated to be very useful for understanding the way proteins move, function, and interact with other molecules."
Having had the opportunities in college to explore many topics within the sciences, Dr. Baker says that he is able to recognize just how interrelated the subjects of physics and chemistry truly are. "I don't see the distinction between the two as such a sharp line," he says. "In my research, which is at the interface between chemistry, physics, and computer science, ideas and approaches from each of these areas come together to help us solve interesting biochemical problems. Having a physics background has given me a different perspective on chemistry that I try to convey to students in the classroom when I teach."
After graduate school, Dr. Baker ventured into a postdoctoral experience at the Center of Multiscale Theory and Simulation (CMTS) at the University of Chicago. He conducted research with a team of other top researchers in the fields of theoretical and computational chemistry and coarse-grain modeling of biological systems. "The collaborative nature of the group within the CMTS was really vital to stressing the importance of collaborative work to me," he says, "and nearly all of the research that I carry out is collaborative in some way with either other theorists or experimentalists."
The CMTS program also provided outreach opportunities within the Chicago community that exposed high school students to chemistry topics and careers and the particular research conducted by the postdoctoral research team. Not only was the postdoctoral experience where Dr. Baker learned the importance and value of collaboration, but it was also where he met his postdoctoral advisor and mentor Dr. Gregory Voth, with whom he continues to collaborate today.
Now a faculty me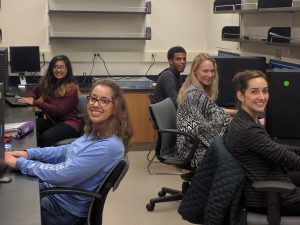 mber in the Department of Chemistry at TCNJ, Dr. Baker is finally able to take on the role of mentor himself. He runs the Baker Computational and Theoretical Chemistry Group, a team of students who work side by with side with Dr. Baker on scientific research during the academic year and summer. The Baker laboratory consists of two teams of students, with one group studying the Type IV pilin protein systems in bacteria that Dr. Baker himself researched in graduate school and the other exploring room temperature ionic liquids.
"Currently, students aren't exposed to using computers to do modeling and simulation very much," he notes. "So I think that there is a unique set of skills [in the lab] that they wouldn't get just within their course work."
Dr. Baker's favorite part of serving as a research mentor is watching the development of his students in the lab. "Over the course of six months to a year, they're coming up with their own ways to analyze data," he says. "They're learning how to use new software and methods and then showing me what they've come up with. It's really nice to see that growth in the students."
This summer, Dr. Baker was able to watch his students, Rebecca Goncalves and Mattheus De Souza, put their research and presentation skills to the test at the 15th Annual MERCURY Conference on Undergraduate Computational Chemistry. "It was a chance to go with my students while they were presenting and see them come into their own – getting up there and realizing that they are on par with their peers from other institutions and are able to talk about their work and defend it."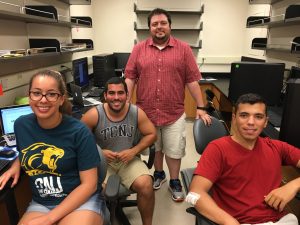 During the summer, Dr. Baker acts as a mentor for students participating in the Mentored Undergraduate Summer Experience (MUSE) Program. "MUSE is great because it gives the students the experience of what it would be like to work in a graduate lab where you're coming in every day for 8-9 hours and are really focusing on a project. It's similar to going overseas to immerse yourself to learn a foreign language. During MUSE, students become fluent in their research topic so they can say, 'Oh I can speak this language now by the end of the summer', and that really sets them up to be successful in future semesters of research."
In his laboratory, Dr. Baker strives to instill specific values within his students. "One of the things that I have found myself focused on with students is the idea that [in the classroom], in a typical textbook problem, there's always a right answer. And in research, it's a different kind of experience. The problems we tackle in the research laboratory are much more open-ended. So it's often the case that you can get yourself into these existential crises where you don't know how to proceed in research because you get into this mode of thinking: what's the right way to do it? [I try to] help students break through that barrier and just try things in the lab to see what works."
Having had many outstanding mentors over the years, Dr. Baker encourages students to make connections with their professors and collaborators. "It's hard to have a sense of perspective if you don't have other people around you to ask for advice once in a while. I think the mentoring relationship is one of the most important relationships you can get out of any level of education."
With this summer's research endeavors coming to a close, Dr. Baker says he looks forward to what the future holds, particularly for those rising seniors in his laboratory. "This is the first year where I'm pushing my own students out into the post-undergraduate world, so I'm looking forward to just seeing their success and what happens because I haven't gone through that yet."
One of these rising seniors is chemistry major Aleena Andrews, a student from the Baker laboratory who has also worked with Dr. Baker through the MUSE Program. According to Andrews, Dr. Baker has provided her with academic experiences that have enriched and enlightened her career aspirations.
"I was not certain of what to expe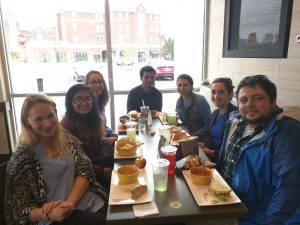 ct as I came to work in his lab," she recalls. "I planned to continue on to medical school after TCNJ. Initially, everything seemed intimidating. However, Dr. Baker's continued encouragement and guidance allowed me to study a really exciting protein system that sparked my interest in research and completely changed my plan for the future. I love that he encourages us to do our best outside of the lab as well. Recently, I was able to participate in a research program in West Virginia that I never would have found had he not informed me about it."
In addition to supporting his students after they graduate, Dr. Baker hopes to assist in developing the School of Science research program by continuing to endorse student-authored publications and student-led research. He is also excited for the High Performance Scientific Computing Center that will be coming to TCNJ's new STEM Building in the near future. This facility will provide more resources for his lab's computational studies and research.
But even the most brilliant and hard-working of scientists need an escape from the grind of their profession. For Dr. Baker, that refuge is classical music. Having played the violin in the Southern Arizona Symphony Orchestra in graduate school, he hopes to find a local community group to foster this passion. Until then, with the school year quickly approaching, Dr. Baker gears up for another semester of sharing his passion for computational chemistry with his students and with the School of Science community.
– Jordan Virgil
For More Information: