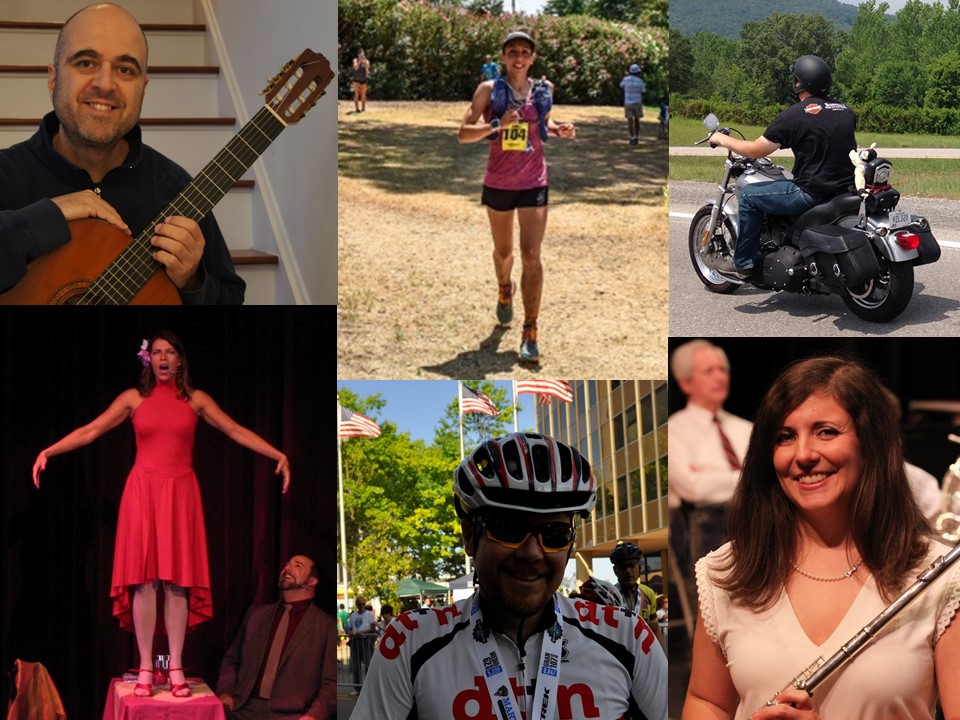 Faculty members in the School of Science can most often be seen in their academic realm – mentoring, teaching, researching, and inspiring the next generation of scientists and mathematicians. However, just as with any TCNJ science student, each professor is a well rounded, multi-dimensional individual with interests and hobbies outside of their classrooms and laboratories.
The same passion and drive that our faculty members exhibit through their teaching and research is often carried over into other interests; the brilliant scholar is also a singer, the charismatic professor is also a writer, the dedicated member of the TCNJ Science community is also an athlete, musician, or devoted volunteer.
The high standard to which our School of Science faculty members are held while at TCNJ is the standard they hold for themselves even when they are no longer in the laboratory or classroom. Their excellence in biology, chemistry, computer science, mathematics & statistics, and physics transcends their role as members of the TCNJ community. Whereas some are able to bring their eclectic interests to TCNJ and serve as advisors to clubs, others participate in local bands, athletic clubs, and more. Meet some of these faculty members below and discover what they are passionate about and how they balance their role as professors with these interests.
Profiles by Jordan Virgil '18 and Allison Marcino '17 
Artists, Musicians, and Performers
John Allison, Chemistry – Guitar, Keyboard, and Harmonica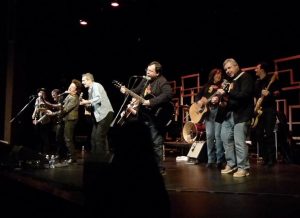 "If not now, when?" This question serves as Dr. John Allison's guiding philosophy when it comes to his life beyond the laboratory. Dr. Allison's passion for music is one that began developing as a child, but didn't come to fruition until recently. It wasn't until about forty years after buying his first instrument in fifth grade that Dr. Allison became truly passionate about playing and ultimately joined a "meet-up group" of like-minded musicians. "It was a friend in the group, Keith, who told me about one day when he had realized that he wanted to play and sing. Like everyone else, Keith was self-conscious, but if he didn't start now, when? So he just dove in." "I realized I was self-conscious for no need," Allison said, "and joined Keith in his 'old guy' philosophy. If not now, when?"
Dr. Allison's favorite part about being a musician is seeing how his passion can affect others in a positive way. Many of the groups he has been a part of have played in nursing homes and veterans' hospitals. Moments like these are Dr. Allison's favorite part about being a musician. Aside from the impact that music can have on others, another moment in Dr. Allison's career that he cherishes is the time his group got to play on stage with Willie Nile, one of their favorite artists. Dr. Allison himself even got his own microphone and had the chance to sing with him! This memory would never have formed had the group not hunted down a manager to ask to play with Willie Nile, something Dr. Allison wonders if he would have done when he was younger and had not yet adopted his "If not now, when?" philosophy.
Following his passion of being a musician may seem to be overwhelming for someone who is also a dedicated professor. But for Dr. Allison, the work of a professor isn't a grind. "Following your passions is in general, a healthy thing to do." Although he admits to not sleeping very much, Dr. Allison believes that following his passion, and inspiring others to do so, is immensely important. "Mastering your understanding of a difficult chemical concept is as rewarding as sounding good playing and singing in a small group. It's our job to demonstrate to students that they should follow their bliss. We should all want, as Sammy Hagar/Eddie van Halen says, The Best of Both Worlds."
Now, Dr. Allison is beginning a new band compiled of members who are all from that Meet-Up group. While debating a band name, he "wanted to name the band Rich and Old, but Rich is not going to be able to do it so perhaps we'll just be old." That concept of becoming old is something that Dr. Allison has come to really admire for what it can do to self-doubt. He believes that it's when you get old that, "you can really start to enjoy yourself. I know I'll be mediocre but I will just enjoy myself." From being a child listening to a handheld radio through one headphone to an adult musician singing and playing on stage with one of his idols, Dr. Allison has not only followed the evolution of music throughout the years, but evolved within the world of music himself.
Read more about Professor Allison. 

Joseph Baker, Chemistry – Violinist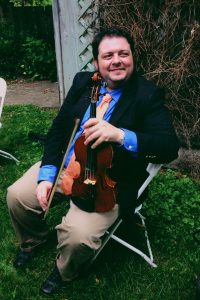 Dr. Joseph Baker, Assistant Professor of Chemistry and the "Man of Many Sciences", is also the Man of Many Talents. Along with being a scholar and researcher within the field of computational biochemistry, he is also a talented violinist. He started playing about twenty-four years ago and has since performed in venues throughout Arizona and Nevada, including Artemus Ham Hall at University of Nevada, Las Vegas. Throughout the years, he's played in Youth and Honors Orchestras and he was even the concertmaster of the Amadeus Chamber Orchestra for several years in Las Vegas. While he enjoys playing classical violin mostly, he played a variety of styles on an electric violin with his band while in graduate school.
Now, as a professor and mentor, Dr. Baker works with students in his Computational and Theoretical Chemistry Group. He loves working with students in a similar way to how he loves working with other musicians. "Research is most rewarding to me when done in collaboration with my students and other colleagues, just as music is rewarding when played with others." When asked about his violin playing, Dr. Baker remarked that "performing with other musicians is the best part. The connection between musicians in an ensemble is a special experience." Although it may seem quite difficult to balance the life of an extremely dedicated professor and a talented musician, Dr. Baker finds that playing violin can act as an escape from the stress. He believes that having a passion outside of your field of study "is important for everyone. Our experience is more than just one-dimensional, and connecting to the world around us in a variety of ways can be enriching."
However, Dr. Baker does not always view his two passions as entirely separate. He explains that, "playing music and conducting research are both creative processes. They're also both collaborative endeavors. At the same time, music and my specific work in computational chemistry are different enough where playing music provides a creative outlet for me in a unique way." Ultimately, whether Dr. Baker is playing Tchaikovsky's 5th Symphony with an orchestra or assisting students in using computers to do modeling and simulation, he approaches everything he does with passion and intelligence.
Read more about Professor Baker. 

Danielle Guarracino, Chemistry – Flutist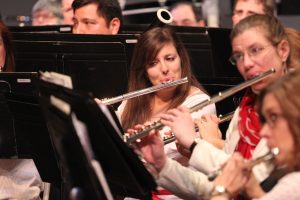 Danielle Guarracino is what many would refer to as a "jack of all trades."  Aside from being an associate professor of Organic Chemistry and Biochemistry here at TCNJ, she is also a writer, runner, and flautist.  The latter of these talents has been Dr. Guarracino's oldest passion, having started playing when she was in fourth grade.  She was first chair all through high school, playing in her school's concert band, marching band, and orchestra.  She even played in a pep band for a play one summer.  Now she has been playing for almost 27 years and performs with a local community band.  She enjoys playing all kinds of music from "pops music to classical to jazz."  She has "just always loved music in one form or another: playing music, putting your heart into the tones, and losing yourself to the beauty of it."
The passion with which Dr. Guarracino talks about her field of teaching and research is matched by how she discusses her love of music: "I just love music and I love performing in front of an audience.  I love the way the flute sounds and the challenge of some pieces, the way the music comes together, and how playing makes me feel."  To some, these two interests may seem completely separate.  However, the way in which one may approach a difficult problem in the lab or the classroom is not entirely different from how one may approach a particularly difficult piece of music.  Dr. Guarracino explains, "As a professor, I do well putting my mind to something, so with flute I feel like it isn't far from the way I attack science."  In general, Dr. Guarracino is "fascinated by the areas in which the two topics overlap."  She believes that the rhythm of music itself, from matching or staying on a pitch to counting beats, involves math and physics.  Although she admits that her passion for flute does not directly correlate with her passion for chemistry, she does observe many similarities between music and the sciences.
While it may seem difficult for such a devoted professor to have much time to dedicate to much else, Dr. Guarracino believes that it's important for professors to make time for their interests outside of the classroom.  "I feel a well rounded person makes the best educator.  Students are complex beings (just as we professors are!) and the best way to relate is through the fact that we aren't one dimensional!"  The way she explains it, both students and professors alike benefit from exploring passions that are outside the realm of science.  "It's positive to use 'both sides of your brain' and different ways of thinking.  I think it helps me approach problems in the lab from different angles and relate to people better."
Read more about Professor Guarracino.
Cathy Liebars, Mathematics – Theatre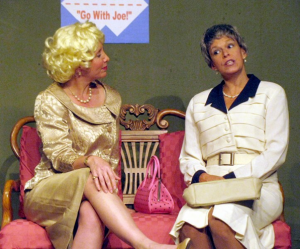 For associate professor of mathematics Dr. Cathy Liebars, all the world is a stage. Whether it's standing in front of a classroom of mathematics students at TCNJ or singing a showtune to a large crowd in a community theatre, she enjoys sharing her gifts with others.
Dr. Liebars first fell in love with theatre as a young child. "My mother took me to see the shows at our local high school when I was in elementary school, and I decided then that I wanted to perform when I got older," she remembers. "So, as soon as I started junior high, I joined the chorus and auditioned for the school musical."
She has been performing ever since, taking on the musical theatre roles of Eliza in My Fair Lady and Guinevere in Camelot in NJ and PA community theatres. "I like to immerse myself in the character of a play or song or dance and be that character; to feel the emotion of the score or the music," she explains.
Along with the performing aspect, Dr. Liebars also enjoys the familial bond that is characteristic of the theatre environment. "Sometimes you are in a show where the cast just clicks and the material is so difficult but strong that it really bonds the cast together," she says, referring to her experiences in the musical A Chorus Line and the play August: Osage Country. "It makes the whole experience so special that you know if you ever had the opportunity to do the show again, it would never be the same."
Although performing in community theatre does serve as a break from her work as a professor, Dr. Liebars says she recognizes a close connection between her two passions of acting and teaching. "When I teach a class, I make sure that I am prepared, just like in a show, you have to know your lines, songs, and dances. Then you have to engage the class, your audience. I think performing has helped to make me a better teacher."
Read more about Professor Liebars.
Steffen Marcus, Mathematics – Theatre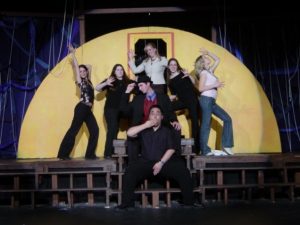 While the world of mathematics is often deemed to be vastly different from the world of the arts, Dr. Steffen Marcus would argue that theatre bridges that gap: "One could say that theatre and mathematics are very much related—that is, if you'll grant me the description of theoretical mathematics as the continual pursuit of better and better metaphors for describing universal truths."  Although mathematics eventually prevailed as his focus of study, Dr. Marcus was quite torn between it and pursuing a career in the theatre.  He became passionate about the theatre in high school where he participated in dramas, plays, and musicals held by his school's drama and music departments.  He even took an extra year of high school to direct the theatre festival play that they put on.  Dr. Marcus describes how he "fell in love with theatre for its embrace of "play" as an intellectual/social pursuit, and for the strong bonds formed among cast members."
This strong bond, the very reason that Dr. Marcus fell in love with the theatre in the first place, is what continues to be his favorite thing about it: "My favorite part always has been, and always will be, the sense of community made during a show's rehearsal process and run."  One of his fondest memories of such a bonding experience was rehearsing and performing in Mamet's one-act play entitled The Duck Variations with a friend.  Dr. Marcus remarks on how fondly he remembers those rehearsals.  Another highlight of Dr. Marcus's theatre career was directing the 2006 McMaster Musical Theatre production of Pippin during one of his undergraduate years of school.  Thus, aside from performing, Dr. Marcus directed and worked backstage for many productions as well.  During his graduate years he performed in many of Brown University's student theatre productions, stage managed many of their mainstage shows, and directed a fall outdoor performance of Romeo and Juliet for "Shakespeare on the Green."
Nowadays, Dr. Marcus enjoys being at a location that is convenient for enjoying the theatre scenes in both New York City and Philadelphia.  He finds going to the theatre to be a great way to take a break from his duties as a professor, despite it being nearly impossible for him to "turn off" his brain to academia.  Although he hopes to become more active in local community theatre soon, until then he sees teaching as a bridge between being a professor and his passion for the theatre.  For Dr. Marcus, "teaching has fulfilled a lot of my desire to be 'on stage,' though it's very different because I'm not acting a role anymore, except maybe that of a mathematician (a role I've been rehearsing for a long while now)."  In any regard, whether he is on stage, in front of a classroom, or doing research, Dr. Marcus is always known for giving a stellar performance.
Read more about Professor Marcus.
Dimitris Papamichail, Computer Science – Guitarist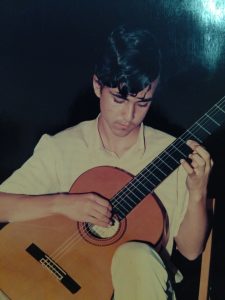 A dedicated and passionate professor here at TCNJ, Dr. Dimitris Papamichail has many other interests and talents outside the classroom, laboratory, and world of science all together.  One of these many interests is in playing classical guitar. "I started playing the guitar at the age of 9.  Once I started playing the guitar and learning musical notation and theory, I quickly became very involved and spent considerable amount of my time practicing."  Having grown up in Greece, Dr. Papamichail studied classical guitar, as that is the genre the music schools teach.  Although this genre was the main focus of his study, he plays many different kinds of music including "classical music of the previous five centuries, [along with] modern guitar music of the 20th century," and folk music from Greece, Spain, and Brazil.  Dr. Papamichail does not only study and play classical guitar, but performs as well.  He has, "performed in several concerts while in Greece, and a few concerts in the U.S. while at Stony Brook University, playing chamber music in small ensembles."
Dr. Papamichail has been playing guitar for about 35 years, since he was a child.  Although he cannot recall the reason why, when his parents asked him what instrument he would like to play, he immediately answered with the guitar.  For him, playing "used to be an everyday ritual for at least 15 years. At the age of 23, a year before coming to the U.S., I obtained my degree in classical guitar performance in Greece."  Dr. Papamichail would carry his guitar wherever he went and even bought a guitar just for trips in order to avoid endangering his concert guitar.
Dr. Papamichail believes that "everyone needs to be fulfilled in certain ways. Balance seems to me to be an important factor in healthy living, and a variety of interests can give some people their required balance."  As a computer scientist, teacher, and researcher, he is very passionate about all the work he does.  He has even made efforts to combine these passions with his interest in guitar, having "initiated a couple of research projects involving algorithms, my research area in computer science, with music and guitar playing in particular. One project aims to automate finger assignments to guitar pieces that are provided as input, such that fingers can transition as smoothly as possible. Another project has the objective to transcribe music pieces from certain instruments to the guitar."
When reflecting on his favorite guitar playing moments, Dr. Papamichail does not focus on large performances or moments in which he received a lot of praise, but simply remarks that, "most involve playing in company of friends, sometimes by the sea in Greece, singing folk songs, and watching my friends dancing to my music."  Clearly very humble about his talent, he recalls that a particularly fond event of his involved playing guitar at a Greek restaurant in Santa Cruz, California with a friend who plays as a professional musician.  "We had a blast playing for an audience that really appreciated the music. The atmosphere was great and at the end we did not accept a payment, but enjoyed an amazing meal and desserts!"
Read more about Professor Papamichail.
Athletes
Angela Capece, Physics – Ultra Marathon Running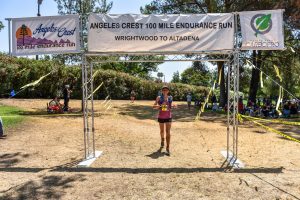 After a long week of work, Dr. Angela Capece can be found running trails spanning thirty miles or more that can take anywhere from 6 to 30 hours to complete, depending on the terrain and distance.  The Assistant Professor of Physics here at TCNJ runs ultra-marathons—races that are more often than not run on a trail rather than a road.  The minimum distance for an ultra-marathon is 31 miles, some going up to 100 miles or more.  However, as Dr. Capece explains it, this may not be as "ridiculous" a distance to run as it seems.
When asked about how one decides that they want to run ultra-marathons, Dr. Capece responded by explaining: "I don't think you just wake up one day and decide.  It's kind of just a slippery slope that you fall down."  She wanted to get into running for a long time.  In college, she assisted some friends in running an ultra-marathon and thought "if I ever want to run this distance I have to start somewhere."  She found success when she started a regiment that only required her to run 20 minutes. "Once you can run 3 miles, you work up to 6 miles. And you just keep pushing yourself to run longer and longer distances until it becomes natural to run for hours at a time. It really does take years, but you keep pushing yourself to run slightly longer distances and then all of a sudden one day you find yourself at the start line of a 100-mile race."
There are many differences between ultra-marathons and normal marathons, but for Dr. Capece the biggest one is that "when you get to the starting line of a 10k you know you're going to finish it.  There's no question.  But with these you get to the start line and you don't know."  On races like these that could last seventeen to thirty hours, anything could happen out on the trail.  "Your race can hinge on a logistical error that you made, like what shoes you wore or if you packed the right clothing, or ate enough early on in the race."  But to Dr. Capece, the physical, emotional, and mental strain of an ultra-marathon is all worth the incredible reward of finishing.  One of the many reason she loves this kind of running is "because it gives me the opportunity to see a lot of beautiful scenery very quickly.  It's really empowering in a way to be able to cover a twenty-mile distance and see a whole bunch of sites along the way. And you can do it in a morning."
Although managing being a runner and a professor may be difficult at times, Dr. Capece believes that having diverse interests and set goals outside of one's academic life is very important.  "I think in a way it's just good to be diverse in your interests and activities because they reinforce each other.  You'll always learn something no matter what you're doing."  She has personally learned a lot from running that she applies to her life as a teacher, researcher, and academic.  "Doing these long runs, you're standing at the start line and it feels like this huge daunting task but you just keep chipping away at it and all of a sudden you're done.  It's the same thing in your work when you have a big task such as to write a proposal or create a new class.  These are big things, but the hardest thing about it actually is starting it.  It doesn't matter how long the run is the hardest part of any race is putting my shoes on and starting it."
Read more about Professor Capece.
Amanda Norvell, Biology – Marathon Running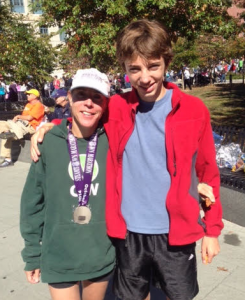 If she's not in the classroom or laboratory, it's likely that Dr. Amanda Norvell can be found out running.  The biology professor may be training for a marathon, mulling over an activity for class the next day, analyzing an experiment she is conducting, or a combination of all three as she zooms along.  Dr. Norvell's passion for running began when she was a teenager. "I ran in high school and for 3 years of college.  It was a really important part of my life then; I enjoyed competing and being part of a team."
However, as she "transitioned from college to graduate school, my schoolwork and lab work took up nearly all of my time.  Looking back, I wish that I had kept running, as I now recognize that running helps me to maintain my sanity and keep a healthy balance in my life."  Although running seemed to have faded from her life, it would soon return and she would approach it as passionately as ever.  "On my younger son's fourth birthday I woke up and wanted to go for a run.  My husband and I drove down to TCNJ and I ran a very slow mile on the track — I quickly picked it up again and I ran my first marathon in the spring of 2010.  Since then I have finished 15 marathons."
Clearly a gifted and dedicated runner, there are many aspects about the activity that Dr. Norvell enjoys.  "I enjoy pushing myself and competing against the clock, there is nothing like the physical exhaustion of a really hard run. I have set some very ambitious time goals for myself, and I think it is really good for my sons to see me work hard and consistently to try to reach for them."  She even qualified for and ran in the Boston marathon in both 2012 and 2014.  She describes these marathons as her favorite running experience as the crowds are in a constant roar, encouraging the runners and keeping the energy level extremely high.
Although it may seem near impossible for such a dedicated professor to find the time to give to running that Dr. Norvell does, she explains that there are ways in which her work as a professor at TCNJ and her passion for running are interconnected.  "Long distance running can involve a lot of time on the roads or trails alone and I use this time to think about my work- I think about my lab and what is going on there, I can plan experiments and think about what our data may mean.  I also find that I like to 'mull things over' for my classes; for example how to teach a particular topic or trying to design a great exercise or problem set for my students to tackle, and I frequently do this thinking when I run solo."
Ultimately, Dr. Norvell believes that running is not just a hobby, but something that plays a key role in her life.  "I think it is a matter of finding the balance that works well for every person.  For me, I think more clearly and work more efficiently when I have the outlet of running."
Read more about Professor Norvell.
Jim Bricker, Biology – Fencing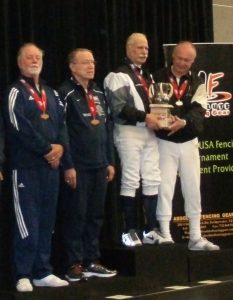 If you're a student at TCNJ, perhaps you know Jim Bricker as a professor.  Having received his PhD in Biochemistry from The State University of New York – Buffalo, Bricker now teaches Microbiology and Nursing Microbiology here.  However, for students at TCNJ, there is another realm in which to know Dr. Bricker:  fencing.
Dr. Bricker not only serves as the faculty advisor for the Lions Fencing Club on campus, but he is a talented member of the Bucks County Academy of Fencing, as well.  He has been fencing for around 54 years now.  In fact, he competes on the national level, having won the USA Fencing National Championships in the 70+ Foil as a competitor on the Veteran World Championship Team in 2015 and 2016.  However, Dr. Bricker will tell you that "there are many other things that happen [in fencing] that are almost equally enjoyable" to winning.
The Foil is not the only one of the three competitive scenes of fencing in which Dr. Bricker participates.  The options for which scene a fencer competes in corresponds with the types of weapon they use while fencing: Foil, Épée, or the Sabre.  The Foil, with which Dr. Bricker won the National Championship, weighs under a pound and is descended from the 18th century short sword that was used by many gentlemen of the time.  The other category that Dr. Bricker competes in is the Épée.  The Épée is the largest and heaviest of the three weapons used in sport fencing.  The Épée and Foil are more similar to each other than either is to the Sabre; however, when competing with an Épée the entire body is considered a valid target area.  Both of these categories in which Dr. Bricker compete require an impressive amount of concentration, speed, and accuracy.
Fencing is only one of many of Dr. Bricker's passions beyond the laboratory.  He enjoys other active activities such as camping, kayaking, and cross-country skiing.  However, when it comes to fencing, Dr. Bricker remarks that "it's fun and clears your mind."  Such an activity can surely seem helpful given the demands of being a professor.  Yet, Dr. Bricker not only finds the time to be the faculty advisor for the TCNJ Fencing Club, but to excel in his passion of fencing on a broader scale.
Read more about Professor Bricker.
Curt Elderkin, Biology – Biking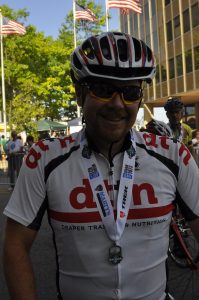 While in the laboratory, Dr. Elderkin's research interests include population and conservation genetics of freshwater mussels, evolutionary ecology of freshwater invertebrates, quantitative genetics of environmental stresses, and population biology, ecology, and physiology of invasive species. Yet the same passion with which he applies to his research is carried over into an interest outside the laboratory: biking.  His passion for biking actually began to develop when Dr. Elderkin had no other form of transportation to get to work.  He rode to his job as a lifeguard to the pool five miles away every day.  To get a bike, he "went to a guy nearby who just had a pile of bicycles in his front yard, and if you picked one out he would fix it up and sell it to you.  I picked a reasonable 10 speed and used that for several years."
It wasn't until Dr. Elderkin's family moved while he was away at college that he began to really became passionate about biking.  His younger brother and father would bike in the Metro parks around Cleveland.  When Dr. Elderkin would return from school, he would often go with them and he quickly discovered a real love for it.  "My favorite part about biking is that you actually see and experience the world around you.  You are really out in the world, unlike a car where you are kind of insulated.  You have the time to look around and see everything and experience things in a unique way that you don't get from driving."  Now, Dr. Elderkin has participated in many bike races.  His favorite race is the NJ Gran Fondo, a 100-mile course that has 9,000 feet of elevation change throughout the race.  A race that long is called a century and Dr. Elderkin loves training for and biking in them; he has even ridden in one race at least once a year since 2005.
Being as dedicated a professor as he is, it may seem difficult to find the time to dedicate to biking.  Yet, Elderkin explains that biking can complement his work quite nicely.  As a professor, "you take a lot of [work] home with you at night, because we can (and do) work at home as well.  For me it is just nice to have some time to forget that for a little while. I have to be really focused to forget about all of it and biking keeps my mind on other things for a short while."
Although biking can help Dr. Elderkin direct his mind away from his work for a bit, he stresses that he is extremely passionate about all he does here at TCNJ.  In fact, it does not surprise him that so many other professors have passions outside of the classroom as well. "I think to be a professor you have to be a very dedicated person with a lot of patience, a thick skin, and plenty of tenacity.  You can't just shut that valve off after you get a job; it becomes part of your work ethic, and professors here at TCNJ work extremely hard to help give students the best possible education.  But it also bleeds over into other parts of your life [like] your hobbies.  Academics are passionate and dedicated people; otherwise you'd drop out of the process somewhere along the way."
Read more about Professor Elderkin.
The Great Outdoors
Nathan Magee, Physics – Gardening
As a research mentor to his students in his Experimental Cloud Physics Laboratory, professor Nathan Magee spends much of his time looking towards the sky for inspiration. But outside of the laboratory, Dr. Magee enjoys turning to the earth to experiment in a new way by cultivating the various plants that grow in his home garden. "I have always enjoyed spending time outside and getting my hands dirty," he says. "I'm not a great gardener by any means, but I do especially enjoy growing and making food from our own land."
In Magee's home, tending to the garden has become a pastime for the whole family to enjoy. "It is something I enjoyed doing with my parents, and I think it is a nice way to connect and teach my two kids," Dr. Magee says. "It's fun, healthy, relaxing, empowering, and it tastes good. My wife (and TCNJ alum and former faculty member), Dr. Maggie Benoit, is also an avid flower gardener."
One of the most rewarding aspects of caring for the garden, according to Dr. Magee, is the abundance of fresh foods that he and his family can enjoy. "Tomatoes, hot peppers, herbs, peaches, raspberries, Meyer lemons, and maple trees are some of my favorites," he says.
Dr. Magee notes that while it can be challenging to juggle all of his many roles as parent, husband, professor, scientist, and gardener, he says that all of these interests create a healthy balance that brings energy and creativity to his work at the School of Science. "It's important to model a sustainable and balanced life to TCNJ students," he explains. "We want to show our students that faculty truly value curiosity, lifelong learning, and the pursuit of wide-ranging interest, and that an academic life can be a potential avenue for a rewarding career."
But while gardening does provide Dr. Magee with a moment away from his work as a physics professor, it is often difficult to completely remove the scientist hat. "I can bring some of my experimental skills into the garden, and I enjoy making observations about nature that I can try to use to come up with creative new experiments."
Read more about Professor Magee.
Aigli Papantonopoulou, Mathematics – Travel and History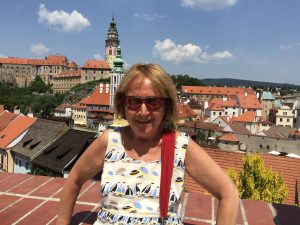 Having come to the United States to study when she was eighteen, Dr. Aigli Papantonopoulou has since become very passionate about learning about other cultures and travelling to other countries.  The Greek native has been to many different countries around the world.  "I have travelled mainly in different countries in Europe though I have also been [to] Egypt (where I was born), Lebanon, Israel and Turkey, so I am very familiar with the life in Eastern Mediterranean countries. In Europe I have visited France, England, Italy, Germany, Denmark, Sweden, Switzerland, Hungary, Holland, Malta, Cyprus, and most recently the Czech Republic."  While in other countries, she really loves to get a sense of what it would be like to walk a day in someone of that country's shoes – almost literally.  "I am a great walker so wherever I go I walk everywhere; I literally walk all day during my trips. I also love watching people and I get an impression of people's daily lives elsewhere."
Dr. Papantonopoulou's passion for traveling is very closely tied to a passion for reading about the histories of other countries.  "Before I visit a new country I get some history books to read to learn the past of that country. It is important to know something about the past of a country to make some sense of the present."  Her readings help her to understand the history of the country she is visiting and to relate to the people of that country better.  "Last summer I read three books on the history of Germany to help me understand present day Germany.  My travels and my history readings are very interrelated. I want to understand the people I see and meet [on] my trips."  Understanding the people of another country, both past and present, is very important to Dr. Papantonopoulou.  It is perhaps this desire to understand many different peoples that reinforces a desire to be well informed about the rest of the world.  "It is very important for me to be aware of what is happening in the world. I read (online now) a couple of newspapers almost daily. Being a teacher, you want to feel that you are part of the world we live in."
The relationship between her passion for travelling and reading and her passion for mathematics is one that Dr. Papantonopoulou describes as supportive.  "Mathematics and teaching mathematics is my day time activity. History is my relaxation activity. One reinforces the other."  Dr. Papantonopoulou believes that, indirectly, "studying history strengthens my amazement of mathematics.  Its theories persist and survive for thousands of years. They are not affected by wars, revolutions, invasions, or other disasters."
Read more about Professor Papantonopoulou.
Keith Pecor, Biology – Motorcycling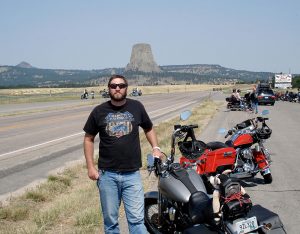 At the end of a long day of teaching, professor Keith Pecor can be found zooming on his Harley-Davidson down Route 29 along the Delaware River. For Dr. Pecor, motorcycling is more than a mere method of transportation to the TCNJ campus. "It is a complete change in perspective from driving a car and provides a unique sensory experience," he says. "Riding, especially along rural roads, is a combination of wind and smells and freedom that is hard to describe."
In the Pecor household, motorcycling is somewhat of a family affair, with Dr. Pecor getting on the back of a motorcycle for the first time as a young child. "My late uncle was a motorcyclist and a fixture at our house.  It was always a good day when Uncle Jack arrived on his Harley because he would take my siblings and I on short rides around the neighborhood. In hindsight, I am sure that he rode rather slowly to appease my mom, but it didn't feel that way at the time."
However, because of his demanding schedule as an ambitious student, it was not until 2007 that Dr. Pecor learned how to properly ride the motorcycle on his own. In 2011, he purchased his bike of choice, a Harley-Davidson, just like his Uncle Jack.
One of Dr. Pecor's favorite motorcycling experiences was participating in the Annual Sturgis Motorcycle Rally in South Dakota in 2012 with his father. As part of the event, they visited many famous landmarks such as Mount Rushmore, Badlands National Park, and Devils Tower. Dr. Pecor and his father even met celebrities R. Lee Ermey of Full Metal Jacket and Toy Story and Mike Wolfe of American Pickers.
With the demands of being a professor and Chair of the Biology Department, Dr. Pecor says that having a passion outside of academia is incredibly rewarding. "Motorcycling is a nice escape, but it also complements my work.  In Zen and the Art of Motorcycle Maintenance, [author] Robert Pirsig compares riding to fishing, in the sense that both pursuits allow for deep thought. I find that many of my better ideas originate while on my motorcycle."
Read more about Professor Pecor.