Exploring mysteries, positing answers, reporting findings: Sparked by the intellectual explorations of the lab and the classroom, our students develop a perpetual thirst for new ways to learn and discover. Research, interdisciplinary courses, colloquia, and speaker series, poster sessions, student clubs and organizations, social events from star-gazing nights to receptions with visiting scholars: Opportunities like these allow our students to be not only participants but creators of our dynamic learning community.
Ready for new explorations, our students find enormous opportunities in the School of Science. We cultivate a dynamic, undergraduate-focused learning environment, with new outlets for the study of science and new opportunities to pursue eclectic interests and passions. Our students rise to the challenge, integrating curricular, co-curricular, and off-campus experiences that deepen their intellectual journeys.
By making connections across and beyond the curriculum, our students learn to engage the multilayered, multi contextual demands of 21st-century innovation. Our students graduate as scientists and mathematicians who are thoughtfully and deeply engaged with the world—and fully prepared to make bold strides in it.
Intellectual Life
Our scientific community is both academically rigorous and personally supportive, emphasizing the excitement of scientific discovery and the critical contributions of our students—as scientists and mathematicians—to the life of our school. With no graduate program, the School of Science offers our intellectually adventurous undergraduates the opportunity to step into the advanced scholarship roles that are more commonly reserved for graduate students.
Serving as junior collaborators in faculty-led research programs, our students become confident in their scholarship and comfortable in intellectual exchanges with their faculty mentors. Soon, they are deeply engaged in our academic community, seeking new opportunities to grow as scholars.
As a valued contributor—rather than a mere participant—in the intellectual life of our school, you might:
co-author, publish, and present your research. Last year alone, our students traveled to more than 120 scientific conferences, nationally and internationally, to share their scholarly work.
grasp the workings of great minds. Our colloquia series features incredible guest speakers—today's drivers of scientific innovation—sharing bold ideas with students and faculty in intimate settings.
seize an academic challenge. At our annual hackathon, for example, 100+ student contestants from around the region vie to turn innovative ideas into workable apps—in just 24 hours!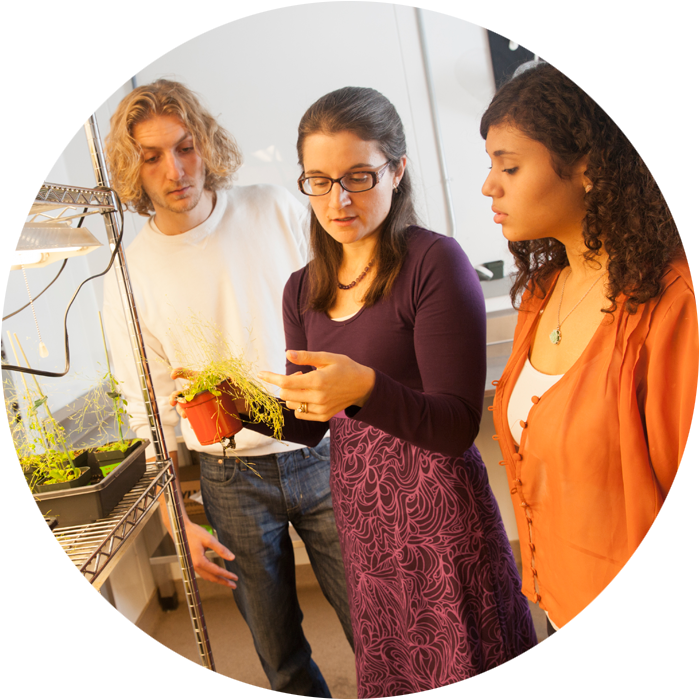 ---
Curriculum and Research
Our formula is simple—and successful. Integrate small classes, attentive faculty, and hands-on research to create deep engagement in learning. Our average class size is only 20, giving our faculty of influential teacher-scholars the freedom to devote personal attention to each student. And we design our curriculum around research, starting with first-year courses so that one-on-one faculty guidance in the lab can foster close student mentorship across the entire undergraduate experience.
With this foundation, our students develop the confidence to tackle progressively more demanding challenges. In any given year, nearly half of our students pursue on-campus research, through independent projects, student-faculty collaborations, and summer MUSE internships.
Rich and varied, our curriculum inspires you to individualize your intellectual pursuits, with opportunities that include:
courses that educate and innovate, by incorporating travel, field experiments, cross-major student collaboration, or surprising multidisciplinary mash-ups (chemistry plus cuisine, for one).
an active student-research community, including the student-run Journal of Student Scholarship and the campus-wide Celebration of Student Achievement event.
project-based learning with real-world applications. Our iPics students, for example, work in small groups to tackle applied research problems in computational and mathematical science.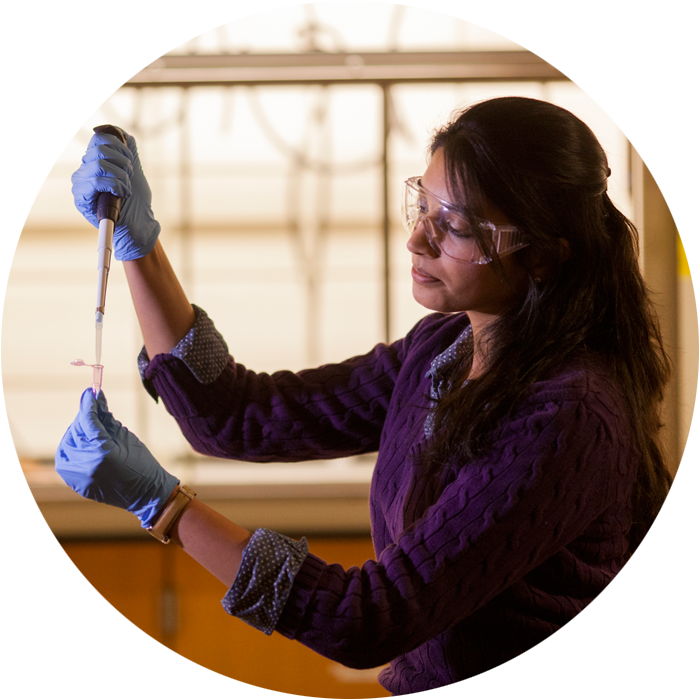 ---
Student Life and Leadership
When our science students leave the lab, they take their drive and curiosity with them, venturing into all the action of student life at TCNJ. Our students are varsity athletes and campus leaders. They organize events, run student government, and serve our local communities. They explore (and create!) art, music, and performance at first-rate campus venues. They play club and intramural sports and work out at our fully equipped aquatic, fitness, and recreation centers.
With 150+ student clubs (including science honor societies, science interest clubs, and student chapters of professional science organizations), we give students unlimited opportunities to learn and to lead—and have fun doing it.
You get valuable experience in integrating your interests and adapting your science-based skills—from collaboration to integrative thinking—to new contexts when you:
spend a night under the stars on Quimby's Prairie (with friends, blankets, hot chocolate, and, of course, telescopes) courtesy of our Astronomy Club.
organize our annual Week of Science, sharing the marvels of science with the entire TCNJ community, as a member of the School of Science's student clubs and organizations or our Student Advisory Board.
board a bus to MoMath—New York's hands-on National Museum of Mathematics—in a road trip sponsored by our Mathematics & Statistics Club.
amaze kids with bubbles and dry ice—and help spark a love of science—in visits to local elementary schools with our Student Chemists Association.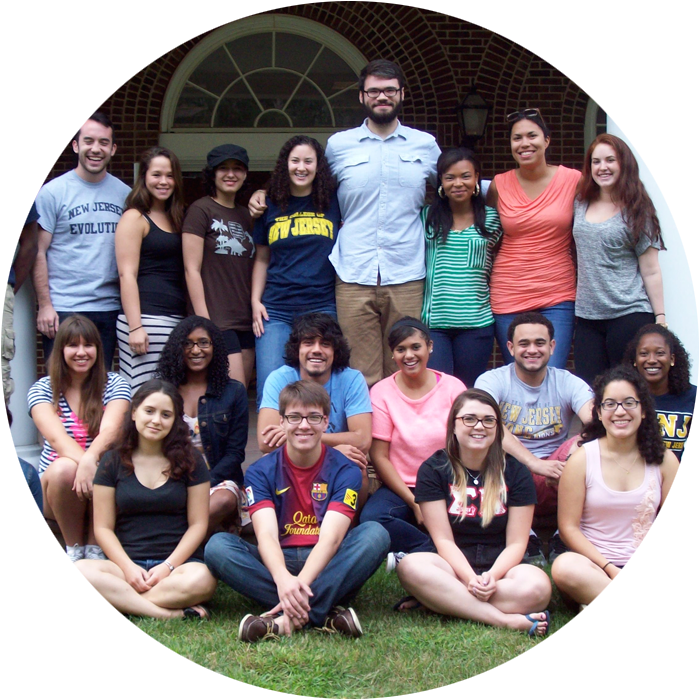 ---
Collaborative Learning Spaces
What's our formula for a physical environment that supports deep student engagement? Great labs, plus great access, in spaces designed to encourage collaborative learning. Our modern facilities include the kind of high-caliber labs and state-of-the-art instrumentation often found only at much larger universities.
Entrusted with their own keys, our student researchers get 24/7 access to tremendous research facilities. (At large research universities, spaces like these are often reserved for graduate students and postgraduate fellows.)
As a School of Science undergraduate and a valued contributor to a scientific community that is pushing the boundaries of knowledge, you have full access to:
dedicated science buildings clustered around a central plaza. This deliberate design encourages cross-disciplinary collaboration by ensuring that potential colleagues are just a short stroll away.
specialized spaces designed to the needs of each academic department, from a human-computer interaction lab (computer science) to an x-ray crystallography lab (chemistry) and everything in between.
an amazing array of learning spaces: classrooms and computer labs; a greenhouse, planetarium, and observatory; on-campus lakes and forest; dozens—literally!—of cutting-edge research and teaching labs; and an abundance of student commons and study areas.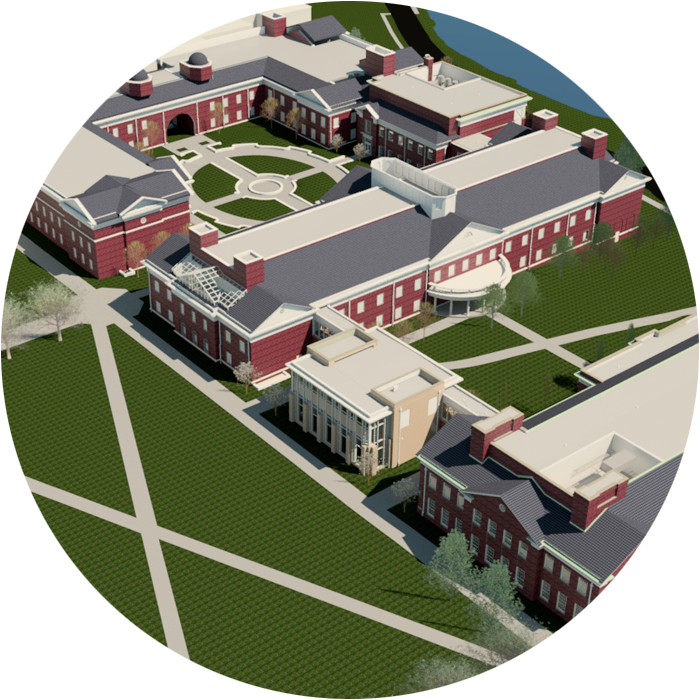 ---
Off-Campus Opportunities
Rising to a challenge? Our students shine. After all, as junior colleagues on student-faculty research collaborations, they are already making real scientific advances while applying the technical and professional skills of the scientist and mathematician. So when it comes to off-campus opportunities, our experienced, capable students have the confidence to pursue even the most prestigious internships, fellowships, and research experiences—and the competitive edge to win them.
You can count on your faculty mentors to guide the way. Not sure which options match your goals? They have the insights to advise you. Need a letter of recommendation? They know your skills and strengths.
You'll find that deep engagement in the School of Science community is a launchpad for:
internships in every field: medicine, technology, pharmaceutics, aerospace, digital media, environment—even finance and law—and many more.
advanced research immersions, including placements at federally funded Research Experience for Undergraduates (REU) sites nationwide and Fulbright and Goldwater fellowships, among others.
science-based study abroad, from faculty-led short trips to highly selective programs such as Oxford Study Abroad, EuroScholars, and the School for Field Studies.