---
Overview
The Gateway to Research Careers in Science program is a merit-based, scholarship and research program that supports and motivates students from groups that are historically underrepresented in science and mathematics fields, to prepare them for research-based careers as scientists and mathematicians. The core of the Gateway program is intensive research mentoring by TCNJ faculty, combined with a range of supportive programmatic activities. Qualified students who are accepted into a School of Science major will be invited to apply.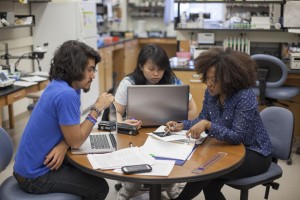 Program Highlights
Each Gateway Scholar will benefit from the following program components:
A four-year academic scholarship, worth up to $8,000 per year (up to $32,000 total). The amount will be determined as part of the student's comprehensive financial aid package, including both merit-based and need-based aid.
Sustained, deep engagement in faculty-student collaborative research over multiple semesters, including options for academic course credit.
Programmatic activities and support, worth up to $10,000 (in addition to the scholarship), including:

A full-time, paid research experience during one summer.
Graduate Record Exam (GRE) preparatory course.
Funding for research supplies.
Travel to professional, scientific conferences.
Skills-training for graduate school and research-based job applications.
Community-building activities and peer mentoring.
Field trips to visit research universities and industries.
                     
Application and Scholarship Opportunity
Students who have applied to TCNJ and been accepted into the School of Science will be invited to apply for the Gateway program. Applications will be sent directly to the School of Science, and science and mathematics faculty will select the Gateway Scholars. Gateway Scholars will receive a merit scholarship award, and they may also be eligible for need-based awards after the submission of the CSS Profile and the FAFSA forms.
Students accepted into the Gateway program will be notified of their acceptance as a Gateway Scholar before they need to make a final decision for TCNJ's deposit deadline.
For more information or questions, please contact the School of Science Office.