In the spring of 2000, Dr. Viraj Mane walked through TCNJ's Science Complex for the last time as a student, reminiscing about the profound impact The College had on his academic, professional, and personal development throughout his time as a TCNJ undergraduate student.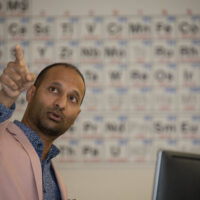 On October 24, 2023 Dr. Mane returned to the TCNJ School of Science; this time to engage students, faculty, and staff members in a fascinating discussion about his role as co-founder and Chief Scientific Officer (CSO) of Lactiga. In a sit down interview, Dr. Mane shared his reflections about his time at TCNJ, in addition to how the College's unique ability to foster meaningful and collaborative connections between students and professors created a lasting impact on his career.
Lactiga is an award-winning, venture-backed biotherapeutics company that specializes in developing novel biologics, helping to expand the therapeutic value of human breast milk, with the intention of helping immunocompromised patients combat even the most dangerous infections.
Inspired by his own personal journey into parenthood, Dr. Mane explains that, "The origin story was literally becoming a father." 
Discussing the immunological benefits of human breast milk, Dr. Mane explained that, "human breast milk is nature's original superfood. It's all the nutritional and immunological content that a growing baby survives off of and is full of antibodies that could provide some benefit to immunodeficient patients." 
A self-proclaimed "science nerd since childhood," Dr. Mane's passion for the biological sciences is clear and unwavering. He was drawn to the world of gene therapy at a young age, inspired by press articles during the mid-nineties that painted a vivid picture of the benefits of cutting-edge science, as well as the obstacles in treating complex immunological diseases. Reading about children living in "bubble-like," isolated, hyper-sterilized environments, due to being severely immunocompromised, deeply impacted him and set him on a path to explore groundbreaking solutions in the research realm.
Dr. Mane's journey began with the choice to attend TCNJ over other competitive offerings from larger institutions in the area. He explains, "I always felt that getting more attention from a professor would be beneficial to me, and that was definitely true here." 
When he arrived at TCNJ as a biology major, Dr. Mane discovered a robust academic program that surrounded him with like-minded peers and experienced mentors who soon became close friends. He acknowledges the pivotal role of Professor Steve Klug, his genetics professor, in guiding him towards his true calling. "His class was really the course I was meant to be in," Dr. Mane recalls.
Under Professor Klug's mentorship, Dr. Mane delved into the study of hereditary diseases and gained a unique understanding of their origins, as well as their limited treatment options. This knowledge fueled his determination to contribute to the development of innovative therapies for these rare diseases.
"Learning all about hereditary diseases, many of which are very severe, gave me a unique appreciation for how these diseases started and about how limited treatments were for many of these rare diseases at that time. I remember, this was the mid nineties, but I mean, for many rare diseases there's still a lack of treatments," said Dr. Mane.
Reflecting on this transformative experience, Dr. Mane explained that the mentorship afforded by Professor Klug and TCNJ's Biology Program helped him develop his own leadership skills, in addition to helping him gain access and knowledge about cutting-edge industry internship opportunities. 
Dr. Mane explained, "Becoming Dr. Klug's Drosophila fruit fly lab manager was really interesting because it was quite a bit of responsibility for me, as a full-time student. I was actually creating the mutant strains of fruit flies to give to students so they could perform experiments that would then be graded."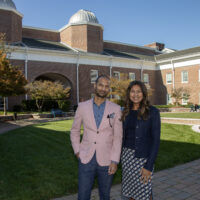 As he looked back on this pivotal experience, Dr. Mane noted that the mentorship opportunities provided by Dr. Klug and TCNJ's Biology Program not only nurtured his academic interests but also expanded his horizons, leading to numerous other opportunities. 
Dr. Mane explains, "These are the things that help set you apart when you're positioning yourself for future opportunities like graduate school. Professor Klug helped me understand the possibility of participating in a Bristol Mars Squib student internship, which I was ultimately able to get." 
Dr. Mane continued, "He helped me access some great opportunities which were really transformative, and again, are a reflection of the attention I was able to get at a smaller college like TCNJ." 
Written by School of Science Student Journalist, Jax DiEugenio
Photography credit: Anthony DePrimo, TCNJ Photographer & Videographer, & posted with permission by Communications, Marketing & Brand Management.