There are five people currently running the Student Chemists Association (SCA) and each one loves the same thing about chemistry: seeing what kind of explosions they can get away with. In between the 14 events organized and held in the fall semester and the 18 events organized and held in the spring semester – they'll try to slip in something eye-catching. The events cover a wide range of areas, from social events to professional development. Some of the events are centered on the Chemistry Department community and others are volunteer and outreach.
The organization received the "Outstanding Student Chapter Designation" in 2018 which is handed out to chapters on the basis of their outreach programs and activities. It's the highest award for the category and is awarded by the American Chemical Society, a national organization.
SCA is much more than a club that meets once a week. It's a community in which every chemistry major is involved. For first-year students, it's a good way to meet upper-class students through the mentor/mentee program. For upper-class students, it's a good way to stay in touch with the Department and not get lost in the school work.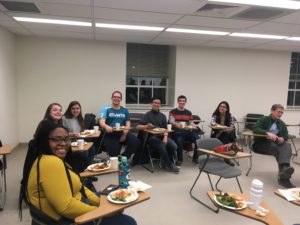 The community is made up of faculty and students who come together for events like Chemsgiving, the ChemOlympics, and the Chemistry picnic which is partnered with Gamma Sigma Epsilon (GSE) – the chemistry honors society. SCA's newest event that brought faculty and students together started in the Spring of 2019 – right before the worry of finals set in. It was a revenge event where students (and professors) lined up with smiles on their faces and test grades on their minds patiently waiting for the opportunity to laugh.
Once the professors were safely covered by trash bags and had their safety goggles strapped on, students selected their shaving cream pies, took aim, and launched. It was Pie a Professor day! Students from every department lined up outside to get the chance to throw a pie in their chemistry professors' faces – and professors, in turn, did the same. It was held on alumni weekend, so previous students could get to throw one as well. The event was held to raise money for Project Seed.
Project Seed is organized by the American Chemical Society that helps economically disadvantaged high school students get laboratory experience over the summer. So far, they have helped more than 11,000 students since they started in 1968.
Dr. Benny Chan, one of the faculty advisors for SCA was one of the unlucky professors whose students were happy to see at the event. He didn't mind though, in fact, he thinks it will become a tradition.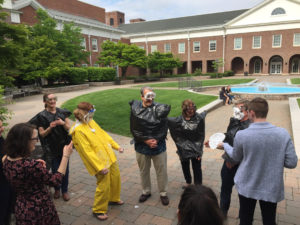 "If I'm gonna get pied," Dr. Chan said with a laugh, "I want to get pied a lot. I'm not cleaning up for one person." All in all, Dr. Chan said he got maybe 4 or 5 pies, but that he'd still rather a dunk-tank (the original idea for the fundraiser).
Dr. Chan wasn't alone in getting pied – Dr. Donald Hirsh, the Chair of the Chemistry Department, took on the task of rounding up professors and leading them to their pies. "All three former chairs were there," Dr. Hirsh told proudly, "We raised over $100."
Other events held in the Chemistry Department aren't as wild as the Pie a Professor, but they're loved just as much. One such event is Chemsgiving, where faculty and students come together before Thanksgiving each year to share a meal and not worry so much about research and resumes.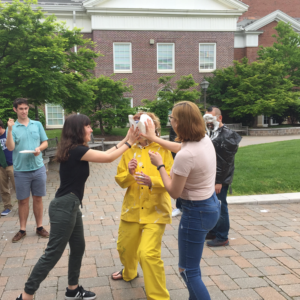 Chemsgiving started as an off-campus dinner that was held once a year with faculty and students though it recently evolved into a potluck style meal held in the Chemistry Building. The evolution happened when it was suggested that if it was held on campus with everyone contributing a dish – it would gain more attendees. And so: Chemsgiving was born.
Similarly, the Chemistry picnic started off as a seniors-only event. It started around 2008 and has now morphed into a Chemistry Department event. Co-sponsored by the Chemistry honor society, Gamma Sigma Epsilon, it's now a complementary event to Chemsgiving. Paper plate superlatives are voted on and then awarded to students at the picnic. The most specialized superlatives being:  "Most Stylish Personal Protective Equipment," "Most Iconic Lab Pair," and "Best Analytical Squad."
In TCNJ it isn't too rare to hear of events that are for faculty and students, but whenever SCA presents what they do throughout the year to other schools, they're reminded that TCNJ has built a culture for these events. When SCA goes to present at national American Chemical Society conferences, one of the most asked questions is "How do you guys get the professors to join events?" The answer is easy: everyone likes to have fun.
"I think one of the great things about our Department is that we have a community with the students and professors," said Allison Smith '19, "…being able to be a part of forming that community is a really special opportunity."
Along with the big events, there are monthly stress-busting activities held by different members of the club's e-board that consist of game nights, movie nights, and anything someone wants to suggest.
"It's very informal," said Celine Federico '19, "Everyone does something fun. We just hang out and have game nights, one time we went bowling and for another, we did acrylic pouring."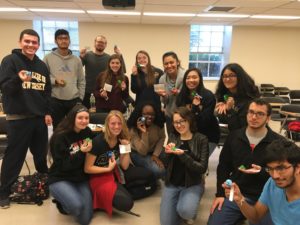 There is also a multitude of volunteer events that SCA takes part in; with the newest one being Solar Army which is in collaboration with Trenton High School. SCA started the collaboration last year in an attempt to get high school students who are traditionally underrepresented in the field into chemistry laboratories. One experiment they were trying to complete was the Harpoon experiment. 
"There were a lot of issues with the experiment," recalled SCA faculty advisor, Dr. Abby O'Connor, "I don't think it ever actually worked. But it was more about building a partnership with us and schools."
Other programs that SCA takes part in with other high schools are science fairs that are held in the spring. Along with inspiring a love for the sciences, the TCNJ chemistry students get to act as judges and see what projects the next wave of minds are coming up with.
"Lots of them last year had slime-themes." Celia remembered, "There was also this one kid who was very enthusiastic about how gaming affected his physical wellness in terms of getting his heart rate up."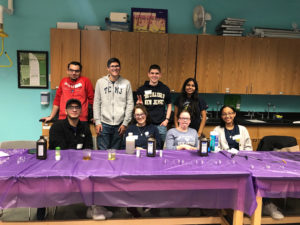 For those who think it's a bad idea to join an organization about chemistry when the topic is the main source of homework; think again. It offers a break from the homework and fills the time doing demos for kids who might not know how fun science can be.
Last year's community fest was filled with making ice cream using dry ice in a plastic bag with salt and ice. Kids would shake it until it became dessert and then hang around to watch other demos with dry ice soap bubbles.
"The dry ice condenses into water vapor," explained Dr. Chan, "and when you pop the bubble this cloud comes out. Kids love that one."
According to the club's current treasurer Ryan Salerno '20, SCA interactions are based on life in the Chemistry Department more than anything else. It's for anyone with an interest in chemistry and to help people learn that everyone has a hard time at one point or another.
"The most notable thing is it really helped me get acclimated to the Chemistry Department." said Ryan, "Especially first year when I didn't know what was going on. It was nice to know the upper-class students and know a friendly face."
– Kerry Hennessy '21
For More Information: