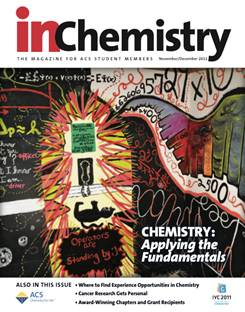 Even Heisenberg would agree with certainty that the transformation of the Chemistry basement is spectacular. Descend into the depths of the building and you will enter "The Quantum Tunnel," a mural that has gained national recognition and was recently featured within the pages of In Chemistry, a magazine published by the American Chemical Society (November/December 2011 issue).
The basement's re-imagining is the brainchild of Marisa Sanders, president of the Student Chemist Association. Her inspiration came this past summer during her participation in TCNJ's MUSE (Mentored Undergraduate Summer Experience) program, in which she pursued biophysical chemistry research with Dr. Donald Hirsch.
"Our Electron Paramagnetic Resonance instrument is located in the basement of the chemistry building, and I'd often pass this blank wall and think, 'What a pity, it holds so much potential for creative work!'" said Sanders. Having just learned all about Schrodinger, particle-wave duality and all manner of other quantum mechanics, she rallied members of TCNJ's Student Chemist Association (SCA) to whip-out their paintbrushes and decorate the walls. Alongside a number of other majors, the combined SCA-MUSE event resulted in a distinctive space that has now become a chemistry hotspot.
Sanders says she is ecstatic the project was featured in the magazine. "It's amazing how we were able to combine all different talents from all different areas of academia and put them toward a common project. The Quantum Tunnel is a new landmark on campus and a learning tool for students taking physical chemistry."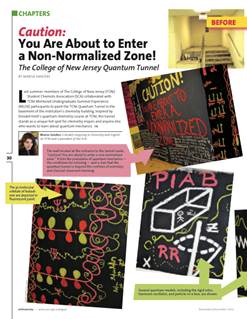 "Our students work so hard that they need to get rid of stress in a useful way," commented Dr. Benny Chan, who says he loves the neurotic feel of the hallway. "The Quantum Tunnel mural is one of the most artistic ways of relieving that stress."
In addition to the "Quantum Tunnel" feature, TCNJ's SCA chapter received a Commendable Award for their activities last year. "The students make this chapter successful," added Dr. Chan, noting that President Sanders is planning more green chemistry outreach activities along with artistic campus projects like the Quantum Tunnel. "The American Chemical Society really likes to see clubs make large impacts, which is why I think Marisa will lead the club to receiving another ACS award next year!"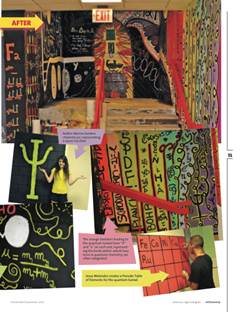 Along these same lines, Vice President Anthony Judilla says one of the chapter's goals is to become more active and known throughout the campus community. "Does this mean bribing non-majors with pizza parties? Maybe," he jokes. "But if we can snag a couple of non-science majors into loving chemistry as much as we do, we've done our job."
"Being featured in the last issue of In Chemistry is definitely a step in the right direction," he added.
Plans are in the works to paint the tunnel's exit on the third floor this semester.
For More Information:
To learn more about the Quantum Tunnel, visit the SCA blog page here.
By Jessica Corry