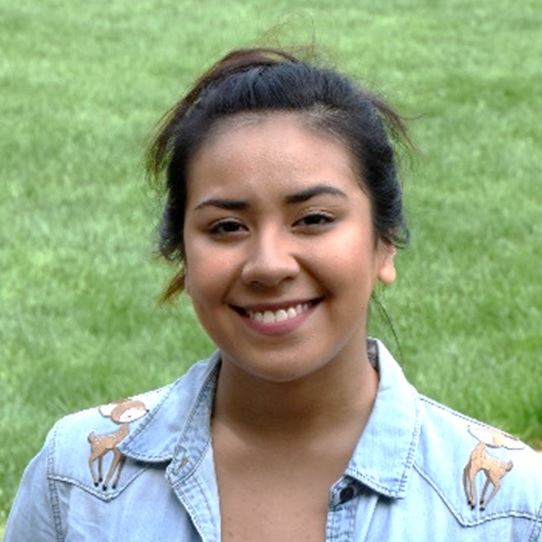 Watching morphological evolution occur in real time is a day-to-day activity for junior biology major and anthropology minor Mari Angel Rodriguez. She has been studying stickleback fish and their part in cryptic genetic variation since her sophomore year with her TCNJ faculty mentor Dr. Matthew Wund as a member of his lab group.
Rodriguez says that the stickleback was originally a salt-water fish that became adapted to freshwater environments over time due to the melting of glacial ice. Here, they began to express new traits in a new environment, and therefore rapidly evolved. Rodriguez studies their morphological (physical) change over a relatively short time scale—which is a tedious, yet vastly interesting task.
"I knew she would be a star in my lab in the very first semester of her sophomore year," says Dr. Wund of Rodriguez. Rodriguez entered the College's Biology Department as part of a program called Gateway to Research Careers in Science, which helps support students from groups that are traditionally underrepresented in science for future research-based careers. At the end of a number of rotations where each of the students spends time in different faculty-student laboratories of different disciplines, students and faculty are matched according to mutual interest. Dr. Wund states that "I had the good fortune of being matched with Mari, who was my top choice among a number of excellent students. In the past year-and-a-half, she has lived up to all of my high expectations."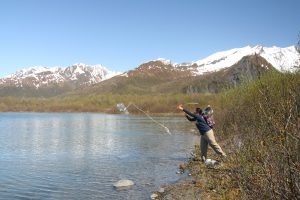 Rodriguez also traveled to Alaska with Dr. Wund in the summer of 2017 to study and research stickleback fish in the field, before returning to campus to participate in MUSE (Mentored Summer Undergraduate Experience). According to Wund, the research includes tedious tasks, as "the project involves photographing and measuring thousands of specimens." However, since her sophomore year, her mentor had seen her potential. "I was confident to let her join any project that interested her most," says Dr. Wund.  "She contributed greatly to our research, as well as to helping the efforts of my collaborators that joined us in the field."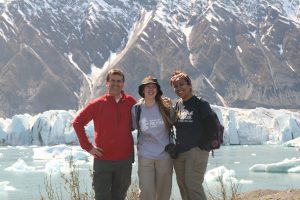 It's not just Dr. Wund who recognizes her excellence. In the field, Rodriguez had the opportunity to work with graduate students, post-doctoral students, and faculty from other universities.  Wund says, "They were quite impressed with her maturity, enthusiasm, competence, and intelligence.  Every one of my colleagues I talk to about Mari finds her to be an excellent student."
When Rodriguez isn't studying or researching evolutionary biology, she enjoys mentoring others in the department. She serves as a Biology Guide who gives tours of the Biology Building during Lions Day Open Houses and sits on panels discussing what her life is like at TCNJ. She is also a peer mentor for first-year students in the Biology Department.  Rodriguez says, "I had a very narrow-minded view of what I was going to do and where I was going to go.  I always wish I had someone to tell me what I know now. I kind of want to be that person for someone else." On top of this, she is also a Course Learning Assistant who sits in on labs and helps instructors as well as students in their studies. "It's really cool to see other students develop that scientific kind of identity."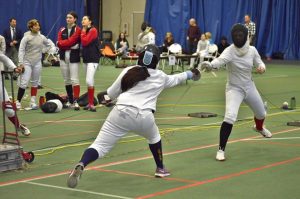 In her free time, Rodriguez enjoys fencing, which is a hobby she picked up her first year at TCNJ. "It keeps me active," Rodriguez says with a laugh, and that it is truly a stress-reliever for her. She also plays guitar and ukulele sometimes, tacking onto her list of activities and hobbies. Back in the Biology Bepartment, she is a member of Tri-Beta Biological Honor Society and enjoys doing community service with the group.
Rodriguez was just recently accepted into a Research Experiences for Undergraduates (REU) program at the University of Michigan Biological Station for summer 2018. There, she will be doing research on the effects of climate change in the Great Lakes region over the summer.
As for her future, Rodriguez says her goal right now is to go to graduate school and earn her PhD. She says as much as she loves research, she'd love to apply it to her career one day, perhaps in an environmental agency of sorts. "I know that I like doing research, and I want to do that, but I also think it's really important to me that my research addresses problems in the world." She says that as much as she loves studying evolution right now, "I'm really passionate about ecology and the environment.  I don't like to close myself off to what I can do…you don't necessarily know where life is going to take you, so you just sort of have to be open and learn as much as possible."
– Profile by Lindsey Harris '20
For More Information: