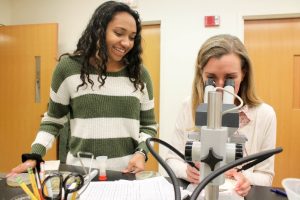 Amanda St. Paul's story as a scientist begins in a hospital.  At this hospital, her mother was a nurse and her father an engineer.  Thus, throughout St. Paul's childhood she spent a considerable amount of time in the hospital, often being babysat by other nurses.  This inspired a strong desire and very clear objective: "I didn't care what I was doing I just wanted to be a doctor.  It was the first thing I ever wanted to do".  As she got older, St. Paul began to wonder what kind of doctor she would like to be.  Having a brother who fought abroad for the military, St. Paul observed PTSD first hand, which inspired her to want to become a psychiatrist.  When entering TCNJ, she was torn on which major to choose: Biology or Psychology?  With medical school in mind, St. Paul ultimately decided that majoring in Biology would be the best route for her.  This decision would change many aspects of St. Paul's life, one of which would be her desire to become a doctor.
As a Biology major at TCNJ, Amanda has been involved in a plethora of research and laboratory experiences.  Many of these are attributed to her participation in the Gateway Program.  This program seeks to provide those who are underrepresented in the sciences with an opportunity to shadow different professors as they research a wide variety of topics.  Over her three years at TCNJ, St. Paul has studied plant biology and ecosystems with Dr. Janet Morrison, bacterial pathogenesis with Dr. KT Elliott, stickleback fish with Dr. Matthew Wund, the development of zebra fish with Dr. Marcia O'Connell, and is currently doing independent research with Dr. Amanda Norvell where she studies how the genes in fruit flies are regulated and expressed.  Thus, St. Paul has been exposed to a wide variety of research and has studied these many topics with talented, passionate, and intelligent role models.
I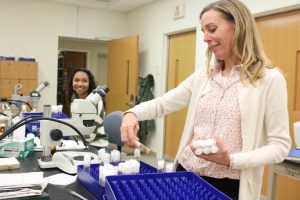 n terms of role models within the School of Science, St. Paul specifically cites Dr. Norvell.  St. Paul is not only working in Dr. Norvell's lab currently, but also did so over the summer during her involvement in TCNJ's Mentored Undergraduate Summer Experience, or MUSE.  She worked one-on-one with Dr. Norvell in the lab for eight weeks.  St. Paul says that she looks up to and admires Dr. Norvell "because she's just very spunky.  She's very outgoing and social and she totally gets rid of the stereotype that researchers don't know how to talk to people and are just stuck in their lab".  Dr. Norvell holds St. Paul in equally high regard.  Aside from describing her as "a pleasure to have in the lab," she also reveres St. Paul for her enthusiasm and readiness to try new experiments and ask questions.  Both Dr. Norvell and St. Paul have a wide variety of interests outside the lab and thus, both have commented on the ease with which they communicate and how important that ease of communication is to their laboratory rapport.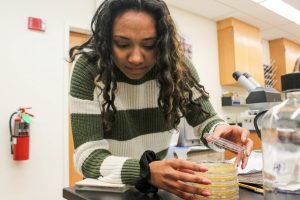 Due to the abundance of differentiated research opportunities that St. Paul has been exposed to over her college career, she is now shifting her gaze from medical school to graduate school.  She truly discovered a love for research, stating, "I don't know what topic yet but I really like the idea of discovering something that no one knows about.  You become a master in whatever super specific topic you want.  I like being able to take something from the very beginning and see it through to the end".  St. Paul is fascinated by how cells work and function and how genes are regulated and expressed.
Although she is not entirely sure, she speculates that her future career may lie somewhere in disease research, perhaps at the Center for Disease Control.  She would love to be able to look at a specific disease, discover how it is spread, and study whether people's genes effect whether they may be prone to or even immune to that disease.  In the summer before her senior year at TCNJ, Amanda had an internship at Johns Hopkins University Bloomberg School of Public Health under Dr. Mark Kohr in the Department of Environmental Health and Engineering to research redox-signaling pathways related to ischemic heart disease. She hopes to continue to study the molecular mechanisms behind chronic disease and is currently applying to PhD programs in Environmental Health Science or Translational Biology. St. Paul has not fully ruled out the possibility of medical school; however, she has no fear about possibly diverging from the path she always thought she would follow.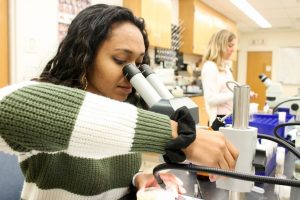 This confidence, passion, and intelligence that St. Paul embodies is present in every aspect of her life, even outside the realm of the sciences.  Along with being an extraordinary student, St. Paul is a leader in her sorority, Alpha Xi Delta.  She will become the vice President, effective next semester.  Her involvement in Greek life, on occasion, presents her with the opportunity to participate in another activity that she loves: dancing.  The sororities compete in dance competitions and all of TCNJ's Greek life competes in an Airband competition.  St. Paul enjoys going to Zumba classes, as well, to fit some dancing into her busy schedule.  She is also a TCNJ Ambassador who particularly loves telling touring students and incoming first-year students about the School of Science.  St. Paul also dedicates some free time to knitting, but expresses an overwhelming love for her favorite television show, Grey's Anatomy.  Perhaps her favorite and most time consuming past-time, however, is traveling.  At 21 years of age, St. Paul has traveled to 20 countries.  One of her life's goals is to travel to 50 countries total by the time she is 50 years old.  Her favorite country thus far is the Caribbean island where her father is from, Grenada.  St. Paul says that "when people talk about Hawaii, I tell them that they need to go to the Caribbean and see some REAL beaches" and speaks passionately about the beauty of the island and the relaxed and happy lifestyle that the people who live there adopt.
St. Paul's favorite thing about TCNJ is the family-like community feel that the college has.  It's clear just how welcomed into that family Amanda is as a biology student, member of Greek life, and an ambassador.  She has found a great amount of success in academics, extra-curricular activities, and her social life.  Yet, as someone aspiring to go to graduate school, to live the life of a researcher, and to travel to fifty countries, Amanda St. Paul's future will surely be brighter still.
For More Information:
Profile by Allison Marcino '17