As Kylie Gorman went through the maddening college application process four years ago, she pictured her first year in college and saw herself in the laboratory with a beaker in hand, safety goggles, and a white lab coat. She had applied to several schools as a chemistry major, but to her dismay, TCNJ's chemistry program was full at the time, requiring her to choose another major. But what exactly would she choose?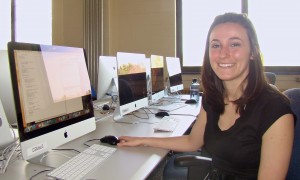 Fortunately, she was given the chance to sit in on a couple classes at TCNJ while deciding which school to attend. Gorman says she fell in love with the small class sizes, which helped the professors know all their students by name.
Fast forward to present day and Gorman is now a senior computer science major with an interactive multimedia minor.  She is the President of Upsilon Pi Epsilon (the computer science honor society) and is a member of both the College's chapter of Women in Computer Science (WICS) and the Association of Computing Machinery (ACM). She also serves as a computer science tutor at the Tutoring Center, and is a part of the New Jersey Christian Fellowship chapter on campus.
Inspired by her father, who has a background in programming, Gorman took her first computer science course at the College in her first year and instantly fell in love with the field.  Although computer science being a mostly male-dominated field might have been a little frightening for a newbie female student, Gorman remembers how intimidating it was at first, but was relieved to see that the College had a more gender-balanced and welcoming department than most other schools. "I was really fortunate to be in a department where I never felt uncomfortable."
Gorman spends approximately seven hours a week tutoring other students in computer science and says that she absolutely loves it. While she does not have a set career plan yet, being a computer science teacher is definitely at the top of her list.  Furthermore, Gorman attends the School of Science Student Advisory Board and always tries to represent her department. Also, when prospective high school students come to campus to learn more about the computer science department, Gorman often gives the tours and is always willing to sit down with students to talk to them about the major.
Although computer science was not Gorman's first choice, she has thrived in her chosen field of study.  In one recent project in her Database Systems class, Gorman collaborated with Students Organized Against Pollution (SOAP) and looked at research to see how chemical levels fluctuated since certain pollution legislation was enacted.  Gorman also participated in a Research Undergraduate Experience (REU) at the University of Central Florida where she worked on a computer vision project in which project color descriptors are used with shape descriptors for better image description.  She earned a speech recognition award for her Python coding both semesters of her junior year and was an intern in the computer vision department at SRI International in Princeton.  She also performed research at the College with Nao, a two-foot tall humanoid robot, playing rock paper and scissors with it. (Nao beat her dad in the game, she says with a laugh.)  She was also inducted into the Phi Kappa Phi national honor society and has received computer science awards from her professors the past three years of her college career.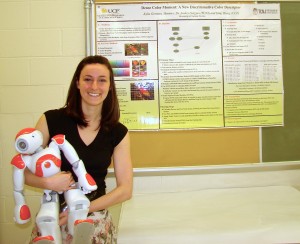 Two professors at the College, in particular, have really inspired Gorman. She conducted a majority of her research with Dr. Andrea Salgian, who was the professor of Gorman's first computer science course. Dr. Deborah Knox, whom Gorman had for earlier computer science seminars, also had a huge impact on Gorman.  "Her level of confidence as a computer scientist has increased during her career at TCNJ, improving with each challenge she tackled," says Knox. "Motivated to learn, Kylie is detail-oriented and willing to share her strong technical skills with others, both in a collaborative environment as well as through her role as a tutor of computer science."
Kylie also exerts a strong work ethic outside the computer science field. As a heavily-involved member of the New Jersey Christian Fellowship, Gorman co-leads the weekly life group and during the semester meets up with her mentee Theresa Pham, a sophomore computer engineering major. Despite her stressful schedule, "Kylie is always smiling and willing to help with anything when she can," says Pham, who is thankful that she has a mentor that is always there for her whenever she has a question or needs help with something. "She's a sweet, caring, and intelligent person whom I look up to.  I feel very lucky to have her as a mentor."
In addition, Gorman also attends Encounter, a weekly youth group on campus and helps out with the Vacation Bible School at her church during the summer.
As President of Upsilon Pi Epsilon (UPE), Gorman conducts all the meetings, organizes the society's events throughout the semester, and is always encouraging participation. Just recently, UPE co-sponsored a game night with the Association of Computing Machinery featuring video games such as Super Smash Bros and Magic. UPE has also sponsored other events such as an ice cream social, a de-stressing, and a "sweets" event that allows students to take a break from all of their hard work.
But what's next on Gorman's agenda? She recently just scored a job at Lockheed Martin Tech Center in Atlantic City and is also hoping to complete their Master's Program.
"I'm going to miss the community the most. Every time I go up to Forcina (the computer science building) I always know someone," she says.
When she's not coding or programming, Gorman loves playing soccer, having played for fourteen years before attending TCNJ.  She also enjoys playing Ultimate Frisbee as well as drawing cartoons after taking an animations class at the College as part of her IMM minor.
As Gorman gets ready to embark on the next chapter of her life, leaving behind her beloved tutoring job, computer science family, and Salmon Fridays at Eickhoff Hall, the College is welcoming another Gorman to its population – Gorman's sister, Ally will be entering the College as part of the five-year Special Education program and will also be playing for the lacrosse team.
"I'm going to miss it here, but I'm excited for the future," says Gorman.
– Kelly Corbett
For More Information: