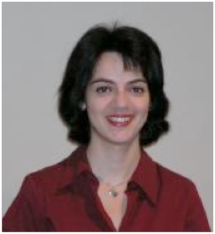 Ever wondered how computers see? Dr. Andrea Salgian, Assistant Professor of Computer Science, has dedicated her career to the study of that very question through her work in the field of computer vision. Here at TCNJ, Salgian shares her expertise with students both in and out of the classroom through a variety of research programs, including gesture detection, face recognition, and an interdisciplinary project working to build a robotic "maestro" conductor.
It was the native Romanian's first encounter with computer games in middle school that sparked her lifelong passion for computer science. "I was fascinated by the fact that I could actually make the machine do whatever I wanted it to do," Salgian explained. "Computer science requires a new way of reasoning and logical thinking that is absolutely intriguing and even before high school, I knew what I wanted to study for the rest of my life."
After earning a degree in computer science from the "Babes-Bolyai" University in Cluj, Romania, Salgian came to the United States to attend the University of Rochester and graduated in 2001 with her M.S. and Ph.D. in computer science. In the course of her studies, Salgian developed an interest in computer vision and upon graduation, worked on a face recognition system as part of a government-funded project at Equinox Corporation. Computer vision is a subfield of artificial intelligence that aims to replicate human vision by bridging the gap between the nature of images (arrays of numbers) and their descriptions. As Senior Systems Engineer at Equinox, Salgian applied her computer vision skills to the development of a computer-based face recognition system utilizing both visible and infrared cameras to identify individuals from a stored database of faces.
Following the completion of four successful years at Equinox, Salgian decided to take a position as Assistant Professor here at TCNJ in the fall of 2005. "I was still interested in research but had gotten my taste of what I wanted from Equinox," said Salgian. "In many ways, academia can be more exciting than working in the field. I love that every year I have a new class of talented students and the chance to pursue different research projects."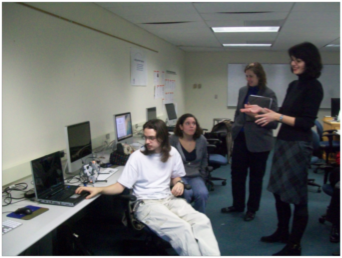 Of these projects, perhaps the most exciting is a cross-disciplinary collaboration of faculty and students from the three difference academic Schools at TCNJ: Science, Engineering, and Arts and Communication. This cross-disciplinary team of students and faculty are working closely together in a two-semester undergraduate research seminar entitled, "Conducting Robots." Fostering creativity, computational thinking, and scientific methods, participants are collaboratively designing and building artificial systems that can not only conduct an orchestra but also respond to musicians via animated visual displays providing feedback equivalent to the facial expressions of a conductor. The National Science Foundation has awarded Salgian, as principal investigator, and co-principal investigators Teresa Nakra, Assistant Professor of Music; Christopher Ault, Assistant Professor of Interactive Multimedia; and Jennifer Wang, Associate Professor of Mechanical Engineering, a $360,000 grant aimed at fostering interdisciplinary creativity through the integration of teaching and research in this seminar.
According to Salgian, she and her students had informally collaborated with these professors on a number of other projects, for instance, developing vision systems for robots built by Wang's student team. "Since we had already been collaborating, we decided to put everything together into a class," Salgian said. "We first analyzed the gestures of musical conductors to uncover their meaning and how this information is interpreted by the orchestra and thus correlates to the music. With the popularity of Guitar Hero and Rock Band, it wasn't a far stretch to consider having a robotic conductor rather than just a tool with which a human conducts."

In addition to teaching and mentoring research students, Salgian is the advisor of the computer science honor society, Upsilon Pi Epsilon, and coach of the TCNJ programming team, which every year sends two teams of three students to participate in the Association for Computing Machinery Collegiate Programming Contest. "I love being with students both in class and out, whether through research or clubs. To see a student thoroughly enjoy a class or even if they may be struggling with a concept but then something clicks and they finally get it, it is just so rewarding" said Salgian. "Plus, in doing activities with my students outside of class, you get to know a different side of them."
When she is not building robotic conductors or analyzing face recognition systems, Salgian enjoys spending time with her young daughter, reading, and traveling.
For more information on Salgian's research projects, publications and courses, visit https://www.tcnj.edu/~salgian/
All of the cross-disciplinary student teams developed working systems that were able to fulfill the requirement of conducting at least one minute from Beethoven's Symphony No. 7, second movement.