Senior computer science major Nadya Pena has always felt like the newbie. She started at the College as a mathematics major and then switched to engineering, interactive multimedia, and English. She finally decided on computer science in her junior year.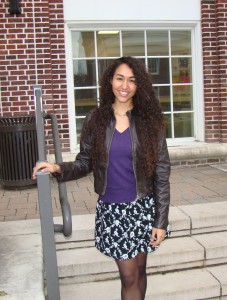 It was during her time as a mathematics major that she discovered her true passion through a required computer science class. "I went in there not understanding computers. I was a technophobe," she says, remembering how she never once considered herself tech-savvy. However, computer science soon clicked with her. "It was interesting and fun and something that I could do," she says.  Fast forward to the end of her senior year and this accomplished computer science major says, "I'm really lucky I fell in love with something so in demand.  You can really do anything with it:  healthcare, financial software, even Sephora has microchip makeup."
With many students in her major having taken computer science courses in high school, Pena felt that she started a step behind among her peers. But despite having a late start in the field, she has accomplished so much during her college career. Currently, she is the president of the Association of Computing Machinery and the treasurer of Women in Computer Science (having previously served as president).  She is also a member of the Sigma Sigma Sigma sorority and works for TCNJ's Residential Networking Services.
Nadya has overcome her natural shyness to take on leadership roles, explains Dr. Monisha Pulimood, chair of the Computer Science Department and Pena's academic advisor.  "I attribute her 'detours' to a prior lack of awareness of the field due to insufficient exposure and a scarcity of role models in high school."  With this in mind, Pena has worked to increase awareness of computer science to younger students.  She teaches children in grades K-12 how to program and also helps girls and minorities learn coding to help them become better represented in the field.  Professor Pulimood adds, "Nadya exemplifies the 'growth mindset' and stands out as a role model for young people, particularly those from groups that are underrepresented in computer science and who may be on their own journeys to discover their passions."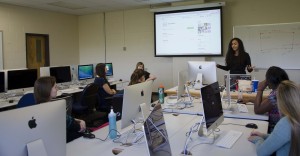 Pena is also a first-generation college student, owing a lot to her mother, a single parent who went above and beyond to make sure her children received a college education.  "My mother is perseverant and beat the odds while keeping a positive attitude in the face of adversity," says Pena, whose family emigrated from the Dominican Republic. "We've done well for ourselves, and I'm very grateful for my mom."
A member of the Educational Opportunity Fund (EOF) program at the College, Pena is also part of the iPics Scholarship Program (a math and computer science joint program) and won a scholarship at the national Grace Hopper conference held in Texas. In addition to her leadership positions and stellar work ethic, Pena has created numerous projects illustrating her adroitness in the computer science field.
Nadya developed a program in which a television viewer can text the name of a show and receive information on whether the episode currently being aired advances the plot of the series or if it was a "stand-alone" episode.  While it started as a class project, Pena has continued with it independently and the program has now become her passion project. Another program she has worked on is a system to monitor the number of spaces in a parking lot by using tiny credit-card sized computers.
Pena has done three internships in software development: Prudential Financial, Wiley and Sons, Publishing Company, and Credit Suisse, where she also landed a summer job writing software for stock traders.
As to what her dream job would be, Pena hasn't decided yet. She wants to teach a computer science class but also considers freelancing as a possible option. "I definitely want to work on interesting problems and solve them with computers," she says. "Any job that allows me to do that, I'm okay with."
– Kelly Corbett
For More Information: