Emily Gibson Hill is currently a PhD candidate at the University of Delaware in Computer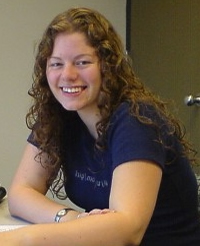 and Information Sciences. Emily began her research career at TCNJ, graduating in 2003. While at TCNJ, Emily researched information retrieval systems, which influenced her thesis topic. Her thesis focus is on developing natural language processing and information retrieval techniques to make software engineering tools more effective and easier to use by leveraging the natural language clues developers leave behind in identifiers and comments.
Emily would be happy to speak to anyone about a career in computer science, and can be reached at hill@cis.udel.edu. More information about Emily and her research can be found on her web site: www.cis.udel.edu/~hill.