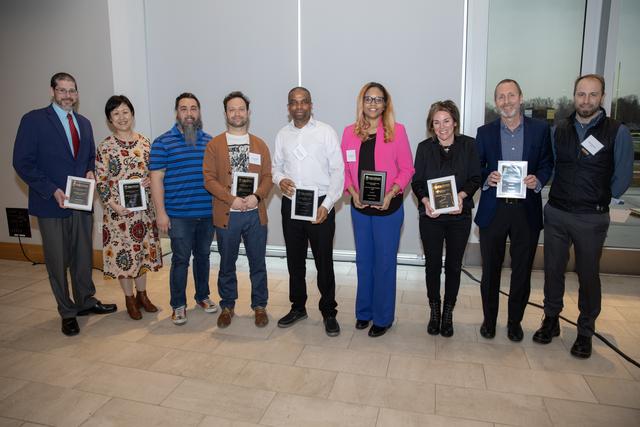 The College of New Jersey honored eight distinguished faculty members at the first annual Faculty/Librarian Recognition Awards on Thursday, February 16.
The Faculty Senate sponsored and organized the awards, which were given as part of the second annual Excellence in Teaching and Learning Summit. The summit provides opportunities for all TCNJ faculty members and instructional staff to explore and share pedagogical strategies across the campus community. It is sponsored by Academic Affairs and the Center for Excellence in Teaching and Learning.
"These faculty/librarian recognition awards highlight the many amazing contributions to teaching, mentorship, and scholarship our faculty and librarians engage in on the campus and beyond," said Abby O'Connor, vice president of the Faculty Senate, chair of the awards and recognition committee, and professor of chemistry. "The Faculty Senate is very excited for these new awards and for the continued support from the college in all aspects of the teacher-scholar model."
Below are the inaugural winners for each award and a synopsis of their work. Congratulations to everyone!
Innovation in Teaching Award
Winner: Benny Chan, professor of chemistry, School of Science
Chan created a new model for teaching General Chemistry that resulted in improved student outcomes, especially for BIPOC and low income students. He designed, piloted, and refined the model, which is now the standard for teaching the course. He's shared his successful teaching efforts across campus and the approach is being applied in other courses, too.
Adjunct/Part-Time Faculty Teaching Award
Winner: Jacob Farbman, communication studies, School of the Arts and Communication
Farbman has a demonstrated record of teaching excellence at TCNJ. He has taught communication studies for more than two decades and is known for his ability to relate his real-world public relations experiences to the theories covered in class. He regularly connects students with internship opportunities—many of which lead to full-time employment.
Excellence in Student Mentoring Award
Winner: Ambrose Adegbege, associate professor of electrical and computer engineering, School of Engineering
Adegbege has mentored over 35 students in research which has led to several peer-reviewed journal and conference contributions. Many of his students have continued their studies in graduate school at prestigious universities. He's been the faculty advisor for the National Society of Black Engineers, serves as a faculty mentor for the Cooperman College Scholar program, and advises students in interdisciplinary senior design projects in the School of Engineering.
Early Career Faculty Excellence Award
Winner: Natasha Patterson, assistant professor of public health, School of Nursing and Health Sciences
Patterson mentors students in community outreach, service, and research projects that focus on reducing health disparities. When COVID-19 deaths were high for African American, Latinx and Native Americans in New Jersey, she volunteered to work with the New Jersey Division of Civil Rights. She's a representative to the state-wide Initiative on Maternal and Child Health with the goal of decreasing maternal and infant deaths by 50% over five years. Patterson developed a doula course for TCNJ students and is considered a leader in addressing health disparities in the community.
Excellence in Scholarship and Creative Activity
Winner: Jarret Crawford, professor of psychology, School of Humanities and Social Science
Crawford has co-authored a book and, together with students, has published 65 papers in peer-reviewed journals. His work has had deep impact on the field of social psychology, helping scholars in many fields improve their research design, data collection practices, and adopt appropriate uses of statistical analyses. He's program chair for the American Psychological Association as an ad-hoc reviewer for 35 different journals and sits on the editorial board membership of four prestigious journals. His scholarly work won the 2021 Wegner Theoretical Innovation Prize from The Society for Personality and Social Psychology.
Excellence in Campus Leadership and Service
Winner: David Blake, professor of English, School of Humanities and Social Science
Blake was the chair of Committee on Strategic Planning and Priorities in the 2020-2021 academic year, when this committee was tasked with developing the college's new strategic plan. He also served as the acting chair of the Strategic Planning Working Group, playing a pivotal role in developing TCNJ 2027: Extending Our Excellence­­ — a plan that is aligned with the broader interests of TCNJ's community of teacher-scholars.
Excellence in Diversity, Equity and Inclusion
Winner: Yifeng Hu, associate professor of communication studies, School of the Arts and Communication
Hu is committed to raising awareness about DEI through her teaching and advising, and involvement with the office of Inclusive Excellence. She regularly teaches classes in Intercultural Communication and has made it an integral part of her department's curriculum. She also worked with a group of students to develop a campaign for AAPI awareness that included videos, an outdoor showcase, and a photo exhibit "I AM …#NotYour Stereotype." She is currently working with faculty from four schools at TCNJ to develop an Asian/Asian American Studies minor.
Distinguished Teacher-Scholar Award
Winner: Michele Tarter, professor of English, School of Humanities and Social Science
Tarter is an educational activist, who spreads her knowledge beyond the classroom and gifts others with the power of education. Since 2001, when she established a memoir-writing workshop in New Jersey's only women's maximum-security prison, she has taken TCNJ students in with her to help incarcerated women find healing and empowerment through literacy. She has published a scholarly collection on the prison, Buried Lives: Incarcerated in Early America and is finishing her own memoir about teaching inside maximum-security, aiming to contribute to the national conversation about gender and mass incarceration in America.
Selection committee members include Melissa Zrada, assistant professor of integrative STEM education; Jill Bush, professor of kinesiology and health sciences; Jason Dahling, professor of psychology; Tabitha Dell'Angelo, interim dean of the School of Education; Bethany Sewell, access services and reference librarian; Trevor O'Grady, associate professor of economics; Angie Capece, associate professor of physics; and Tim Clydesdale, vice provost.
For more information on the awards, please visit the Faculty Senate webpage.
---
— Emily W. Dodd '03