The National Science Foundation Graduate Research Fellowship Program is one of the most competitive sources of support for students in STEM fields. The vast majority of recipients are first- and second-year graduate students, but three TCNJ seniors made the list in this past spring when the NSF announced its 2022 awardees:
Madison Bland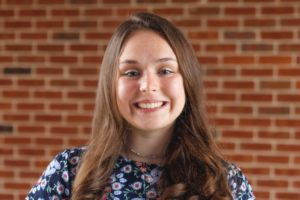 Major: electrical engineering
Research interests: robotics
Research at TCNJ: As a member of TCNJ's Collaborative Robotics and Intelligent Systems Laboratory, she worked with NAO humanoid robots alongside electrical and computer engineering professor Seung-yun Kim. The lab's ultimate goal is competing in RoboCup — a soccer competition for NAO robots.
Grad school: Princeton University
Mary McMullan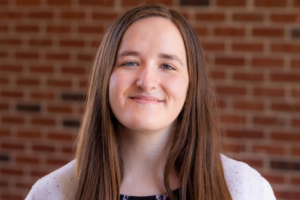 Major: physics
Research interests: astrophysics, plasma physics, and computational physics
Research at TCNJ: Working with physics professor Thulsi Wickramasinghe, McMullan researched gravitational waves, specifically studying their dispersion speeds as they traveled through space.
Grad school: University of Rochester
Maya Williams

Major: applied mathematics
Research interests: mathematical biology and modeling disease spread
Research at TCNJ: She worked with Matthew Mizuhara, professor of mathematics and statistics, on independent math biology research.
Grad school: Florida State University
The five-year fellowship includes three years of financial support including an annual stipend of $34,000 and a cost of education allowance of $12,000 to the institution.
All three students have been involved in research projects with faculty mentors at both TCNJ and at host institutions through the NSF's Research Experience for Undergraduates program.
"The NSF graduate research fellowship is not only a fantastic award, but it allows me to conduct the research I want to conduct with lots of flexibility [to research what I want]," McMullan says.
Danielle Demateis '19, now at Colorado State University, and Gina Errico '20, now at Oklahoma State University, both received honorable mentions.
The NSF Graduate Research Fellowship Program recognizes and supports outstanding graduate students in NSF-supported science, technology, engineering, and mathematics disciplines who are pursuing research-based master's and doctoral degrees at accredited United States institutions.
As the oldest graduate fellowship of its kind, the GRFP has a long history of selecting recipients who achieve high levels of success in their future academic and professional careers. The reputation of the GRFP follows recipients and often helps them become lifelong leaders that contribute significantly to both scientific innovation and teaching. Past fellows include numerous Nobel Prize winners, U.S. Secretary of Energy, Steven Chu, Google founder, Sergey Brin and Freakonomics co-author, Steven Levitt.
---