While the formal Mentored Undergraduate Summer Experience program at TCNJ is coming to an end, many of the projects are only the beginning of great things to come this academic year.
Check out this week's round up of projects-in-progress — where they've been and where they're heading next: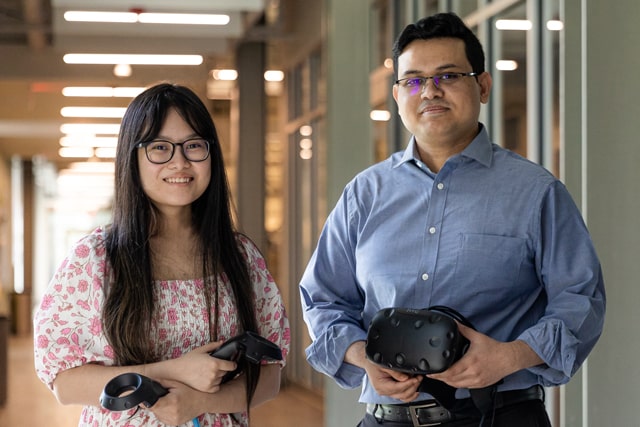 PROJECT Investigating the effectiveness of a visual cybersickness questionnaire
FACULTY Sharif Mohammad Shahnewaz Ferdous, Computer science
STUDENTS Andrew Michael '24, Kyla Ramos '23
WHAT THEY'RE PUTTING IN MOTION Cybersickness is a form of motion sickness that occurs as a result of exposure to immersive experiences such as virtual and augmented reality. This team is developing a web application that combines questions with animation to make it easier to understand the symptoms of cybersickness. "Other researchers have been collecting data about cybersickness, but we noticed that their method of evaluating a patient's severity of cybersickness may not be optimal," says Michael."The quizzes tended to be bland and unattractive, so we decided to create an online user-friendly interface to ease the process of studying the ill-effects from cybersickness for both the researchers and enrollees of future studies."
THE NEXT STEPS Using the app they develop, they'll compare cybersickness between children and adults.
---
PROJECT #1 School readiness and social determinants of health: A collaboration with community teachers and parents
PROJECT #2 Health disparities: The effects of race/ethnicity and maternal education on infant mortality
FACULTY Rashida Atkins, nursing
STUDENTS Afia Hinckson '22 and Damilola Aromolaran '22
READY, SET, GO For the first project, they'll use community-based research methods to engage parents and develop and implement strategies to help them enhance school readiness in their preschool-aged children.
AND NOT LEAST With knowledge and research from the study in project two, the team will explore and explain disparities in infant mortality that are related to race/ethnicity and education. They're conducting a secondary analysis of existing data from New Jersey tables and running advanced statistics to explore relationships among the variables.
---
PROJECT First generation college students' experiences in the School of Education
FACULTY Nadya Pancsofar, Special Ed, Language and Literacy
STUDENT Nature Elmore '22
WHAT IS KEEPING US BUSY Analyzing interviews of 20 first-generation students that were conducted in the spring 2021 semester to better understand their experiences and challenges.
END GAME The results from this study will inform the Resources, Opportunities, Supports, and Collaborations for Equity Educators program, which will pilot during the 2021–22 academic year and will match first-year, first-generation college students with a faculty mentor and a peer mentor in the School of Education.
---
PROJECT Determination of the peak rate factor for the Natural Resources Conservation Service dimensionless unit hydrograph equation for the northeastern United States
FACULTY Michael Horst, Civil engineering
STUDENT Isabella Lamboy '24
DIPPING INTO THE WATER Using historical data available online through the United States Geologic Survey and National Weather Service, Horst and Lamboy are working to back-calculate a variable in an engineering equation that can help determine characteristics — like the area or slope — of watersheds in the northeastern United States.
BIG PLANS If they're able to make definitive conclusions, then their work will greatly improve the accuracy of engineering calculations used in the analysis and design of hydraulic structures like bridges, culverts, and dams.
Check back next week for the fourth and final round-up of MUSE at TCNJ. Read about other MUSE projects here and here.
---