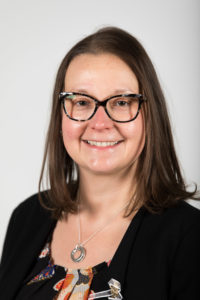 Chemistry Professor, Dr. Abby O'Connor, has been selected to be a recipient of the 2021 WCC Rising Star award for excellence in the scientific enterprise. This year's award recognized ten (10) exceptional women scientists approaching mid-level careers across all sectors [academic, industrial, government] who have demonstrated outstanding promise for contributions to their respective fields. The selection committee stated that they were very impressed with Dr. O'Connor's accomplishments and dedication to the chemical enterprise, congratulations on this well-deserved honor. An awards symposium will be held at the virtual Spring 2021 National ACS meeting on April 7, 2021.
The Women Chemists Committee (WCC) serves the membership of the American Chemical Society with its mission to be leaders in attracting, retaining, developing, promoting, and advocating for women in the chemical sciences.
The American Chemical Society is a nonprofit organization chartered by the U.S. Congress. With more than 150,000 members, ACS is the world's largest scientific society and a global leader in providing access to chemistry-related research through its multiple databases, peer-reviewed journals and scientific conferences. Its main offices are in Washington, D.C., and Columbus, Ohio.
For More Information: