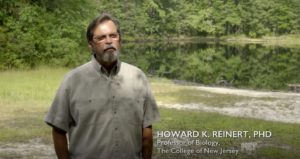 Dr. Howard Reinert, Professor of Biology at TCNJ, and his conservation research on rattlesnakes in the New Jersey Pine Barrens was featured in the April 26, 2020 episode of the PBS show Ecosense for Living – "Wild Crossings."  Professor Reinert's work is featured beginning at the 23:00 mark.
About PBS Eco Sense for Living
Eco Sense for Living is a thought-provoking series of eco-topics ranging from reconnecting kids to nature, green jobs, and healthy lifestyles limiting the impacts of toxins on our home and bodies. The series aims to empower viewers with practical solutions geared toward saving money, treading lighter on the planet, and improving quality of life.
For More Information: