Students scattered in different rooms of the Education Building, gluing their eyes to their laptop screens. Teams of strangers or best friends laid claim to floor tiles with sleeping bags, pillows, and non-stop work.
This site was nothing new for the annual HackTCNJ event.
The 24-hour event is organized by computer science majors who are members of TCNJ's Association for Computing Machinery (ACM), a computer science-centered student club at the College. Sophie Goldberg '20, a senior computer science major, has been in charge of organizing the event for the past three years.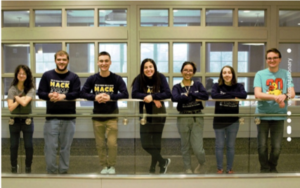 "When people hear the word hacking, they immediately think malicious," Goldberg said. "But in our sense, hacking … is the act of coming up with something on the spot to solve a problem. So, a hack is just something you came up with."
The event began at 7:00 am on Saturday, February 29, and ran until 3:00 pm the following day.
In attendance were students from the College, high school students, and even students from schools as far away as Texas. Some teams had never met prior to the event and were introduced during a team-building exercise that happened immediately after the opening ceremonies.
HackTCNJ 2020 was opened by a presentation from the keynote speaker, Dr. Madiha Jafri, who is a senior scientist from Lockheed Martin, a global aerospace technology company. She focused on making sure the students knew that just because they get a degree in one discipline does not restrict them to that subject for life.
"I'm so excited for you because the world is your oyster," Dr. Jafri said. "You have your own passions and strengths. Just embrace them. As long as you're dedicated and passionate and enthusiastic and willing to learn, you'll make a great engineer."
In her speech, she explained her own career, infusing advice into students for when they may not feel prepared for certain situations. But to lean into it and take it as a learning opportunity.
"There will be situations where someone sees something in you, that you maybe don't recognize. Embrace that," Jafri said. "Don't be afraid to jump into fires. Make this world a better place. Your challenge is someone else's dream. So, arm yourself with diverse mentors and pay it forward. I hope that every woman in the room — and the male allies — know that I am super proud of you."
Once the opening ceremonies concluded, it was time for the hacking to begin.
While the majority of students in attendance were participating in the 24-hour program, other attendees who weren't participating were welcome to watch.
One student who didn't know much about computers when he came to the College as a biology major, but then the hackathon changed his mind and changed his major, is sophomore computer science major Michael Mongelli '22. "I didn't know how to code at all, but there were all these different events during it [Hackathon] that it was still a really fun time," said Mongelli, who is now helping to organize the event.
To break-up the grueling 24 hours for the participants, the organizers scheduled smaller events unrelated to coding.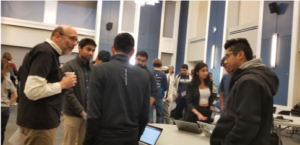 Last year, it was stacking cups, which Mongelli said was the biggest challenge to him and his friends. This year there was a Bob Ross painting session, slide-show karaoke, a talk by computer science professor John DeGood, and a meditation room set-up for students.
If students get stuck with their code during the event, they are not on their own. Professor DeGood was there for most of the event, willing to lend a helping hand to anyone who needed it. It was his third time being a part of HackTCNJ, and he can't wait until next year.
"I think it's a wonderful, tremendous event for both TCNJ students and other high school students," DeGood said. "Even if you've never coded it's a great experience and there are so many resources now to code without knowledge. Even someone who's never programmed in their life can do something."
At the end of the event, students had the option to present their work to judges in a science-fair style set-up. Even if it doesn't work, students can present the project and possibly still win.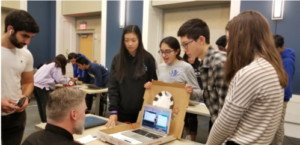 There were eight different categories this year to spread out the awards and make sure everyone has a fair shot at getting seen. The "best first hack" is one of the most exciting for participants, as there are many high schools represented; and those competing in the category may not have as much experience as other hackers. For a team to qualify for this category, the majority of team members must never have done a hackathon. The category was created as a way to encourage newer hackers to present their work even if it isn't totally functional.
"There are a lot of cool ideas that brew out of the hackathon environment, and if people were to continue them there would be a lot of cool innovations in the world," Goldberg said. "The hackathon atmosphere gets you creative. And the whole experience is super rewarding to anyone of any skill set."
– Kerry Hennessy '21
For more information: