TCNJ's chapter of the American Medical Student Association, or AMSA, is for all students. Anyone and everyone. Anyone who is interested in applying to medical school, and anyone in the process of applying to medical school, and anyone who doesn't know what they want but think that medicine or medically related field could be a place for them. Just walk in, sit down, and see what you think.
AMSA's mission statement is as follows: "We support physicians in training, host events, and provide services that will make them better pre-med students." In a nutshell, AMSA helps and encourages students interested in careers in medical, veterinary, dental, and optometry fields, as well as other health-related fields such as physical therapy, pharmacy, podiatry, and the basic medical sciences. The club also works with the TCNJ's Medical Careers Advisory Committee.
This year, Katie Ramdial '21 is the president of AMSA, and one of her goals is to help the club grow in size. "We are really trying to expand and reach other people, and to let them know that they have this resource…to give them information about applying to medical school and getting volunteer service stuff and clinical experience," she said.
Katie is a junior biology major with a minor in chemistry. Her vice president, Michael Osei '20, is a senior biology major with a minor in chemistry and a minor in psychology.
For Michael, the best part about being the vice president of AMSA is that he gets the opportunity to be helpful. He is there to give advice to anyone who will ask. To him, being vice president of AMSA means that people know he is here to help.
"My favorite moment of AMSA is seeing the students ask questions after the meetings or during the meetings," said Michael. "Because I just feel that I'm helping people… having that one-on-one conversation with people and knowing that I helped this person… And giving that personal advice…that can help people on their career path – is definitely the most rewarding part."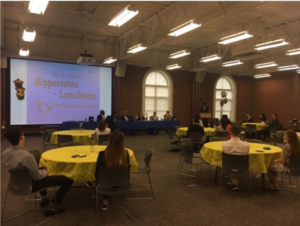 There are three big events that are organized and held every year. The first one is the Hippocrates Luncheon. It's the event where TCNJ alumni physicians come back to make a panel for AMSA's students. The panelists are asked questions by the students and take turns going down a line answering them. Once there are no more general questions, the event pauses for lunch. After the food is served, the alumni go around to different tables of students to talk to them. Here, any individual questions are asked. Questions about specialties, experiences, personal advice, or anything in between.
The second event is the mock interview workshop which helps to provide students with information about what employers are looking for. Once again, TCNJ alumni physicians come back to lend a hand to the next generation of students. The alumni help them with different interviewing tips and tricks, pointing out where the students excel and where they could do better.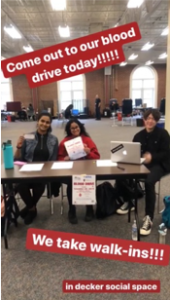 The third event is the fall blood drive. For each of the last the past four years, there has been annual blood drive held by AMSA. It was one of the first events that Katie was ever part of organizing, so it wasn't executed without a little stress. "I helped put on the blood drive last year, and being able to see it happen and when it all worked out… Like getting to see it put together and getting the room and everything and seeing it put on. I just got so much satisfaction – 'Wow. I did this and it turned out okay.'" said Katie.
AMSA also has monthly meetings on Wednesday afternoons which follow the same general trend. They bring in guest speakers to talk about how to apply to medical school and what admissions counselors are looking for.
And when it comes to experience, AMSA is an astounding resource for students looking for volunteer opportunities and clinical experience. Every year, AMSA helps place students individually with opportunities around or near campus for their volunteer work.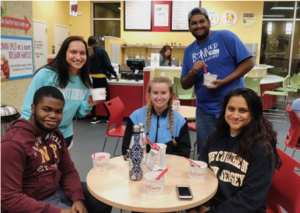 The other event that helps to break-up the seriousness of applications and the stress of school is the fundraiser at RedBerry Frozen Yogurt that was started last year. It was meant to be a fun way to raise money for the club that didn't involve table-ing, and it worked. According to Michael, a lot of members turned out to try and raise money for the club.
"When I came to college I knew I wanted to be a part of AMSA, so being able to become a leadership role is kind of cool," said Katie. "I feel like it's helped me become more of a leader."
"It feels a lot more rewarding…" said Michael about becoming vice president "…to do what other people did for me and give back. It's really rewarding and I feel like all the work is worth it. Definitely is a big shift, but I appreciate that shift."
– Kerry Hennessy '21
For more information: