Exploring, Growing, and Understanding
The willingness to learn is what makes a scientist, and the ability to evolve is what makes a successful scientist. Dr. Don Lovett has been an educator since 1979 but has been involved with teaching well before that. His teaching career started with giving swimming lessons and leading a boy scout troop- before it even occurred to him that he liked teaching.
Dr. Lovett's love for science could have started with baking, because his grandmother was a star chemist when it came to baking. She knew all of it, said Dr. Lovett, how the ingredients interact with each other and how some things depended on the weather.
When Dr. Lovett was 7 or 8 years old, he would wander into the woods around his home with the purpose of exploring and collecting insects. His curiosity only expanded with age, leading to him having 40 different tropical fish during high school.
It was in high school where Dr. Lovett found his first scientific roadblock. He signed up to be a high school biology teacher for career day but hit a wall when his parents were less than supportive.
"My parents forbade it," chuckled Dr. Lovett, "So I signed up to be a fisheries biologist. And I loved it."
He went on to study aquatic ecology for his undergraduate and master's degrees. Then he joined the Peace Corps. He was stationed in Malaysia during the four years of his Peace Corps tours of duty, where he learned the language and then learned Indonesian as well. During his second tour of duty with the Peace Corps, Dr. Lovett started teaching at a Malaysian university.
While in Malaysia, Dr. Lovett conducted research on freshwater fish and shrimp. Here was the jumping-off point for his scientific specialty to evolve.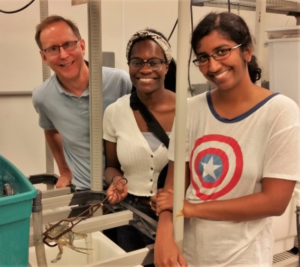 Looking back at his first day of teaching as a college professor in the U.S., Dr. Lovett remembered that: "It was exhilarating. I wasn't much older than the students, and I looked the same age as them – so it presented challenges. But I loved teaching from the very first day."
After coming back from his tour with the Peace Corps, Dr. Lovett started pursuing a Ph.D. in systematics. There he discovered how physiology interacts with ecology. Exploring this line of research eventually led to his understanding of the interaction between gene expression and physiology. And now he's an integrative biologist and professor at TCNJ.
In 2011 Dr. Lovett started his own faculty-led, study abroad course that is offered every two years. "The Natural History of the Galápagos Islands and Ecuador" is taught as two half-courses which are completely linked and integrated. The first occurs during second half of the Spring semester at TCNJ, and this is immediately followed by a full-immersion, field-based course taught in the Galápagos Islands and Ecuador. The course is open for any TCNJ student and the goal is to learn about how the environment and culture interact.
Dr. Lovett has also has taught one of TCNJ's First Semester Seminar courses for entering first-year students on a related topic. His course explores the controversy between evolution and creationism.
One of the biggest myths about learning science that Dr. Lovett always has to combat is about how to be a successful student. "Science is not about memorizing facts," he said, "it's about understanding."
Because of this, Dr. Lovett pushes for his students to understand the material and not just memorize it. And he does it with results. "Dr. Lovett's teaching style leads to the students' earning their own "Aha!" moments," said Douglas Rebbin '22. "Dr. Lovett always ensures that his students truly understand a concept inside and out before moving on and pushes them to be their best."
For Dr. Lovett, studying science was never a daunting task. Even when there was a class he wasn't doing well in, he was never deterred from learning.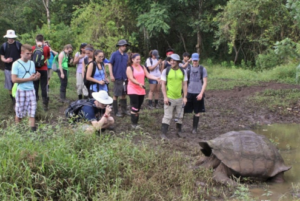 "I've never stopped learning," he said, "I'm what you'd call a lifelong learner. Everything interests me."
Dr. Lovett explained that he's always been quite "bohemian or eclectic" in his interests – as he enjoyed learning everything from science to art, history, and languages.
Questions like 'What do you wish you had learned?' don't apply to Dr. Lovett since he always wants to learn. Rather, he tends to ask himself, "What do I want to learn this week? Or even this month?" To him everything is interesting, and anything can be challenged.
When Dr. Lovett was in graduate school, one aspect of his research examined growth patterns and ways to express them numerically. During that time, the common means of expressing growth was with logarithmic transformations. Dr. Lovett argued the opposite with ideas, that at the time were so out-of-left-field, his graduate mentor wouldn't let him publish them.
To compromise, Dr. Lovett and his mentor sent the manuscript for an article to an expert in the field (who didn't get back as quickly as anyone would have liked). But when they did get a response, the expert wrote 'I guess I'm going to have to rethink 50 years of research.' It was only after they got the response that Dr. Lovett could publish his work.
That wasn't the first time Dr. Lovett was published though. In 1976, three years before he began teaching, he helped illustrate a guidebook for a bike trail. He illustrated the plants you would see along the trail that went across the entire country.
"On that bike trip, I went deep into America and saw things I didn't know existed," recalled Dr. Lovett, "I learned so much about rural life that I didn't even think to know. Stuff a city boy couldn't imagine."
Dr. Lovett has since made it a point to learn about other cultures. He even said he would be a cultural anthropologist if he weren't a biologist.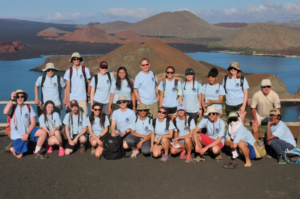 "I just love visiting other countries and learning about other people, their culture, and the art and the architecture of places," he explained.
Dr. Lovett's love for learning translates to his students. Sai Chandra '20 was in Dr. Lovett's class during Sai's first year, and still remembers how much Dr. Lovett wanted all his students to succeed.
"Dr. Lovett as a professor in class and for research really helped me understand the value of questioning and understanding why things are done," said Sai, "which I know is a useful skill that I will definitely need now as well as in the future."
If there was one thing Dr. Lovett could make all his students follow it would be to explore new things, and not to carry on as they did in high school. It's his best piece of advice for first-year students, and during commencement, he gets to see that it was put to use.
"The worst part about being a teacher is saying goodbye," shared Dr. Lovett, "but the best is watching changes in students from start to finish. From a first week student to a mature person. You get to watch that happen…even if the students didn't realize it."
– Kerry Hennessy '21
For more information: