Dr. Salvatore Torquato
Princeton University
Tuesday, October 22, 2019
12:00-12:30 pm – Lunch Reception
12:30-1:30 pm – Lecture, Q&A, and Discussion
Gitenstein Library Auditorium
Hidden Order in the Patterns of the Prime Numbers: Physics Meets Mathematics
Abstract – Presentation Overview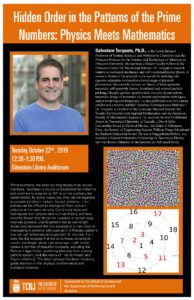 The prime numbers, the basic building blocks of all natural numbers, have been a source of fascination for millennia and continue to surprise us. While prime numbers are deterministic, by some measures, they can be regarded as pseudo-random in nature. Indeed, patterns in the primes can be difficult to distinguish from random patterns at the same density. Combining ideas and techniques from physics and number theory, we have recently shown that the prime numbers in certain large intervals possess unanticipated order across length scales and represent the first example of a new class of many-particle systems with pure point diffraction patterns, which we call "effectively limit-periodic" [1,2,3]. In this talk, I will describe the odyssey that led us to these remarkable results that began about two years ago. To do so, I will briefly review a number of beautiful concepts, including the Riemann hypothesis, scattering intensity from a many-particle system, the nature of "randomness" and "hyperuniformity." The latter concept has been receiving great attention in the physical, mathematical and biological sciences. A popular account of our results is available at a Princeton University web site [4].
S. Torquato, G. Zhang, and M. de Courcy-Ireland, "Uncovering Multiscale Order in the Prime Numbers via Scattering, Journal of Statistical Mechanics: Theory and Experiment, 2018, 093401 (2018).
S. Torquato, G. Zhang, and M. de Courcy-Ireland, "Hidden Multiscale Order in the Primes", Journal of Physics A: Mathematical and Theoretical, 52 135002 (2019).
About the Speaker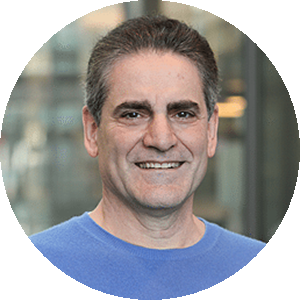 Salvatore Torquato is the Lewis Bernard Professor of Natural Sciences at Princeton University. He is a Professor in Chemistry and the Princeton Institute for the Science and Technology of Materials. He is also affiliated with three other departments: Physics, Applied and Computational Mathematics, and Mechanical and Aerospace Engineering. He has been a Senior Faculty Fellow in the Princeton Center for Theoretical Science. Dr. Torquato's research work is centered in statistical mechanics and soft condensed matter theory. A common theme of his research is the search for unifying and rigorous principles to elucidate a broad range of physical phenomena. His current work focuses on theory of heterogeneous materials, self-assembly theory, disordered and ordered particle packings, liquids, glasses, quasicrystals, crystals, hyperuniform materials, design of materials via inverse optimization techniques, cancer modeling and biophysics. He has published over 420 journal refereed articles and a treatise entitled "Random Heterogeneous Materials." Torquato's published work has been cited over 39,200 times and his h-index is 103, according to Google Scholar.
Among other awards and honors, he is a Fellow of the American Physical Society (APS), Society for Industrial and Applied Mathematics (SIAM) and American Society of Mechanical Engineers (ASME). He was the recipient of the ACS Joel Hildebrand Award in Theoretical Chemistry of Liquids, APS David Adler Lectureship Award in Material Physics, SIAM Ralph E. Kleinman Prize, Society of Engineering Science William Prager Medal and ASME Richards Memorial Award. He was a Guggenheim Fellow and was thrice a Member of the Institute for Advanced Study. He also was awarded a Simons Foundation Fellowship in Theoretical Physics.