Work Hard, Play Hard: Research Rewards the Resilient
Between coloring, chasing, painting, and playing with her two little kids, Dr. Nina Peel spends her time researching and creating an environment where her students can thrive. Known to her students by her trademark friendliness and upbeat personality, it's not hard to realize why she became a faculty member six years ago.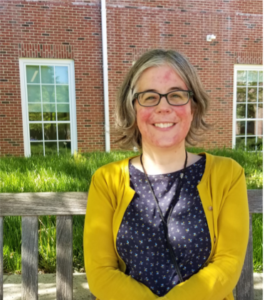 Dr. Peel knew from an early age that she wanted to go to college for biology. She just didn't know what aspect of biology to study and what would lead to a job. In fact, she didn't even know she wanted to teach until she experimented during her Ph.D. program.
"I decided to get some experience as a teacher because everyone in science is a teacher," she said. What Dr. Peel didn't expect was that she'd love teaching.
For her first day on the job, Dr. Peel took some advice from a friend, who was also a teacher.
"She said on the first day to greet everyone as they came in the door. So, I did," said Dr. Peel. "And it made me feel better as they weren't anonymous faces." Dr. Peel jokes that the students probably thought she was strange that day but no one said anything about it. She also remembers that there were two doors to the room; so, she didn't really get to meet everyone.
There weren't many times that Dr. Peel strayed from her biology path and the courses it came with. But there were a few times where she hit stumbling blocks. One example is during the first year pursuing her Ph.D., she worked in what she expected to be her dream lab, only to discover that it really wasn't for her.
"I hated it." she said, "I didn't enjoy working with mice because I realized I couldn't euthanize them. I understood the benefit to working with mice and all that you could learn but I just couldn't do it." This unfortunate lab experience is what Dr. Peel calls her "cast adrift moment."
Since Dr. Peel started in research, she's guided her lab with questions ranging from the insightful to the not-fully-thought-through. Sometimes her experiments aren't the correct ones, and she acknowledges them with a laugh.
"There are a lot of times that when I do something or I ask for something to be done, and the results aren't what I wanted. I realize that 'Yeah, that was a stupid experiment to do. Or that wasn't the right experiment to do.'" said Dr. Peel. "But doing experiments is part of the process of science. By rolling stuff out to see what happens."
When experiments go well, the results can be phenomenal. Dr. Peel remembers what it felt like to be published for the first time. It was just after she had completed her Ph.D. and had moved on to a different experiment. "The [publishing] process goes on so long you forget about it," she said. Then, on the same day, her experiment wasn't cooperating, her research paper got accepted. "Something went wrong and I was kind of slumped. And I came back and my friends were like 'YOUR PAPER MADE IT!!!" After hearing that, Dr. Peel's first thoughts were: 1) to nix her current experiment, and 2) to give the published journal to her mom.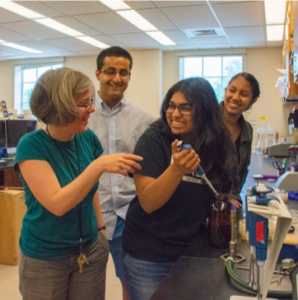 Nowadays, Dr. Peel's students know that they can look forward to a fun, nurturing environment in the lab. "Dr. Peel has been nothing short of encouraging…" said AbdulKaba, a former student of Dr. Peel and a current lab shadow. "Dr. Peel challenges me on an intellectual level and pushes me to discover things for myself…I'm truly grateful for having her as a professor."
Another student that works in Dr. Peel's lab is Jessica Dominguez who said that Dr. Peel "…fosters an environment in which it is okay to try, make mistakes, and grow. I've never been afraid to make a mistake in Dr. Peel's lab because, with her understanding and sense of humor, I knew it would all be okay."
Dr. Peel vividly remembers what it was like to be a student and to think of professors as unapproachable and almighty beings, but she strives to be the opposite. "The professors had celebrity status," she recalled. "It wasn't until the third year where you realize they are people. I remember thinking: 'You're like a real person who is easy to talk to. And you're funny. And you know your stuff.' I want to be approachable like that."
For Dr. Peel, the best advice she can give to students and aspiring scientists is to work hard and play hard. She also wants her students to realize how important it is to learn how to write. "If you can't communicate your science," she said, "it's almost like you didn't do it at all. Because you can't tell anyone effectively what you did."
– Kerry Hennessy '21
For More Information: