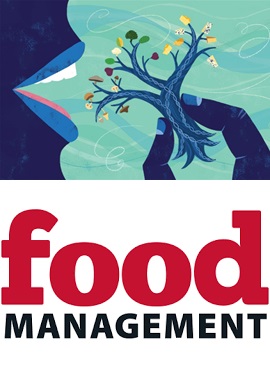 In February 2017, the School of Science and Dining Services collaborated to host a campuswide, science-themed meal—Tasting the Tree of Life: Exploring Biodiversity through Cuisine.

The event, which was nine months in the making, recently won Food Management magazine's "Best Special Event" for 2017 in their Best Concept Awards. These Awards are "designed to recognize and celebrate out-of- the-box innovations."
At the one-of- kind Tasting the Tree of Life event, nearly 3,300 students, faculty, staff, and visitors took the opportunity to sample some new tastes alongside familiar favorites while learning about biodiversity and relatedness of their food. Attendees balanced their diet in a new way. They sampled foods that stretch across distant branches of the Tree of Life—like a savory BBQ jackfruit & avocado sandwich, spicy alligator sausage, and roasted crickets!
The Tree of Life is like a family tree; scientists use the Tree to trace the history of species living today back through time. In all, nine meals incorporated 149 species/ingredients across the Tree of Life. Each meal illustrated a scientific message that was communicated through the diverse menu, conversations with undergraduate Biology student "Field Guides," informational posters, and an interactive website.
For More Information: