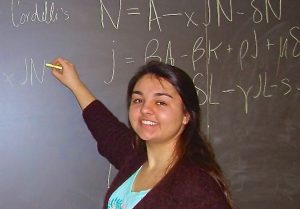 "Math is everywhere," says Ursula Widocki, a sophomore applied mathematics major. "And the math they teach you in high school doesn't help you realize how ubiquitous math really is."
Widocki has even found room for mathematics on her music playlist.  She remixed "Do You Wanna Build a Snowman?" featured in the renowned animated film, Frozen to "Do You Wanna Build a Laser?"  In addition, Widocki reworked Macklemore's "Thrift Shop" from a tune about second-hand finds to a rap about linear algebra.  Fusing science with popular music and making her own parodies is a hobby of this mathematics songstress.  "If I'd been working on linear algebra for a while, I would get a little loopy and have all this terminology spinning in my head. Sometimes I'd take some phrases that rhyme and take a pop song and apply it to these words," she says.
But it's more than just numbers, calculations, and music's Top 40 that enthrall the mind of Widocki. In addition to playing the viola in the TCNJ Orchestra, she is also a member of the Association of Women in Mathematics and the Innovative Projects in Computational Science (iPics) program. She is also on the executive board of TCNJ EMS, is part of the Women in Learning and Leadership (WILL) program, and just recently joined the Sigma Sigma Sigma sorority.
Along with her heavy extracurricular involvement, Widocki has been involved in numerous competitions including HackTCNJ, where she and her teammates created a test-based adventure game with a TCNJ twist. The game mimics the first-year experience at the College with special features specific to students such as "Muha called a snow day" or "plus five points for productivity."
During Local Hack Day – which is held over a shorter period of time than a typical hackathon – Widocki collaborated with her teammates to build the Meal Equiv mobile app. The app shows all the different item combinations that a student can purchase at The Atrium at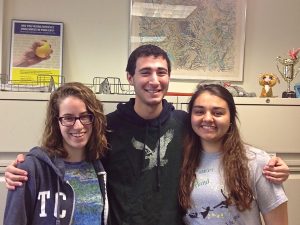 Eickhoff Hall in order to maximize the allotted meal equivalency amount compared to other dining choices on campus.  Now looking back, Widocki laughs when she recalls how the app had an error and repeatedly printed out "beans tacos tacos" over and over again!
Widocki also participated in the CoMAP 2016 Mathematics Contest in Modeling, an international online competition for high school and college students involving a satellite laser. During a 96-hour time span, Widocki and her teammates – recent Goldwater Scholar Rebecca Santorella '17 and Matt Klubeck '16 – worked diligently to solve a problem of their choice and then compiled a formal research paper on it.  The team received Honorable Mention for their project.
While math seems to consume a significant portion of Widocki's life, she never tires of formulas and equations. "Yes, math is hard," she says. "But even though I get frustrated with math sometimes, at the end of the day, I'd rather do math than write an English essay."
With a keen interest in biology, Widocki has combined her love of both numbers and life science – a passion that has a familial connection.  She reveals that her father has been dealing with Lyme disease for over 30 years and his illness sparked her pursuit of biology-inspired mathematical work.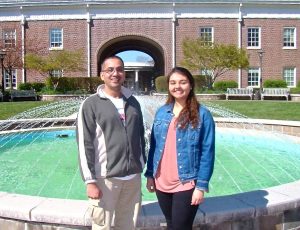 Currently, Widocki is conducting research with Dr. Sudhir Nayak, associate professor of biology, on a project started by a former TCNJ student five years ago. Normally, in a random sample of bacteria, the protein domains are easily identifiable as well as the characteristics of the protein's constants. Widocki is working to determine an algorithm that will recreate the protein characteristics in order to ascertain which bacteria are present.  It has never been done before, and Dr. Nayak found Widocki to be the perfect investigator for this type of research.
"I like that she's always trying to learn," says Dr. Nayak.  He is impressed with how Widocki is able to have high-level discussions on a broad range of research topics that are usually not tackled by undergraduate students.  And while Widocki is not receiving course credit on this project, she is eager to learn about genomic databases and work with large biological datasets, which are topics outside the mathematics curriculum.  "I would say that her best characteristics are that she is not intimidated by complicated problems and that she takes the initiative to learn about the background on her own," says Dr. Nayak.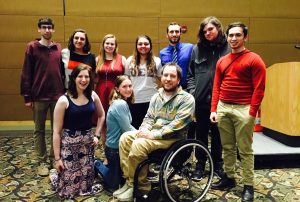 Widocki's advice to incoming majors? Read outside the curriculum. She raves about a book she read about neurotechnology titled The Future of the Mind by Michio Kaku. "Everything is interdisciplinary in school, and it's really hard for professors to expose us to all the different fields of mathematics, which is why students need to take the initiative on enrichment outside of the classroom," she says. In regards to how she stays organized, Widocki says that she color-codes everything and maintains her stress levels with warm cups of mint ginger tea.
Alongside her participation in mathematics competitions and hackathons, Widocki's involvement in the WILL program as part of the community service committee has provided her with many other exciting volunteer opportunities. She helped organize a Father-Daughter Dance in Trenton hosted by the Children's Home Society and also assisted in planning a senior citizen prom in a nursing home in Pennsylvania.  She also says that joining the sorority Sigma Sigma Sigma has helped her feel at ease.  "I love Tri Sigma," says Widocki. "I'm an only child, and I feel like I've found a family.  They are my sisters, and they're so supportive."
While she has only reached the halfway mark in her college career, Widocki has certainly accomplished a great deal. So what's next for her?  Perhaps some more mathematically inspired remixes and math competition triumphs?  Stay tuned to find out.
– Kelly Corbett
For More Information: