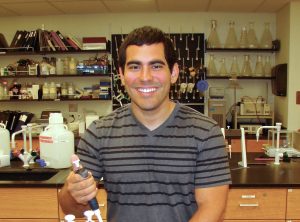 In between Club Lacrosse practices and fulfilling his philanthropic duties for the Delta Tau Delta fraternity, senior chemistry major Brandon Martinez is fixated on how all the atoms in the universe form things that we use every day.
It was a specific protein that sparked an interest in Martinez; in particular, FPPS (farnesyl diphosphate synthase).  He began conducting research on this protein by putting it in different ligands to determine how stable the complex is.  One part of the project is determining the proper orientation for the protein, and the second step is putting the ligand in a molecular dynamic complex and seeing if it stays together or breaks apart.  This past semester, Martinez presented a poster based on ligand conformation and the molecular dynamics of the human FPPS.  He is continuing his FPPS research during the Mentored Undergraduate Summer Experience (MUSE) program at TCNJ, while starting a new project that examines the transport protein from cells that brings in the substrates for the protein.
Martinez has also been involved in other labs that include synthesizing different compounds and using different techniques to determine what could be composed.  He thrives on the hands-on approach of labs.  However, "I don't always like writing them up afterwards," he admits with a laugh.
Martinez has been conducting research with his faculty mentor Dr. Stephanie Sen, Professor and Chair of the Department of Chemistry.  "She really helps me out by pushing me to keep going and learn new things about what I'm studying," Martinez says.
Ultimately, Martinez aspires to work for a pharmaceutical company:  "I was always interested in drug development and finding out how different molecules interact with each other and with the body."  Although Martinez plans on attending graduate school, he has not yet determined what field he wants to study, wavering among three possible sub-disciplinary areas of research: organic, biochemical, or inorganic chemistry.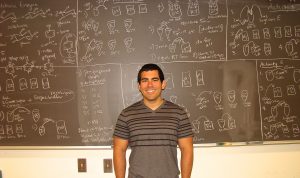 While his research consumes much of his time, Martinez is an active member of the Delta Tau Delta (DTD) fraternity.  He currently serves as Secretary of the organization, but was Community Service Chairman last semester and remains passionate about serving the community.  On a weekly basis, he and his fraternity brothers help clean up the dining hall, volunteer at the Trenton Area Soup Kitchen (TASK), and complete construction projects at Kids Bridge, a supervised family visitation center and the fraternity's local philanthropy.  During winter break 2015, Martinez planned a trip to New Orleans where his fraternity worked on different service projects such as painting houses, demolition and construction, and volunteering at an animal shelter.  Whether they are serving the community together or just hanging out, Martinez considers his fraternity brothers some of his best friends at TCNJ.   "Whether I need help or I'm stressing out over things, they're always there," he says.
A typical day for Martinez requires one or two cups of coffee. "Except for finals week when it's like five," he says.  He does his coursework either in the Chemistry building or in his off-campus house and finds time to hit the gym in Campus Town.  Catching an episode or two of Game of Thrones serves as a solid study break for him.  He also works in the recreation department at the College as one of the club sports supervisors, attending practices and games and addressing issues on the field.  Martinez encourages incoming majors to develop time management skills early on in order to strike a balance between their social and academic life.
As for Martinez's biggest achievements in life?  Getting accepted into TCNJ and earning his Eagle Scout rank top the list.  With just one more year at the College, he reveals his favorite part about being a Lion: "It's the whole campus atmosphere.  I love walking around and seeing how friendly everyone is." There's no doubt Martinez has found his home at TCNJ and his true passion within chemistry, particularly in fusing different chemicals.
– Kelly Corbett
For More Information: