Susan Knox, a senior chemistry major with a minor in biology, has taken advantage of all The College of New Jersey – and life – has to offer. The New Jersey Governor's STEM Scholar has been able to immerse herself into the college experience while also juggling internships, multiple clubs, and more recently, the nerve-racking graduate school application process.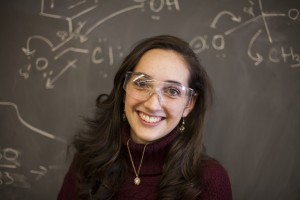 Knox first developed the skills and desire to learn at Stuart Country Day School of the Sacred Heart, an all-girls PreK-12 school located in Princeton, NJ.  While attending Stuart, Knox transformed into the communicative and driven adult she is today, due to the school's ability to push its girls to speak their minds. She recalls taking part in debates in the eighth grade and in high school, giving multiple oral presentations, which she says equipped her with the ability set to speak her mind.
After taking Advanced Placement Chemistry and Biology in high school, Knox decided to pursue a degree in biochemistry. The Ewing native came to TCNJ with the drive to take courses that would be focused on chemistry in relation to human health. "That's what I want to do with my life," said Knox. "I want to have the connection, the bridge between chemistry and biology."
Knox originally wanted to spread her wings and attend a college further away from home, but she ultimately decided to come to TCNJ because of the many more opportunities that TCNJ would provide, relative to the other colleges she was considering. Before enrolling as an undergraduate, she was already thinking of graduate schools and noticed that "TCNJ students were getting into the ideal places I wanted to be."
On campus, Knox has been part of many organizations and has even been able to lift one of her own programs off the ground. She has been the vice president of the Student Chemists Association (SCA) for two years now, allowing her to help fellow chemistry students network and surround themselves with others who share the same passion for science and organize demonstrations and group trips. TCNJ's Student Chemists Association has recently received an inter-chapter relations grant from the national SCA organization which has allowed the club to organize more chemistry-related events such as visiting the Chemical Heritage Foundation and the forensics exhibit at the New Jersey State Police Museum.
According to Knox, communication is the key to understanding. In addition to serving as an officer in the Student Chemists Association and a TCNJ Student Ambassador, she has also created her own program called TCNJ Connect that allows chemistry majors to present their research to younger students. Through this program, she is helping college chemistry students learn to simplify their research in a way that younger students will understand while also showing high school students the type of research they should expect in college. Knox herself has presented research at her former high school, saying, "It was one of the most rewarding things, when after presenting about enzymes, two girls came up to me and said 'Your presentation was so cool. We're taking biology now and we're learning about enzymes.' "
In 2015, Knox was selected to be one of the New Jersey Governor's STEM Scholars which deepened her love of sharing science and helped her realize another possible future endeavor: mentorship. According to the NJ Governor's STEM Scholars website, this program "selects student leaders who are interested in STEM so that they can be introduced to everything New Jersey has to offer in STEM across all sectors – academia, industry, and government."  Knox became the scientific mentor to a group of four high school students and was in charge of picking the experiment, finding research space, and helping present their findings to the state senate. She decided to base their research off of work done at the Monell Chemical Senses Center, which focused on taste, smell, and chemosensory irritation. Knox says, "I always wanted to go into industry, but because of this experience I want to hold some type of mentorship role in my future."
Junior chemistry major Sara Martin met Knox during her freshman year at TCNJ at an SCA meeting and considers her to be both a mentor and best friend because of her ability to always push her to take advantage of every opportunity TCNJ has to offer. "Every time Susan becomes aware of an honor society, scholarship, or special event that she thinks I would benefit from, she immediately notifies me," says Martin. "She also gives me helpful advice on study tips and strategies for test-taking specific to certain courses." Knox even helped edit her application for Research Experience for Undergraduates (REU) summer programs, which resulted in Martin being accepted into four of the programs to which she applied.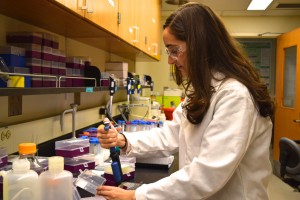 Off campus, Knox has been able to take part in internships and multiple REUs, which she attributes to strong letters of recommendation from faculty thanks to the chemistry department's close faculty-student relationship. Dr. Danielle Guarracino, associate professor of chemistry and one of Knox's faculty mentors, says, "Susan really impressed me from the moment I met her as my academic advisee. Not only did she have excellent grades, but she was so driven and had a deep interest in biochemistry. Her intelligent input on the procedures and ability to pick up new concepts and techniques has really proven to me I made the right choice in doing research with her." With support like this from her professors, Knox was able to travel to Boise State University in Idaho the summer after her first year and complete research on how bacteria communicates. For Knox, "That was the summer I knew that I wanted to use chemistry to help people."
Besides homework, Knox enjoys rock climbing, swing dancing, and playing the flute. What's one of the biggest reasons she decided to come to TCNJ? They had a flute ensemble. Knox has played the flute since her first year in high school and grew up coming to the college's flute ensemble concerts. She also plays in the Blawenburg band, a community band that plays about 30 concerts a year at holiday parades, community celebrations, and church socials, according to their website. Just as she believes in diversifying her portfolio, Knox says that, "It's cool to have some other kind of community – I have my community on campus and within chemistry and ambassador friends, but it's nice to have adult friends as well." The adults in her flute ensemble have supported her since the beginning and have been able to help her throughout the graduate school application process.
So far Knox has gotten into 4 of the 9 graduate school programs she's applied for, including the University of California–San Francisco, Yale University, the University of Pennsylvania, and the University of Wisconsin–Madison. She has decided to attend Yale to obtain her Ph.D. in Chemical Biology. "I am nothing but proud of Susan for all she has accomplished," says Dr. Guarracino. "We all need a Susan Knox to teach and mentor and get to know."
UPDATE: Knox now attends Yale University for her graduate work.  She is studying chemical biology, supported by a grant from the National Institutes of Health.
– Kaitlyn Njoroge
 For More Information: