A Chemist's Enthusiasm taken Step-by-Step
When she's not teaching, traveling, or spending time with her husband and young son, Dr. Michelle Bunagan can usually be found doing research in her lab, specifically concentrating on the physics of chemistry, which she uses to investigate the structure and dynamics of proteins.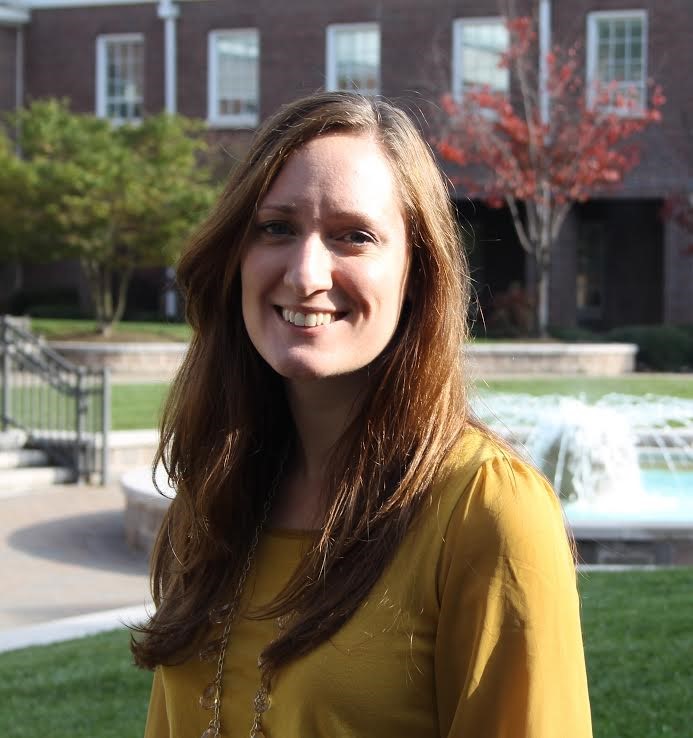 Her latest research project, where she has integrated the brainpower of three senior chemistry students, primarily focuses on studying the environment, and how it will affect peptide structures. In this case, Dr. Bunagan says that one of the most important questions a scientist can ask is how these structures are influenced by their solvent environment.
"In particular we've been looking at ionic liquids, [also known as] salts that are liquids at room temperature. The ionic liquid environment is very different from water," she explains.
Although it is pretty clear that chemistry is her passion, Dr. Bunagan started off with other ideas for her future career. After receiving much encouragement from her professors, the north Jersey native had originally decided to pursue math as her college major. However, once she enrolled into an honors chemistry course, it dawned on her that chemistry was her true calling.
"I enjoyed math, but when I started taking chemistry I found there to be many interesting quantitative aspects," says Dr. Bunagan, who attended Rutgers as an undergrad, then the University of Pennsylvania for graduate schoool. "I also enjoyed the small, interactive classes available for chemistry majors, where professors were more attentive."
Today, she is proud to say that she is currently working at her "dream job" as an assistant professor at TCNJ. Along with her very satisfying career, she also gets to be involved with many activities both inside and outside of the classroom.
As a professor who is comfortable with familiarity, like visiting the Jersey shore, she also thoroughly enjoys going on trips for the sole purpose of exploring and giving back to those in need. About a year after the earthquake in Haiti, Dr. Bunagan and her husband went for a mission trip to build an orphanage in one of the severely damaged areas left behind. The organization which runs the orphanage also holds a clinic, where Dr. Bunagan was permitted to volunteer. "Seeing a different culture and giving back to a community was just amazing," says Dr. Bunagan. She also plans to revisit the same location once her son is old enough.
One of her many achievements that she is also very appreciative of is the opportunity to conduct research on her own projects, which relies on observing the interaction between matter and radiated energy, also known as spectroscopy.
In her studies, the complicated process involves the interaction of molecules with light. The use of light (e.g., Infrared [IR] or Ultraviolet [UV] radiation) and how it interacts with molecules can actually reveal the properties of the molecules.
"Spectroscopy is intriguing to be me because you can use macroscopic measurements to understand microscopic properties, meaning I can take a liquid sample, observe its interaction with light and be able to make some deductions about its molecular properties," says Dr. Bunagan.
Aside from the subject itself, another one of Dr. Bunagan's evident passions includes teaching and interacting with students. "Teaching is what I learned to love in grad school," she says. "When I finished, I realized teaching was my favorite part of that experience. I'm thankful to work at a college that really values quality teaching."
Dr. Bunagan adds that being personable with students is an effective academic tactic, one that is essential in understanding their strengths as well as their struggles, which can be overcome with the proper teaching techniques.
"Personally, I like to know my students. It's very important to initially know who they are and their interests. Knowing them is that first step towards engaging them. Of course, it's also important to show enthusiasm for the material. If an instructor is enthusiastic, then the students will be too. This is especially important for non-chemistry majors who end up in the General Chemistry course. The key ingredient is to "engage [students] where their interests lie," she says.
Senior chemistry majors and lab partners, Ryan Chin '15 and Michael Vermeuel '15, both of whom had the opportunity to do independent research with Dr. Bunagan, pointed out that their professor is highly accommodating when it comes to her students.
During the past few months, both students had been working on optimizing their spectroscopic set up, but were growing increasingly overwhelmed with their inability to collect usable data. "Dr. Bunagan said she would take a look at it over spring break to see what she could do. When we came back she completely brought the signal back up and had our bench wonderfully optimized, and it only took her a few hours," says Vermeuel.
"I was blown away by how she was able to fix in a few hours what we couldn't do in months," he says. "I talked to her about it and told her I could never be able to do that and she said, 'Michael, you can do that and I know you will.' Dr. Bunagan is incredible at what she does," Vermeuel adds.
Chin concurred with Vermeuel's sentiments exactly, because he also has had positive experiences with Dr. Bunagan as a mentor. Chin specifically recalls a time when he was working on an experiment, but had accidentally rearranged the alignment of the laser being used for research. According to Chin, realigning a laser is quite a "time-consuming and tedious task." So, consequently, his expectation was for his professor to show signs of anger for the accident.
However, contrary to his assumption, Dr. Bunagan was very understanding with the situation at hand. "She came up to the laboratory to teach me how to fix the problem," says Chin. "I was very grateful that she was calm while rectifying my mistake, because I definitely learn better when I'm not nervous or anxious."
Chin concluded from this experience with Dr. Bunagan that he was able to learn how to approach a situation with patience and understanding, especially in case he were ever to mentor another person.
Despite the popular belief among most students about professors, Dr. Bunagan does not just limit her skills to the classroom and lab study groups. In fact, she is an active participant in other professional societies, as well. In particular, she is currently involved as a board member with the local section of the American Chemical Society (ACS).
"The Trenton section of the ACS does a lot to support education for students and outreach to schools. One of the most important things we do is to offer scholarships to high school seniors in the area who will be studying chemistry. We also host events at colleges, including the TCNJ campus," she says.
One of the most important factors in kick starting one's career in any of the STEM disciplines, however, derives from having the proper support to encourage students to achieve their goals. As a mentor, Dr. Bunagan heavily emphasizes getting the right advice from the right people, because that, too, was a major stepping stone that brought her to where she is today.
"I think back to the many mentors I had in undergraduate and graduate school, and I realize that I was blessed to be encouraged and inspired by so many of my professors. I hope I can pay it forward to the students I meet at TCNJ."
– Allison Graves
For More Information: