---
Ochoa puts his Best Teaching Theories into Practice
All TCNJ faculty members place heavy emphasis on the expression 'patience and perseverance are everything.' But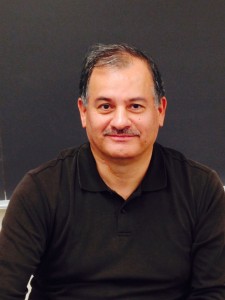 this turn of phrase especially rings true to TCNJ's physics professor, Dr. Romulo Ochoa.
As an individual with a drive to understand more about the dynamics of life, Dr. Ochoa has always been passionate about science. Although he is more known at TCNJ for his contributions to the field of physics, many don't know that he was actually almost a chemistry major.
Having grown up with a father who was a chemist, Dr. Ochoa had decided to follow suit, despite that he was also enthralled by the world of physics. Textbooks, such as versions of University Physics by Sears and Zemansky, along with Physics by Halliday and Resnick (a much newer edition which he still uses in classes to this day), were among the many academic materials that especially influenced his fascination with the challenging subject.
However, it wasn't until he was preparing himself for his entrance exams at the Universidad Catolica in Peru, when Dr. Ochoa realized that although he truly enjoyed chemistry, physics was what sparked such a strong interest in him.
As a professor at one of the best public institutions in the northern region, Dr. Ochoa says he's very happy with his career, and that nothing gives him greater pleasure than to provide students with the tools they need to succeed.
One of Dr. Ochoa's students, junior David Pauls, says that his teaching methods have impacted him greatly. "Almost half of all of my physics classes were taught by Dr. Ochoa, and I'm glad they were, because he is an excellent teacher," says Pauls. "I'd say that the most influential experience I've had with him would be all of his classes spread out over four years." David proudly added that he was taking another course with Dr. Ochoa next year, as well.
According to Dr. Ochoa, one of the most effective teaching skills to accentuate in the classroom is to have the students interact, not only with the professor, but also with their peers. In his opinion, mandating intellectual discussions pertaining to tricky subject matter is a highly valuable educational tactic; one that not only encourages good communication, but also contributes to the students' ability to develop substantiated conclusions and acquire critical thinking skills.
"[Dr. Ochoa] has been known to write down things that students say are correct until the class realizes that they are in fact incorrect," says Pauls. "If students do not pay attention in class and check everything that is written on the board, Dr. Ochoa may not continue the class until people wake up and put in the effort."
On top of Dr. Ochoa's extensive knowledge of physics and its applications, Pauls, along with many other students, have also confirmed that Dr. Ochoa has "a subtle, dark humor that is incredibly amusing," says Pauls.
Aside from being a great professor, Dr. Ochoa is also a "wonderful mentor" who genuinely values good relationships with both current and former students, especially when it comes to doing research and conducting experiments with them. "Dr. Ochoa supported and mentored me as a rising sophomore during my first independent research experience in the 2005 TCNJ Summer Research Program," says physics alum Brandon Bentzley.
"He allowed enough independence to inspire the feeling of personal accomplishment, but with enough guidance to limit the chances of overt failure. This experience provided me with a sense of meaning that I had not previously experienced in academia," he says.
Since graduating, Bentzley has earned his combined MD/PhD from the Medical University of South Carolina, and he currently works in the Department of Neurosciences in Charleston.
In addition to being as proactive with his students as possible, Dr. Ochoa works hard to get students as involved as possible in the hopes of creating new interests. "I've been more involved in trying to develop experiments that would make students more interested in physics by using devices they are familiar with, such as Nintendo Wiimotes or smartphones," says Dr. Ochoa.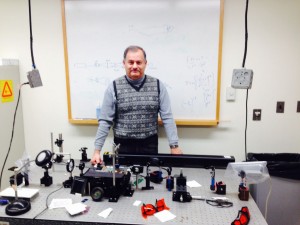 His latest experiment was more focused on using a laser distance meter, commonly found in hardware stores, to obtain the index of refraction of transparent materials.
Additionally, as suggested by Dr. Ochoa's alumni, he and his students have used optical tweezers to grab micro-sized biological objects, like cells, and manipulate them to precise locations and sorting them into different micro-systems.
He says that one of his other interests is technology, particularly when it comes to understanding how pieces of technology work and how they can be applied to physics experiments.
"Most of the technology we have now, we didn't have back then," he says. "We had limited facilities when I was in school, so I was unable to get the experience which my students can get here. However, I always did enjoy experimenting with the high tech of the moment." "You should appreciate your technology, because compared to 10 years ago, the things we have now are pretty impressive," Dr. Ochoa laughs.
It is clear that Dr. Ochoa's main priority at this institution is to provide more than just knowledge to his students. He wants them to be engaged and gain valuable experience for when they go out into the real world and make a living doing something they genuinely care about.
"When I assign projects it's mostly about the experience, not the objective," says Dr. Ochoa. "[Students] can experiment with lasers, which are prominent in spectroscopy, computer analyses, and anything part of the scientific method," he says. "The overall objective is to give them experience so that they can get a job and/or continue their studies, which is what we all try to do for our students," Dr. Ochoa adds.
Bentzley validates this by stating that he, along with many other students, learned effectively from Dr. Ochoa because he did not teach. Rather, "he facilitated the acquisition of knowledge," Bentzley says.
"It's very interesting to see undergraduate students go out there and know what they're doing," Dr. Ochoa says. "There are a lot of high tech companies that use the same instruments these students use in my courses, so it's very advantageous, and that's why I hope to provide students with as many tools as they need to advance in their professions."
– Allison Graves
For More Information: