This Chemistry Professor's Teaching Resonates with Students
Nuclear magnetic resonance (NMR) and electron paramagnetic resonance (EPR) are tools utilized by scientists to study molecular structures. NMR measures the resonance emitted by atomic nuclei, while EPR studies the
resonance from unpaired electrons. These are the tools Dr. Donald Hirsh and his research students work with and on.
"NMR and EPR, especially EPR, are tools that I use in my research." The associate professor of chemistry explained, "[they] are kind of both my research and a tool for my research. I'm working on developing methods for measuring . . . molecular scale distances in biological macromolecules."
Enzymes have two states, an active state that catalyzes a reaction and a resting state when the enzyme is inactive. Typically, we know the structure of the enzyme in only one of these two states. Hirsh asked the question, "How does [the enzyme] change its shape, how does it change its conformation . . . [from the] resting state, how does its conformation or shape change it so that it can catalyze a chemical reaction?"
From an X-ray crystal structure and knowledge of the enzyme's function, a hypothesis about how the structure changes can be stated. "And then you can measure a few select distances in that state you are interested in and see if it is consistent with your hypothesis or not." Hirsh explained. "So those are the tools that I am trying to develop in my research – tools to help you measure those distances, so you can either confirm or eliminate a hypothesis for how the enzyme or protein changes its structure in order to do its function."
Students who had the opportunity to work in Dr. Hirsh's lab and take his classes have felt they earned a fantastic experience. His teaching style allows students to be able to digest complicated subject matter and thoroughly enjoy the subject.
"You realize that a big part of the challenge [as a professor] is not just the subject material," Hirsh explained, "it is figuring out how to make it accessible to students and also how to make the students feel comfortable approaching you for help and finding ways to deliver that assistance they need in learning the material."
"Throughout my research in his lab, he has always tried to motivate me to develop my own theories as to why something didn't work, or as to why my results were different from what was expected," said Serge Zemerov ('14). Zemerov had taken Quantum Chemistry with Hirsh and later joined his research lab. Currently, Zemervo is pursuing his doctoral degree in the chemistry Ph.D. program at the University of Pennsylvania. "[Experience in Hirsh's lab] helped me to foster independence and responsibility in the laboratory setting, which will no doubt be invaluable in my graduate career."
Lyle Nolasco ('14), currently a medical student in the M.D. program at Albert Einstein College of Medicine, was another student in Hirsh's lab and had only praise for his old professor. "For me, the subject matter of Dr. Hirsh's class was so intriguing," Nolasco explained, "because it made me think of molecules, photons, and subatomic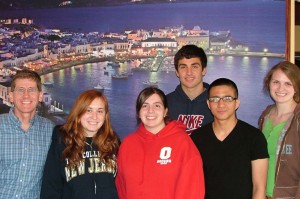 particles in a completely different way than I was used to thinking of them – it still is one of my favorite classes from my four years at TCNJ. I also really liked Dr. Hirsh's teaching style and found that it helped me through the class, despite the complexity of quantum chemistry."
Hirsh knew that he would want an academic career in higher education, but his journey to it was not a straight path. In the beginning of his collegiate career, Hirsh studied mechanical engineering at Stanford University, but stepped out after two years because he was not really enjoying his time. He returned to his home state, Minnesota, and took classes at the University of Minnesota. One of those classes was a biochemistry course.
"After taking that course, or as I was taking that course, I realized that I really liked what I was doing," Hirsh stated, "but I was really kind of interested in more the molecular-level scale at what was going on in terms of the chemistry—the biochemistry."
After staying in Minnesota for a year, the Minnesota-native decided to finish his chemistry degree back at Stanford. Hirsh was still unsure what he wanted to do with his degree. Some of the paths he considered were teaching at a high school or going to graduate school to eventually work in industry or teach at a university. So, after receiving his B.S. in Chemistry, Hirsh joined the United States Peace Corps. This opportunity allowed him to explore his interest in teaching at a high school level.
"I was very lucky . . . the people [in Swaziland] were for the most part very happy that Peace Corps volunteers were serving in that country and I had people—perfect strangers—walking up and telling me how grateful they were that we were there and teaching their children. Overall, it was a very positive experience."
When his time with the Peace Corps ended, he went to Yale University to earn his Ph.D., where his girlfriend (and now wife) at the time was attending medical school. From his experience in the Peace Corps, Hirsh knew he liked teaching "but I felt like I really wanted to also continue growing in my own understanding of what I was teaching, as well as pushing further in what my own knowledge was of the subject matter."
At Yale, he worked with Dr. Gary Brudvig for his doctoral research on photosynthesis, similar to what he worked with in his undergraduate research experience in Stanford. Finishing up his Ph.D., Hirsh began looking at job options. With his first child recently born, he decided to take a post-doc at Washington University in St. Louis, Missouri.
Finished with his post-doc, Hirsh found a position in industry, working for the Liposome Company in New Jersey, which worked for his family situation. The work involved developing anti-cancer drugs. After two or three years, he then moved on to a small start-up company, Delsys Pharmaceutical, that was developing a precision process for making pills of high-potency drugs so that each pill had the exact same dose. He stayed there for another two to three years until a faculty position opened up at TCNJ.
"And even though I was in industry, I still–in the back of my mind–kind of wanted to be teaching . . . They were looking for a biophysical chemist and I said, well that's like me!" Hirsh mused. "I started working here [TCNJ] in January 2003."
The transition was challenging for Hirsh. There were no materials for Hirsh to use for lectures or labs when he began his first courses, but he always thought to himself when he felt overwhelmed, "You know, do I really want to go back and work in industry, or is this where I want to be? And you know, this is where I want to be."
Students can sometimes see Dr. Hirsh riding his bike, which he rides often on weekends and to the College when the weather is good. He loves being able to get back to nature and go on hikes with his family.
"Now that my kids are grown up, [my wife and I] have started traveling further." Hirsh has traveled to France, Germany, and England. He and his wife are planning to go Italy, but his dream trip would definitely be New Zealand and Australia to see the Great Barrier Reef.
– Danielle Leng
For More Information: