Mystery, Discovery, and Beauty – How a Physicist Looks at Physics
With promises of unraveling the secrets of the universe – the TCNJ Physics Department is a community that sees beauty on chalkboards that are scrambled with equations. Instead of seeing the frustration in the messy erasures of failed attempts to solve a problem, their eyes are filled with awe and mystery. It is a love for science that can't be taught but can be encouraged.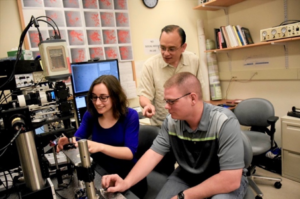 Dr. Tuan Nguyen has been teaching at TCNJ since 2012 and is known to encourage students to find the simplest solutions to problems no matter the context. He loves teaching and always feels the most "in his element" when teaching a class.
Outside of teaching, Dr. Nguyen is in his lab where he focuses on experimental biophysics. By using techniques generally used in a physics lab, he can stimulate and record neuronal network activity in mice.
While studying physics, Dr. Nguyen decided to focus on biophysics after attending a conference about the opportunities for physicists in biology. It was all about looking at biological phenomenon from a physics perspective. It was after the conference that Dr. Nguyen changed direction by doing a postdoc in neuroscience.
"I saw mystery and discovery that I didn't see before," recalled Dr. Nguyen, "Everyone working on the same jigsaw puzzle. And there's something new."
Because Dr. Nguyen's experiments deal with biological systems, not everything can go exactly right at all time. What to do when things aren't working as well as one would hope, falls back to how to think and survive as a physicist.
"When things aren't working, you have to buckle up and keep trying," he said. "When you encounter a problem, you back up and carefully analyze."
Dr. Nguyen isn't just well known within the Physics Department because of his perseverance and his experiments. He's also well known for helping create a community among all of faculty and students.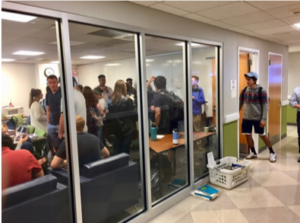 More than 4 years ago Dr. Nguyen started a department get-together where tea and cookies are served. It's called the Physics Happy Half-Hour, and it has been instrumental in bringing together the students of different years as well as faculty and staff members.
"Because of Dr. Nguyen, the faculty and students get along great and have the opportunity to meet up, grab some tea, cookies, or hot chocolate and discuss whatever is on their mind," said Dylan Corbett '21.
Dylan has taken three courses so far with Dr. Nguyen and believes him to be "one of the best lecturers on campus." The reason he thinks Dr. Nguyen might be one of the best is because of all the preparation he goes through and the consideration he takes with each class period.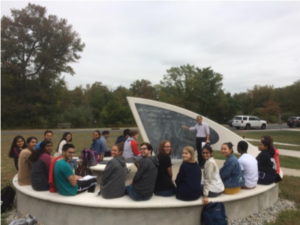 Dylan explained that Dr. Nguyen writes all his own notes for class in an attempt to better serve his students. "I believe in knowing something really well before teaching it," said Dr. Nguyen.
Dr. Nguyen often teaches the introductory physics courses in which the material was separated by jokes and the ever-growing size of the in-class demos Dr. Nguyen hides behind the counter.
"He'd be really into a lecture and then at one point out of nowhere he'd say something along the lines of 'Hey, that reminds me!' and reach behind his desk and pull out increasingly bigger objects to be like 'Here's my example.' And it was so funny," said Molly Rall '21.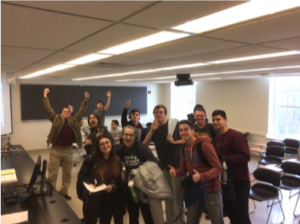 Molly said her first-year physics class started looking behind the counter as they walked in so that they wouldn't be surprised with the demos. At one point they stopped being able to find anything, only to realize that Dr. Nguyen started hiding his demos in the drawers.
Outside of first-year physics and hiding his demonstrations from his class, Professor Nguyen encourages his students to think of the beauty beyond the material. James Clooney '21 works in Dr. Nguyen's research lab where James says that all students are encouraged to present their own ideas and opinions in the lab. They've also shared discussions and laughs about the philosophies of physics and math.
"He really made me think more deeply about the physics behind the research and more importantly the world around me," said James, "He has greatly inspired me to pursue a deeper understanding of everything I learn and I'm grateful for it."
For James, Dr. Nguyen has helped him see past his classes and has taught him how to ask questions that keep him curious. Questions like: Why does nature care so much about some lousy number? How does nature know to follow the Principle of Least Action? Why does nature follow certain principles so closely?
James says that he and Dr. Nguyen talk about simple questions that have profound answers.
"He just brings out a curiosity in me that I can't really describe. He and I always try to push our understandings to the absolute limit that goes well outside the scope of the classroom," said James.
– Kerry Hennessy '21
For more information: