Understanding Your Impact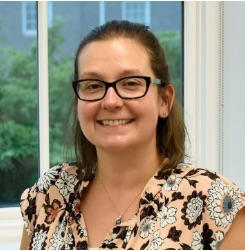 Good teachers can help you learn, great teachers can instill a love for learning, and extraordinary teachers can lead you down a career path you would have never considered. Dr. Abby O'Connor's scientific career started with her high school chemistry teacher. It then progressed to her second year of college where she learned what chemistry research was.
She quickly gained experience when she worked in an industrial lab during the summer of her junior year in college. There she realized that industry was interesting, but she decided that working with undergraduate students was rewarding.
"What I tell my students all the time is 'Don't be a stranger!'" said Dr. O'Connor, "If you're a stranger, I can't help you."
Always being excited to help is one thing that makes Dr. O'Connor's students excited to work with her. Celia Federico is a senior chemistry major who started working in Dr. O'Connor's lab after taking one of her classes.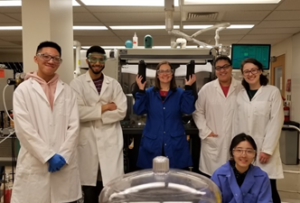 "She cares a lot about us," said Celia, "She always makes herself very available…to help students with whatever they're doing: research, class, life advice."
All of Dr. O'Connor's research projects focus on sustainability. She is currently working on two projects; the first one is trying to make chemicals more environmentally friendly. This concerns the designing and storage of chemicals, as well as how they are used and disposed of. But because research involves coming up with new ideas and testing them – most things tend not to go as anticipated.
"More things go wrong than right." explained Dr. O'Connor, "but that's the scientific process. I tell my students 'This might be new, no one knows how to do it. That's a result, but try again'."
The other project occurring in Dr. O'Connor's lab involves the reduction of CO2 to methanol. The main challenge of the experiment is coming up with a good strategy—and one that's cost-effective—for converting something not so great for the planet (CO2) into something valuable (methanol).
Dr. O'Connor also helped set up an organization that connects chemists from other universities to each other. ORDMOC meets every month, with chemistry professors meeting from universities around the country. It helps to start collaborations which, due to distance, would be otherwise impossible.
Another student who works with her in the lab is senior chemistry major Brittani McLemore – who only started working with her this semester.
"Dr. O'Connor is a hard-working professor who strives for perfection," said Brittani, "She is helpful and willing to explain things thoroughly until students understand."
Dr. O'Connor's teaching career began with her teaching a laboratory for two semesters. The first lecture she ever taught was inorganic chemistry – a course with only seniors. Working through nerves, Dr. O'Connor, realized that this was what she wanted to do.
It's her dream job, she said – working with undergraduate students and helping them discover what part of chemistry they like the most.  For as long as she's been teaching, Dr. O'Connor has been able to recognize the strengths and weaknesses of her current classes and adapt accordingly.
"My teaching style evolved with the classroom," explained Dr. O'Connor. "Students recognize that I'm not perfect and they're not perfect. Making them aware of mistakes breaks down the barriers and makes me more of a person."
Dr. O'Connor isn't just a chemistry professor; when she isn't coming up with ways to help the environment, she's spending the time with her kids. Whether it's hiking, going on walks, or cooking, Dr. O'Connor tries to make sure that she's taking a break from the stress of school.
You need to be able to step back from the experiments, said Dr. O'Connor, if you don't, you'll get lost in the minutia of your one experiment.
It's important to Dr. O'Connor that her students understand why the work they're doing is important, and how they're contributing to the field. The best advice she ever received was to 'never be afraid to step outside a comfort zone' because you never know what you'll find.
– Kerry Hennessy '21
For More Information