A Geneticist in Her Playground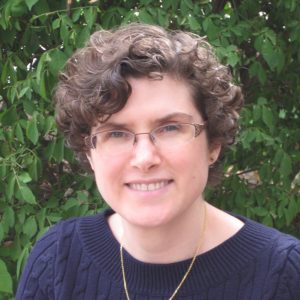 Associate professor of biology Kathryn T. (KT) Elliott has always been able to find the beauty in her subject area, and in particular, her fascination with bacteria.  Her office decor is a true testament to her passion; on one of her bookshelves, Dr. Elliott showcases her collection of plush figures shaped like the very bacteria that have been the primary focus of her bacterial genetics research. But in spite of her fervent passion for biology and bacteria plushies, there was a time when Dr. Elliott herself was uninterested in the subject.
"I really didn't like science when I was in middle school because everything was so prescribed, and it seemed like we knew all the answers," she says. But all of this changed once she took her first biology course in high school and delved into a project about evolution where her class compared primate skulls. "I had a really excellent high school teacher who made science about discovery and helped me understand what it was really like to be a scientist in terms of asking new questions."
This led her to enroll in an advanced summer biology course. "It was very molecular based," Dr. Elliott recalls. "It was about how what's encoded in the DNA acts as the blueprint that allows biology to really happen. I remember learning the replication fork – how DNA makes a copy of itself – and I just thought it was the most beautiful thing I had ever seen."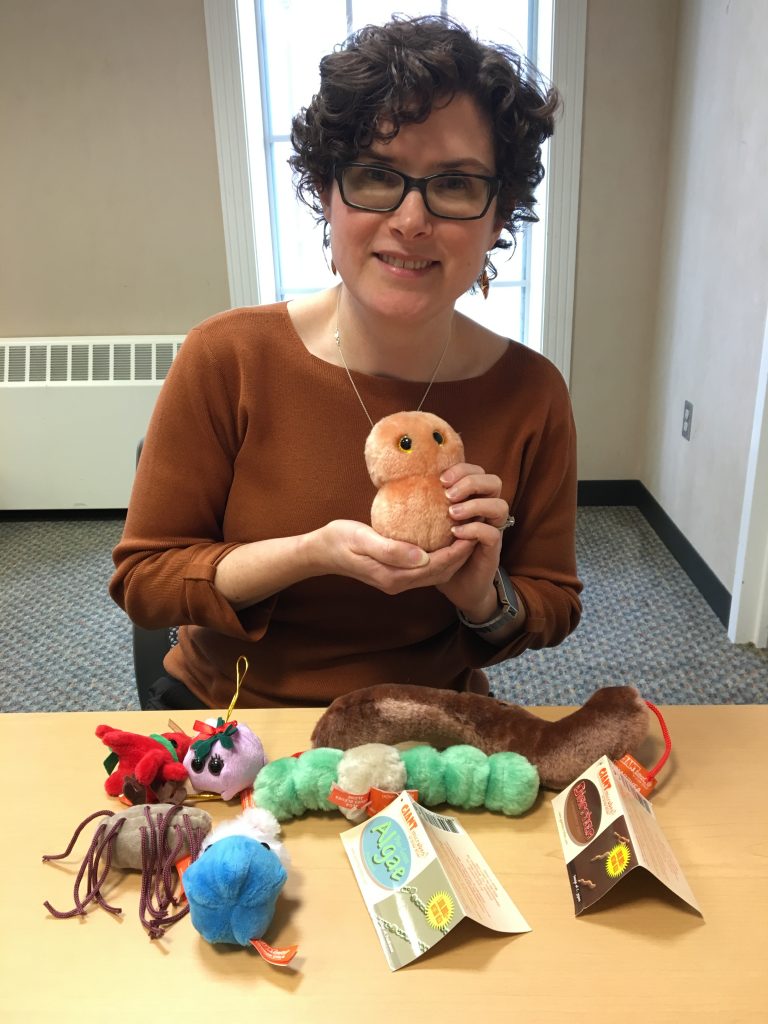 Dr. Elliott began her collegiate studies at the University of Richmond as an undergraduate student majoring in not only biology but also mathematics. But it became clear to Dr. Elliott that the field of biology was in fact her true calling all along.
Her interest in bacterial genetics began after she worked in a research laboratory studying cyanobacteria. "I just fell in love with it," she says of the research. "I loved the simplicity of the organism and the system compared to a human. My excitement was very much about how if we can't even understand this organism, we don't have any hope of understanding a human. But if we can make progress on understanding these simpler organisms, then those will be building blocks towards understanding more complex interactions and systems."
Following her undergraduate experience, Dr. Elliott pursued her PhD in microbiology and immunology at the University of Michigan where she was supported by the Howard Hughes Medical Institute (HHMI) pre-doctoral fellowship. She studied Campylobacter jejuni, a bacterium that causes a gastrointestinal disease and often induces Guillain-Barré Syndrome, a disorder in which the body's immune system attacks and impairs the peripheral nervous system.
"I was really interested in how bacteria cause disease," Dr. Elliott says. "With that organism, I worked on how the bacterium senses its environment and decides essentially: should I stay here or should I move to a new space? The bacteria sample the energy availability in their environment to decide whether to stay in the environment they're in or whether to move somewhere else."
After earning her PhD from the University of Michigan, Dr. Elliott was awarded a postdoctoral fellowship from the National Science Foundation (NSF), which sponsored her scientific research at the University of Georgia.  As a postdoc, she studied large genetic rearrangements by manipulating the bacterium Acinetobacter baylyi.  "The kind of rearrangements we studied were gene duplications or amplifications," she explains. "You normally have one copy of a gene and now you have instead two or three or even 50 copies of that gene. In the bacterium that we studied, these mutations really just changed the food that the bacterium could eat, but that same process can lead to antibiotic resistance in bacteria. In humans, it can lead to cancer, cognitive or developmental diseases, and cancer resistance to chemotherapeutics. It's really a fundamental process that we were studying, but it also applies to other organisms in these situations."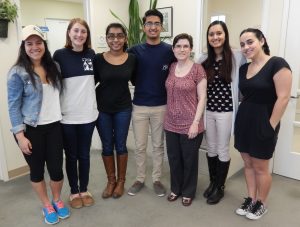 Dr. Elliott has brought her passion project with Acinetobacter to TCNJ, sharing the bacterium and her research with the students in her laboratory. "This organism is exceptionally easy to manipulate genetically," she says, "and so for me that made it a very attractive system for working with undergraduates because I knew that students would be able to make mutations and work with those mutants in a very rapid fashion unlike a lot of bacteria. I still work with the same bacterium because I call it a geneticist's playground."
Dr. Elliott's team is currently examining an enzyme, which they believe to be involved in the mutation processes of gene duplication and amplification. In addition, the group is also studying the mechanisms behind large deletions of DNA. According to Dr. Elliott, her favorite part about working in the laboratory with her students is their unrelenting enthusiasm.
"They get excited about everything which really reminds me of why I love what I do," she says. "They get excited about learning how to wash dishes the right way or learning how to make the plates that the bacteria grow in, let alone when you actually get new experimental results. It helps me rediscover my joy for science every time I interact with them."  One of the ways that Dr. Elliot not only rediscovers her own enthusiasm, but inspire it in others it by being a mentor in TCNJ's MUSE (Mentored Undergraduate Summer Experience) program.  This is something that she has done the past several summers. Dr. Elliot mentors her students beyond lab, as they do everything from bake science-themed cookies for the departmental barbecue to filming music videos that change the words to the song "YMCA" to relate it to science.
For example, Dr. Elliott served as a mentor to biology major Kathryn Bellissimo, who conducted research as part of TCNJ's Mentored Undergraduate Summer Experience.  Bellissimo says one of her favorite aspects of Dr. Elliott's teaching practice is her love for the subject: "One time during MUSE, I showed her the results of an experiment I had been working on and she literally jumped up and down because it worked. Her enthusiasm for science is really enjoyable and contagious!"
Biology major Elena Aversa, who was also mentored by Dr. Elliott in MUSE, would agree with her lab mate. "Dr. Elliott makes her students very comfortable right away and makes you feel like your place in the lab is important," she notes.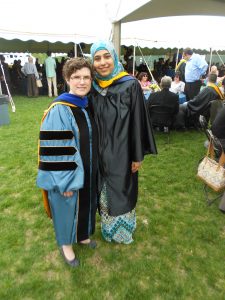 Between working with her students in the classroom and in the laboratory, Dr. Elliott reflects on the joy and importance of science being a truly collaborative field. "I know when I was an undergraduate student, I didn't think I wanted to go into science at first because I thought it was an old white man in a white lab coat with glasses looking into a microscope and not talking to anybody all day, and I've learned that science is really social. A big part of what I enjoy about my students is the social environment in the lab where I go in and somebody is doing an experiment but they're chatting with someone else and someone else is cracking a joke."
In addition to her work in the classroom, Dr. Elliott is the faculty adviser of Beta Beta Beta (Tri-Beta), the national honor society for biological studies. "What has been really exciting for me about that organization is their commitment to service, and that's not necessarily true of every chapter of Tri-Beta, but our chapter really emphasizes it. I think it's great that it comes from the students. [Along with] tutoring in local elementary schools, they've really tried to think about how to give back to the community with the Ecology Trail, Darwin Day Bake Sale, Halloween slime-making with kids at the Trenton Area Soup Kitchen, and coordinating TCNJ's campus-wide, science-themed meal event — Tasting the Tree of Life: Exploring Biodiversity through Cuisine "
With so much already accomplished in her career as a teacher-scholar, it's easy to wonder: What's next for Dr. Elliott? "I would love to teach some biology courses earlier in the curriculum," she says. "That would be an opportunity to really help the students who are first setting foot here and get them excited about biology."
When she isn't collaborating with her students in the laboratory and in the classroom, Dr. Elliott enjoys relaxing with some light reading, experimenting in the kitchen when cooking for her family, and spending time with her daughter.
But Dr. Elliott's work in the laboratory is never complete. "One of the great things about science is that a good scientific research project creates more questions than it does answers. You answer a few questions, but then you end up with many more interesting questions that you can pursue, and it seems like every time we do an experiment, we have new things that we are curious about and that we want to answer. That's part of what's really exciting about science."
– Jordan Virgil '18 and Ally Marcino '17
For More Information: