---
TCNJ's Greek God of Computers
It is a time for technology. Addicting apps on smartphones, video games with their own universes, search engines to find the answers to any question, social media connected to the world, and programs to lead researchers to answers. Dr. Dimitris Papamichail from the Computer Science Department knows the power of technology.
"You have a whole world inside a little machine. You have access to whatever you can imagine." Papamichail said in awe as he looked to the computer sitting at his desk.
Even after years of schooling and experience, the computer science professor is still taken aback as to what can be done with computers. Papamichail was introduced to the world of computers as a young boy in Greece with the ZX Spectrum, an early 8-bit personal home computer. He and his friends played video games, but also dabbled in programming. This sparked the young Papamichail to pursue computer engineering.
"Back at that time, there was really only one computer engineering school." He explained. In Greece, there was only the Department of Computer Engineering and Informatics at the University of Patras. It was very popular and highly competitive. "The first time, I actually didn't make it." Papamichail laughed. "I went into chemistry, but then I persisted." Later, he applied again and made it into the program. He specialized in hardware, which involved the design and development of computer parts, but soon he would follow a different path.
After graduating from the university, Papamichail traveled to the United States for his master's degree in computer science at the University of Arizona. "I went for the adventure," Papamichail said as his reasoning for pursing a higher degree, but it was in graduate school where Papamichail fell in love with algorithms.
After completing his master's degree, Papamichail stayed in America to work in industry for two years. He then returned to Greece to serve in the army, which was a mandatory service. However, Papamichail continued to love algorithms. In order to pursue a career in algorithms, he had to get a Ph.D.
Returning to the U.S., Papamichail was accepted to Stony Brook University's doctoral program and sought out one of two professors who worked in algorithms at the time. Papamichail approached Dr. Steven Skiena, but he had no space or money to take on another student. Undeterred, Papamichail told his future advisor, "Look, if I don't work with you I will just leave. I don't have reason to stay. I don't want to work in any other area. If I can't do it with you, then I won't do it at all."
Not wanting to turn away one of his best and obviously passionate students away, Skiena managed to find the money to take Papamichail on as his advisee and in his research. Papamichail went on to complete his Ph.D. in computer science from Stony Brook and then worked at the University of Miami as an assistant professor for a few years.
In 2013, the algorithm-loving scientist joined TCNJ's Department of Computer Science, where he is passionate about working with undergraduates students to answer biological questions with computer algorithms.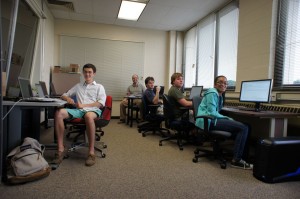 Algorithms are step-by-step procedures utilized by mathematicians and computer scientists to answer certain questions. In Papamichail's research, he is working on synthetic biology. "I am working mostly on resigning genes, basically protein coding genes." Papamichail explained. The result of his program would allow the creation of a redesigned RNA, the first precursor to protein, to improve translation rates of protein coding mRNA to a functional protein.
In addition to this research, Papamichail has another group of students working on phylogenetic stemmatics, which is used to create phylogenetic trees to determine the evolution of documents. Through stemmatics, Papamichail is working on algorithms to create these trees, deriving them from relationships of old manuscripts and documents. This is also in collaboration with a professor from the University of Miami, Dr. Mitsunori Ogihara. The basis of both of these projects is still in algorithms.
Biology major, Oliver Hendy ('15) was able to gain experience working with Papamichail over the summer and bridge the fields of biology and computer science together. "I gained an appreciation for the necessity for clear communication between these two different fields of science. Computer science has so much to offer for the study of molecular biology, but there's a difficulty in going from problem to solution."
Hendy was part of a team working over the summer on testing various tools already out there about synthetic biology. Papamichail liked having a student with the biology background to help investigate what current tools had to offer from a biological perspective and improve his own algorithmic analysis.
Papamichail commends the students who work with him. The problems and work he addresses are often challenges that are faced by graduate students. Yet, he feels TCNJ students are very capable of taking on the tasks he gives them.
"He poses challenging questions and ideas, but is also very helpful in guiding solutions to difficult problems that arise in class or in research." Joie Murphy ('17), computer science major, discussed her experience working with Papamichail. "Working with Dr. Papamichail both for MUSE [Mentored Undergraduate Student Experience] and now CREU [Collaborative Research Experience for Undergraduates] has challenged me into becoming a better thinker."
Papamichail isn't afraid to challenge students in his class to tease out difficult problems. He also enjoys challenging them to a round of table tennis outside of class. Sometimes his students may even see him swimming at the TCNJ Aquatic Center with his children. When he is not pulled into the world of computers, Papamichail also enjoys reading comics and playing the classical guitar, in which he has also holds a university degree from Greece.
With a true passion for computer science, Papamichail is never tired or bored with his work. "It's like you're a magician with a computer," he marveled. "I cast a spell and it happens. You can do it with your own fingers. You have the satisfaction of creation all the time. When you finish a program and it works, it's an amazing feeling of satisfaction."
– Danielle Leng
For More Information: