Congratulations to Dylan McClung, a senior Biology major, who was recently competitively selected to receive two awards from the American Society for Microbiology.
Dylan was accepted into the American Society for Microbiology Undergraduate Capstone Program. This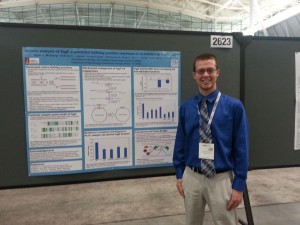 nationally competitive program aims to increase the engagement of students traditionally underrepresented in microbiology and provide an opportunity for participation in the American Society for Microbiology national conference. Dylan is a first-generation college student. The program provided funding for Dylan to travel to Boston, MA in May 2014 to present the results of his undergraduate research project at the national conference. He also attended a pre-conference institute, funded by the program, designed to enhance presentation and networking skills, as well as provide students with resources to transition to disciplinary scientific meetings.
Dylan has been collaborating with his faculty mentor, Dr. Kathryn T. Elliott, on his project for the past academic year, and his research in ongoing. In particular, Dylan worked throughout summer 2014 with Professor Elliott as part of TCNJ's full-immersion, summer undergraduate research program, known as MUSE (Mentored Undergraduate Research Experience), and he will continue his independent research during the 2014-2015 academic year.
Dylan's summer 2014 research was supported by an American Society for Microbiology Undergraduate Research Fellowship. This highly competitive award provided Dylan with a $4,000 stipend to conduct his summer research. He will also receive up to $1,000 to support his travel to present his research at next year's American Society of Microbiology national conference, which will be held in New Orleans in May 2015.
For More Information: