---
Constructing Mathematical Thinkers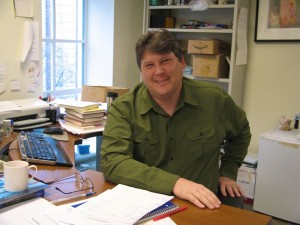 Since childhood, Dr. Andrew Clifford seemed to know he would enter the world of Mathematics.
"According to my mom, in kindergarten, the teacher said, 'what do you want to be when you grow up' and we had to draw a picture of it." Clifford reminisced, "I had my paper and drew a line down the middle. On one side I drew a picture of a carpenter and on the other I drew a picture of a mathematician."
He admitted that at the time he only knew that a mathematician was, as his teacher explained it, "Someone who studies numbers that no one had thought up yet." This appealed to the young professor. Clifford said, "I was going to either be that or a carpenter because I like saws."
For undergraduate study, Clifford went to State University of New York (SUNY)–Binghamton for Mathematics. Then in his senior year with the guidance of his advisor, he decided to go to SUNY–Albany for graduate school.
"My interest was in topology, which is kind of like geometry." Clifford explained, "I liked the low dimensional stuff, but it turned out to understand the low-dimensional topology, you needed algebra. My [current] area is where algebra meets topology."
Clifford's area is called combinatorial group theory. "Geometry is shapes. Algebra is the study of operations—addition, subtraction, and multiplication. We are used to doing that on whole numbers; you can make an abstract set on which you can do one operation. That would be a group." Clifford explained, "It turns out that groups can also describe the symmetry of things, the way you can move things around so it still looks the same. That's the connection between studying topology and studying groups."
To explain his interest, Clifford provided a piece of paper as an example of his research in group theory. Imagine a blank piece of paper, which you folded up into different origami shapes. Clifford clarified, "The manipulation is called automorphism." No matter what origami folds you did, when you unfold it, you would always have that same blank piece of paper. The structure—symmetry—of the paper did not change.
After receiving his Ph.D. in Mathematics from SUNY–Albany in 1994, Clifford embarked into the job market. "I sent out more than 190 applications, and only had two phone interviews," he said. His first position was as a visiting professor at Western Illinois University for a year. He then taught for another year at the University of Wisconsin–Parkside before getting hired by Trenton State College.
Clifford joked he never has gotten a paycheck from Trenton State College. He explained, "Between the time I was hired and when I started working, they changed the name." An unforeseen perk of the new job was that he met Dr. Marcia O'Connell, a faculty member in the Biology Department. Within three years, they were married. Their daughter Norah arrived two years later.
"I have to say, it is the students." Clifford replied when asked about what he liked best about teaching at TCNJ. "They are anxious to do well and want to learn how to get good at this [mathematics]."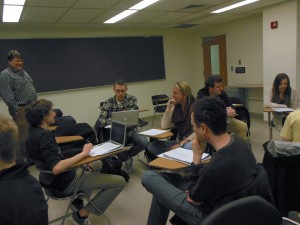 Clifford enjoys meeting with his students outside of class. "When they have questions, they are willing to spend the time to come in and wrestle with them." he said. "Then they go off on their own and wrestle some more."
Even as I waited outside of his office for an interview, he was having one of those discussions with a student. The math professor's enthusiasm and availability to discuss various math topics both outside and inside the scope of the course are qualities that his students admire and spark their interest for the subject.
"He entertains my questions and provides just enough insight to spark my curiosity, forcing me (willingly of course) into more research about the topic," said Chris Woidill ('14), math major and one of Clifford's senior capstone students.
Clifford's enthusiasm for the subject is as infectious as his smile, and he is able to help students unravel the mysterious and seemingly complicated topics. This makes him an essential factor of the academic equation that produces inquisitive scholars.
"He knows his subject matter well and has a way of passing his enthusiasm onto the student." Michael Muller ('14), math major, added, "I can certainly say that he's a very accessible and helpful professor equipped with great skill in elucidating the more difficult parts of the topic."
Some of the courses Clifford has taught include senior capstone, geometry, and calculus. "I love teaching calculus, where students are just finding out what college math is like and getting beaten up by it a little bit." Clifford said, "You can imagine not everyone is excited to be in calculus, but our students are. They might hate test day and that kind of stuff, but all in all they want to be engaged in figuring it out. And as you know, I have taught other places, and it is truer here than it was there. So, we [TCNJ] give great students to our faculty."
"If you ever have a chance," said Woidill, "observe one of his classes or stop in his office because you have to be there to appreciate his abilities as a professor and a mentor."
– Danielle Leng
For More Information:
• Dr. Clifford Faculty Profile