---
Mystery Man. Chemistry Professor both Solves and Writes Mysteries
Published author, sailor, musician, art enthusiast, and Philadelphia aficionado – all creative hats Dr. John Allison wears with pride. But it is his academic research and his position as TCNJ's founding director of the Forensic Chemistry Program that ties together his love for the arts and his advanced knowledge of organometallic and forensic chemistry.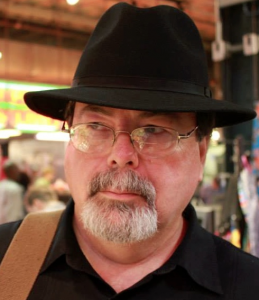 After 25 years as a Professor at Michigan State University – where Allison held various positions including Director of the Mass Spectrometry Facility and Associate Chair of the Chemistry Graduate Program – Dr. Allison made the move to TCNJ in 2003. Tagging along on the move was his mass spectrometer – an instrument often found in Universities, but rarely in Forensics labs. And so, the TCNJ's Forensic Chemistry Program was born.
Motivated by a flurried frenzy of crime scene investigation TV shows, academia was expanding its scientific boundaries to include forensic studies. According to Allison, however, other universities were failing to thoroughly educate their students. Law enforcement agencies needed chemists to investigate crimes, not TV enthusiasts.
"I didn't want to create one of those 'useless' degrees where students learn a little about a lot of things, but not enough Chemistry to actually work in a lab," Allison said. "So I created a specialization within Chemistry. You get a full degree in Chemistry, then some of your electives are replaced with Forensic and Criminal Justice courses."
Allison never pressures his students to jump into the Forensic Chemistry pool, without first testing the waters. He instead encourages his students to take one or two Forensic Chemistry courses, then decide if the student wants to commit to the specialization, which will then include criminal justice courses and a research experience.
Unlike other academic institutions, the best part about the TCNJ program is, after graduation, a student is the proud owner of a highly competitive Bachelor of Science degree, combined with an in-depth knowledge of Forensics. Students with this background are often hired by the State Police or the FBI.
After earning his B.S. degree in Chemistry at Widener University, his Ph.D. in Chemistry at The University of Delaware and spending two years at Stanford University as an National Science Foundation (NSF) Postdoctoral Fellow, Allison made his move to Michigan State University. It was there in Michigan where the Chemistry professor fell into the world of Forensics.
"Dr. Jay Siegel, a friend of mine at MSU," Allison recounted, "was one of the Forensic scientists on campus, and he asked me to work with Donna Grim, a student who had applied to two graduate programs – the M.S. Program in Forensic Science and the Ph.D. Program in Chemistry. No one had ever tried to complete two graduate degrees simultaneously there. We didn't know what she was thinking."
The two worked on instrumental methods for ink analysis. Donna graduated with both degrees in four years, and moved on to the FBI. In Forensic Science, Allison found a home for his love of art and chemistry.
At TCNJ, Allison and his students utilize the mass spectrometer to analyze everything from ink on various pages of the Koran, paintings, chips of paint from cars, and even a piece of paper with a supernatural past.
"I'll tell you my ghost story," Allison said. "It has to do with an ink obliteration and one of the creators of the TV show, 'The Transformers,' Paul Davids."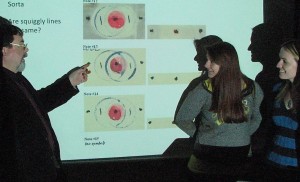 After the death of Davids' friend, Forrest J. Ackerman, the writer and science fiction enthusiast printed a document on his home printer and found that one of pages had a line crossed out. Ink obliteration. Davids' interest was captivated, and so he made a call to a chemist with a penchant for ink analysis: Dr. John Allison.
"We couldn't figure it out," Allison said. "We worked on it as a research project and in one of my classes. We could not recreate this very unique document alteration, even though we chemically analyzed all of the components."
This anomaly is still unsolved and caused Davids to make a documentary about the ordeal called 'In Search of the Afterlife,' which aired on the SyFy channel in the summer of 2013. Allison, in his TCNJ lab, is one focal point of the documentary.
Being featured in this documentary isn't the only time Allison has been sought for his expertise. Japanese Public Television consulted the professor about an unsolved case from 1958 in Long Island, for a Japanese documentary. Allison, the real 'character', and TCNJ even appeared in a work of fiction – a mystery novel by writer Heath Boice-Pardee.
Outside of interviews and chemistry classes, Allison is penning books or writing an ongoing blog capturing the nostalgia of Philadelphia's days of yore. He even finds time to unwind while sailing his sailboat, Abby-Gale, on the Barnegat Bay.
"When I can, I look for projects where I can combine chemistry with art and history and color," Allison said. "I hold my TCNJ students to high standards, treat them like graduate students, and they always respond well."
– Emma Colton
For More Information: