Dr. Stephanie Sen Confronts a Pesty Problem
New Jersey farmers lose $290 million annually from crop loss or damage by pests, as well as costs to control the pests, reported the New Jersey Department of Agriculture. Moreover, according the data from the the United Stated Department of Agriculture (USDA), gypsy moths have damaged close to a million acres of forests in the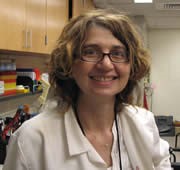 Eastern United States since 1980. To combat these pests, people have utilized pesticides, which kill the insects, but can have unwanted side effects on other organisms and the environment. How can you develop an insectide that will only target the one kind of insect and not have any damaging effects on other plants, animals, insects, or humans in the area? Dr. Stephanie Sen is tackling the problem.
"The strategy is that we have to define some biochemical processes that the insects perform that are unique. In other words, we do our due diligence in examining the basic science of the insect," the TCNJ bio-organic chemist said about developing an insect-specific pesticide.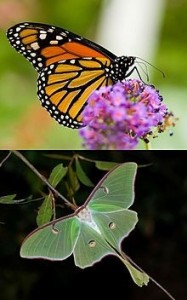 "We are looking at a group of insects called the Lepidoptera." Sen clarified, "They are a bunch of moths, like codling moths and gypsy moths. There are many types of moths that destroy crops and cause deforestation."
Sen and her lab have honed in on a protein called farnesyl diphosphate synthase (FPPS). "It's present in other organisms, but it turns out that insects have very unique structural features for that protein," she remarked. FPPS is essential for insect metabolism and thus disruption of its normal function would lead to the demise of the insect. "We want to hit this one kind of insect that we are trying to eradicate, but we don't want to affect any of the other insects, plants, or humans that might be coming in proximity of the insecticide."
Currently, Sen and her research students have developed a series of molecules selective for FPPS, and they are moving forward in making these molecules in a form that can be applied to living insects and demonstrate that their growth and development will be compromised.
In another part of her lab, the chemistry professor has utilized her study on insect metabolism to provide insight in human metabolic pathways. "It's interesting that you can use insects as a model system in human disease." There is a metabolic pathway found in insects also present in humans that is linked to a mitochondrial disease that affects the function of a transporter protein. "First, we are getting information from insects, and we are using that as a sort of diving board to go into the mammalian system," explained Sen.
"When I went to college, I wasn't at all interested in chemistry," Sen said. "It wasn't really planned. It was a combination of getting into the right situation and having the right people around." At first, Sen was pursuing art history and music, but then after taking an organic chemistry class and getting involved in a lab, she was hooked on chemistry and earned her BA in Chemistry with honors from Bryn Mawr College. Then, she received her PhD in Organic Chemistry at SUNY Stony Brook University.
Still unsure what she really wanted to do, Sen completed postdoctoral fellowships at the Research Institute of Scripps Clinic in San Diego and then Stanford University, both in California. Following her postdoctorals, she was a little reluctant with her lack of teaching experience to go into academe, but she knew she didn't want to have an industrial position. Nevertheless, she started her faculty career at Indiana University-Purdue University Indianapolis, where she taught and conducted research for fourteen years in their chemistry department. When her husband was relocated to the East Coast, Sen was happy to return to her roots and joined TCNJ's Chemistry Department.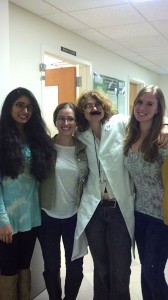 "I love the department; I love my colleagues," Sen said in response to what she liked about TCNJ. "The students are amazing. TCNJ wouldn't be TCNJ without the fantastic students."
"Her diligence both in lab and the classroom has really opened my eyes to the amount of effort and commitment that it takes to reach her level of success." Alisa Xambazi ('14) said of her lab mentor. "She is invaluable to our department and we are very lucky to have her as a mentor."
Brittany Pease ('14) had taken a biochemistry course with Sen before joining her lab and said, "I really liked the class because she is able to take such a dense topic and present it in a manner that is not as stressful as it could be. With this relaxed atmosphere, you're actually able to retain the material and not get scared away from learning it."
In addition to the people she works with, Sen enjoys the TCNJ environment, which "has allowed me to be more of a scholar. I have more time to think meaningfully about certain scientific questions than I had before."
Outside of her research lab, Sen is a wife and a mother. She is still involved with the arts, currently learning how to do graphic designs on the computer.
– Danielle Leng
For More Information: