---
David McGee has always been fascinated with properties of light, especially when those studies include lasers.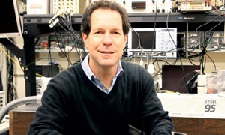 From his undergraduate and doctoral studies at Temple University and Bryn Mawr College, to his work in industry (where his roles ranged from new product development for a small laser manufacturing company to doing defense-based work on satellite-based laser systems for a multinational corporation), McGee's research interests have focused on how light interacts with materials, he explained, adding that he's always been particularly fascinated by "lasers and holograms and those sorts of things."
That fascination continues to this day in his work at the College, where he arrived a year and a half ago after teaching for 12 years at Drew University. McGee, an associate professor of physics, says that he came to the College because of its established engineering school and its strong chemistry department, both of which have been instrumental in his work.
"What we do is we work with the synthetic chemist to try to measure some of the optical properties that might be of interest to both the design people and the chemists themselves," he said. "Basically, people want to know if they make a molecule with certain electrical properties on one end, and not the other end, how that [would] affect the overall behavior of the device.
"Chemists, physicists, engineers, and material scientists have all gotten together in the last 10 or 15 years to try and engineer this new breed of organic material—a material which gives off brightly colored light with very low power requirements," McGee added.
Those lights that McGee refers to have become common in today's world, in devices such as flat-screen TVs and cellphones.
"Anyone who has seen these flat-screen TVs and cellphones screens and touch screens, these vivid displays that have become so common in the last 10 to 15 years, all of those new display devices are based on these new engineered organic materials," McGee said. "Materials that use incredibly small amounts of energy and don't require these huge power supplies."
The development and application of these organic materials is something that McGee says he couldn't have anticipated when his interest in the subject first began, but he believes that he has found himself in "the right place at the right time to take advantage of it."
Working with collaborators at the University of Wisconsin, McGee and his team of students are currently trying to use dye molecules as a type of film, somewhere in between old-style photographical film and the camera in a cellphone. The experiment strives to send a laser beam through a transparency and into the dye molecule. The hope is that the dye molecule can store the image, and a few days later can be lit up with a "bright, expanded laser beam the size of a flashlight beam, which would literally project the image on a piece of paper or a screen," he said.
The resolution would not be to the quality that people are used to seeing, McGee said, but it would be a start, and could show whether or not the procedure works.
"It's a version of photography, or holography," McGee said. "(The experiment) will tell us whether these materials have potential as the light-sensitive element in a camera phone."
– Brandon Gould, Originally Published in TCNJ Magazine.