For Heba Abourahma, Crystals are a Chemist's Best Friend
The assistant professor of chemistry specializes in crystal engineering, which looks at the molecules that make up crystalline compounds as Lego building blocks. With each new arrangement comes a different practical utility, and could mean the difference between the graphite in your pencil and the diamond on your finger.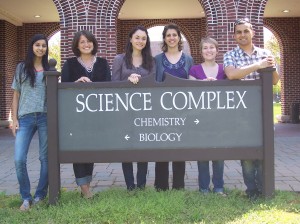 "Carbon and diamonds have the exact same composition but are completely different," she explained. "Carbon is black, the other is nice and shiny. The different properties and appearance are the result of the way the atoms arrange themselves in the solid state." This is what is known as polymorphism, the ability of a solid material to exist in more than one crystal structure. It is an area of great interest to the pharmaceutical world.
"I love working in this area of supramolecular chemistry because we can effect significant changes and drastically alter the properties of a material by making small changes in the solid state of a compound," she explained. Her interest in chemistry was sparked as a young girl in Kuwait, when she would help her father grade his high school chemistry quizzes. After completing her undergraduate degree in Nova Scotia, Abourahma went to the University of South Florida for her PhD. After almost two years as an assistant professor at Indiana University of Pennsylvania, Abourahma made the move to The College of New Jersey in 2008. She says she loves the environment because her colleagues are great and the student quality is "fabulous."
"These are nice, respectful kids who are everything you like to see in a student," she said. "They handle every challenge I throw at them, which makes it exciting for me as a teacher because I don't have to compromise my standards."
It is also an environment where teaching and research go hand in hand. Abourahma is currently working on two projects, one investigates how to control polymorphism with cocrystals and the other looks into the stability of these cocrystals when introduced to the tablet-making process.
"There is a lot of hype around cocrystals in the pharmaceutical industry right now, but polymorphism also applies to agriculture and explosives," said Abourahma. Luckily for the Chemistry Department, it is not TNT but "explosive" findings related to the compounds that end up in your prescription bottles that interests this professor.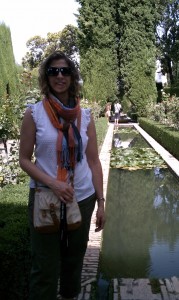 "We are working with pharmaceuticals to improve their physical properties without actually altering the molecules themselves," she explained. "The molecule stays as it is but we try to combine it with other compounds that are benign to improve it." As one might expect, it is imperative to control polymorphism in pharmaceutical compounds. "If you have a polymorphic compound, you want to make sure when you produce it in industry that you get the same arrangement of the molecules in the solid state so that it consistently has the same properties," Abourahma added. Control over the arrangement of molecules is essential, and one of the ways to accomplish this is to create cocrystals.
She and her students succeeded in doing so with a compound called pyrazinamide, an antibiotic used for the treatment of tuberculosis. Their work was published in the journal CrystEngComm but this success only raises a new question: will cocrystals survive the tablet-making process?
"When you make the tablet, you are grinding all the ingredients together. You want that co-crystal to stay intact," Abourahma explained, noting this is the second research area in her laboratory at this time.
Jennifer Urban '12, like all of Abourahma's research students, had only praise for her mentor. "Dr. Abourahma is truly a great professor and research advisor," Urban said. "She is very kind, incredibly helpful, and great at explaining concepts that are difficult to grasp."
The opportunity to be a teacher-scholar at the College is vital, says Abourahma, because "you get that gratification from the 'aha' moments kids have when you explain something," she said, noting this is especially true in the subject of supramolecular chemistry. "I love seeing the students' reaction when they learn about it. They all learned some of the fundamentals in introductory courses, but did not know this whole other world that exists based on those fundamentals they learned."
– Jessica Corry
For More Information:
Dr. Abourahma's presentation at the International Union of Crystallography in Spain, read more here
Dr. Abourahma's students win presentation awards, read more here
Profile of Dr. Abourahma's student Jennifer Urban