The president's cyber squad
By Molly Petrilla • Jun 1st, 2012 • Category: Alumni Corner, June 2012
Last night, someone tried to break into the White House. Again. It wasn't the ski-mask-and-crowbar attempt you might be imagining, though. It was the type of attack that Brian Wanner '05 spends his days fending off: a threat of the digital variety.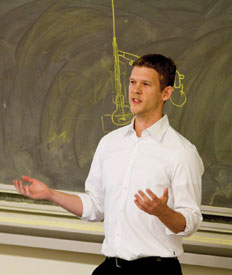 When we spoke in early April, Wanner said that a prominent group of hackers had launched a "distributed denial-of-service attack" on the White House's website the night before, sending numerous requests to the site at the same time in an attempt to crash it. "They don't like something the White House has commented on, so they'll try to take down our website," he says of such groups. "I don't know the specific reason they were [attacking] last night, but we handled it fine. That kind of thing happens fairly often."
As branch chief of security operations, Wanner spends his days shielding the Executive Office of the President's 
computer network from all sorts of digital dangers. His charges include the president and vice president, along with about 3,500 White House employees. "We monitor the firewalls here, any traffic to the Internet, and e-mail traffic to make sure it's legitimate and that nobody's trying to 
attack us," he adds. "And when they are, we try to defend ourselves."
He offers this "typical" example: An attacker sets up a Gmail account and sends a malicious PDF to someone on the president's staff. "They craft it a certain way to get past most of the normal virus scanners," Wanner adds, "so if it gets through to the inbox and [a White House employee] opens it, [the attacker] could potentially compromise the computer and start looking for good data—things like trade negotiations or economic information or the White House's stance on a piece of legislation. It's our job to make sure that doesn't happen."
Wanner's biggest moment on the job—or at least the most public one—came in early 2009. You may remember some of the headlines: Barack Obama to use BlackBerry as president; Obama to get spy-proof smartphone; President Obama's super-secret BlackBerry cost $3,300! "The president wanted it," Wanner says of the phone that launched a thousand news stories, "and we can't tell him no."
Still, there were concerns surrounding Obama's insistence that a BlackBerry serve as his official work phone.
"You're putting a smartphone on one of the most important people in the world," Wanner notes, "and along with it comes all those capabilities—a microphone, possible location tracking; all the things you don't want accessible. The challenge was making sure that all of those things were controlled in some way so we didn't have to worry about someone tracking the location of the president, for example."
Though he can't get into specifics, consider this a testament to Wanner's success in locking the phone down: Obama is still using it now, more than three years later. As for all the media buzz, "It's actually pretty cool when you're working on a project and then you see it in the news," Wanner says.
A double major in computer science and mathematics, Wanner discovered computer security through a part-time student job at Skyline Security Consulting. After earning a Master's degree in Information Security and Assurance at George Mason University, he went to work for the White House—first as a subcontractor, then as a prime 
contractor, and eventually as a federal employee. "It's got some sexy parts to it," he says of cyber security. "I guess I like the whole adversarial nature where the attacker does something and you have to try to respond and close it out. Then they'll change tactics and you just keep going back and forth. That whole thing just interests me."