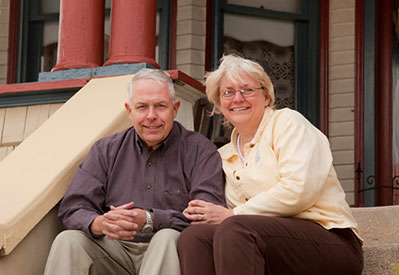 When William Moncrief '68 and his wife Nancy announced their plans to open a bed and breakfast at the Jersey Shore, no one was particularly shocked. Sure, it was a big change from their 9-to-5 careers in Washington, DC, but Bill's family and friends already knew he was a man of many talents: Navy pilot, technology management expert—why not add innkeeper to the list?
His kids began buying him books on the B&B business as Christmas and birthday gifts, and before long, the Moncriefs had traded in the "rat race" (Bill's words) of DC for the serenity of a North Wildwood, NJ, inn. And they've done so with great success; earlier this year, Bill and Nancy were named Innkeepers of the Year by Select Registry Distinguished Inns of North America.
While Bill says running the Candlelight Inn isn't all glamour and glitz—he spends plenty of time unclogging toilets, replacing air conditioners, and servicing hot-water heaters—he also has some remarkable stories from over the last 12 years.
One of his favorites involves a couple who mentioned during check-in that their minister had made the reservation for them. The wife had suffered several consecutive miscarriages, and they'd been going to counseling to try lift the resulting cloud of depression. Bill offered up some extra TLC, and "sure enough," he says, "nine months later, we got a letter with a photo of a baby that had been conceived while they were here."
Back in the late 1960s, long before his career as an innkeeper began, Bill was on a very different path. A science major at TCNJ, he had signed a contract to teach in Hammonton, NJ, after graduation. Then, in January 1968, "my friendly neighborhood draft board told me that I wouldn't be teaching—I would be in the Army," he says."The morning I graduated from college, I enlisted in the Navy, and a few days later, I got my draft notice. I'd beaten it by just three days."
While Bill says he wasn't sure he'd even make it through flight training, "the next thing I knew, I was flying planes for the Navy. I liked it, so I ended up staying for 20 years." In that time, he was deployed a handful of times—to Bermuda, Sicily, Iceland, Scotland, and Latin America. "They were paying me to go see all these places," he says. "It was pretty incredible."
During those 20 years, he also spent time teaching at the U.S. Naval Academy and earned a master's degree in computer science at the Naval Postgraduate School. After Moncrief retired from the Navy in 1988, a contact from his military days called to see if he'd be interested in becoming network director at the Bicentennial Commission in Washington, D.C. And that's how William Moncrief—a teacher-in-training turned naval officer turned technology expert—went to work for former Chief Justice Warren Burger.
"He was a very smart individual and a great listener," Bill recalls of working under Burger. "He was different from any manager I'd ever had. We could be in an hour-and-a-half meeting, and he might say 20 words at the most."
After a year with the commission, Bill went on to work at Georgetown University, an international law firm, and the Center for Science in the Public Interest. Along the way, he and his wife often traveled to California wine country, staying in—you guessed it—bed and breakfasts. After talking to a newly minted pair of innkeepers on one of their trips, owning a B&B started to sound more and more enticing to Bill and Nancy. In 1985, the Moncriefs purchased the Candlelight Inn, and have been living out their dream ever since.
Bill says his workdays couldn't be more different from the ones he spent in the corporate world. "I didn't have too many people calling me to say, 'Thanks, my computer's working well,'" he says. "They talked to me if there was a problem, and they usually didn't talk nicely. Here [at the inn], people really appreciate what you do for them. They say, 'Thank you' all the time."