---
If it were not for the similarities between baking and chemistry – along with a deep passion for mathematics – Jennifer Urban might be making a name for herself as a pastry chef instead of one of the top science students at The College of New Jersey.
A senior Chemistry and Math double major, Urban says she flirted with the idea of attending culinary school until she fell in love with mathematics and chemistry her junior year of high school.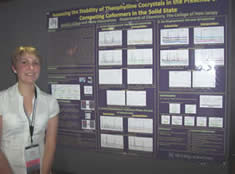 "I enjoyed what I was learning and I also found that baking and chemistry are really one and the same," explained Urban. "Mixing, heating, crystallizing, and cooling to make something completely different than what you started with absolutely fascinates me."
After completing a rigorous first-year courseload, Urban jumped right into research by participating in TCNJ's Mentored Undergraduate Summer Experience (MUSE). An eight-week, full-immersion research program at the College, MUSE enables students to work full-time on research questions while participating in a variety of scholarly and community-building activities.
"Research is an incredibly important learning experience for the student," explained Dr. Janet Morrison, director of MUSE and professor of biology. "In following a project from beginning to end, you are bringing a topic to a level of fruition above and beyond anything you could do in the classroom."
Indeed, the summer experience certainly whet Urban's appetite for research, as she has continued the project ever since summer of 2009. Working under the guidance of chemistry professor Dr. Heba Abourahma, she investigates the solid-state stability of cocrystals. In short, cocrystallization can be used to alter the physical properties of its components, for instance stability or melting point, and is thus of great interest to the pharmaceutical industry.
According to Urban, the most exciting part of her research was attending the annual meeting of the American Crystallographic Association last summer in Chicago. She and another TCNJ student presented their posters and attended talks given by incredible scientists, including several Nobel Prize winners.
"Meeting and talking to scientists from all over, and learning about all the different types of jobs out there for chemists, was really great," said Urban, who also received an award for her presentation.
But it was certainly not the only award Urban has earned for her outstanding performance. Last spring, she was selected as one of only seven college students in the State of New Jersey to receive the esteemed Barry M. Goldwater Scholarship. The purpose of this national-level award is to provide a continuing source of highly qualified scientists, mathematicians, and engineers by awarding scholarships to college students who intend to pursue careers in these fields, awarding a maximum of $7,500 per year.
Urban described the day of the announcement as one marked by repeated visits to the Goldwater website, excitedly refreshing the page and hoping against hope that the incredible amount of work she put into the application would pay off in the end. "After scrolling like a madwoman (the awardees were organized by state), I reached New Jersey. I was reading name after name and actually read past mine before it registered," Urban recalled. "I was so excited, I'm pretty sure I ran straight to Dr. A's office and started talking at a mile a minute about how I'd gotten the scholarship! It was the best feeling of accomplishment."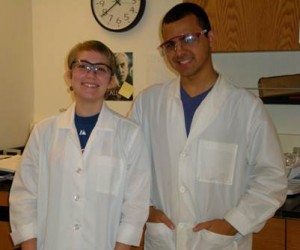 As far as balancing her double major in the sciences, Urban says it all comes down to dedication. "I knew right out of high school that I wanted to double major in chemistry and math, and I stuck with it," explained Urban. "I love both subjects and just would not be happy focusing on one and not the other. And besides, life's boring when your mind isn't being challenged."
Urban adds that she loves the close-knit atmosphere in the School of Science. "Every faculty member is there to help, everywhere you go you see a familiar face, or ten, and the friendships in the department extend beyond class time," she said. "Professors and students gather for lunches and picnics, and fellow science majors form study groups and spend time together whenever they may have even a small amount of spare time. All in all, it's just a wonderful place to be."
Urban will continue her research with Dr. Abourahma throughout her senior year, in addition to working on a new project involving knot theory with mathematics professor Dr. Cynthia Curtis. Upon graduation, she plans to pursue a Ph.D. in Chemistry and conduct research in solid-state chemistry.
– Jessica Corry