---
Emmanuel Martinez Alcaraz has been saving lives since high school. As a certified EMT, he discovered a passion for medicine that has flourished at TCNJ with combined research in chemistry and anthropology. But the Chief of Lions' EMS is not headed to medical school after graduation, instead he will be stopping off in Bolivia before pursuing a M.D./Ph.D. program in anthropology.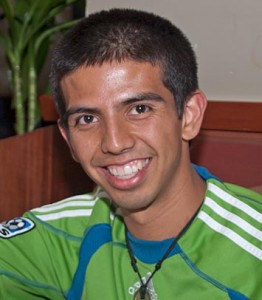 "There are so many doctors in this country, but not enough do the work required to take care of diseases that plague other countries, particularly those in Latin America," said the senior chemistry and cultural anthropology double major. "It takes more than a medical degree to solve the world's problems."
Rather than the linear path to medical school, Martinez seeks a combined degree program "to become trained as a medical scientist, not only as a professional with two hats, but more importantly to meld these two fields for more significant translational research for the world's challenges."
Martinez says he is inspired by the example of Paul Farmer and others who approach public health not only from a medical perspective, but also from a sociological one. In search of this balance, Martinez splits his time between research in the chemistry lab and anthropological fieldwork in the Trenton area.
"I have always been interested in science, down to the very atomic level of how things work, and the more classes I take at TCNJ, the more interesting chemistry becomes," explained Martinez. He adds that his professors and fellow chemistry students are a large part of why he did not switch over to anthropology. "Everyone in chemistry is very self-driven but it is not a competition, we help each other out because everybody has strengths and weaknesses," he said, noting that he served as both a tutor and mentor in the PERSIST Scholars Program.
After a semester of shadowing in the optics lab during his sophomore year, Martinez undertook protein analysis research with chemistry professor Dr. Michelle Bunagan. By way of the relatively new technique of Fluorescence Correlation Spectroscopy (FCS), his work examines protein conformations, with a particular emphasis on the unfolding process of hemoglobin.
"It was a good experience for me because it's not an instrument that was already built, meaning you just put the sample in and click a button," he explained. Instead, he would spend hours trying to calibrate the system and master its intricacies, which in turn lends to his greater understanding of the research as a whole.
Although he has always had an interest in medicine, it was his first anthropology class at TCNJ that pushed him to learn more about disease. Spurred by a newfound interest in epidemiology, Martinez picked up a second major and began research with Dr. Rachel Adler, interviewing Latinos in the Trenton community about access to healthcare.
"The firsthand experience really pushed me forward to wanting to do a combined M.D./Ph.D. rather than just a medical degree," he said. "Others have shaped the medical field in a more comprehensive way and they have done so by combining medicine with the social sciences."
He is not the only physical science major to fall in love with anthropology; he mentions there is an increasing demand for courses in this social science, specifically from pre-medical students. As the study of humans, it is a field that can attract any student, he added.
"Anthropology is a field I apply to my everyday life because it is being able to see problems from a different perspective, it is the field of putting yourself in someone else's shoes and seeing life from their perspective," said Martinez. "It has helped me through everything in my life, whether it is my life as an EMT, or working on an executive board, to being a student and a researcher."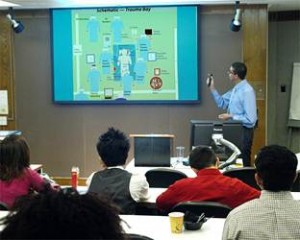 Following his senior year, Martinez will stay an extra semester to study abroad in Bolivia. Not only will he get the chance to take classes with experts in the field – from social activists to community workers – he will also complete a research project related to public health or medical anthropology. In terms of career path, he hopes to work for an organization that integrates the medical field with political and social activism. "Just because people are poor doesn't mean they don't deserve the best healthcare," he added, citing minority healthcare disparities as a strong interest of his.
Between Lions' EMS, the Student Chemist Association, and research in two fields, how does Martinez balance it all?
"I really don't know," he said with a laugh. "The most important thing I've learned is time management and the importance of a planner. At the end of the day, what matters most is being a student first during my time here at TCNJ."
– Jessica Corry