You have probably seen her around the Science Complex – headphones on her ears, running sneakers dangling from her backpack and a big smile on her face. Friends joke that Elizabeth "Biz" Egan lives in the Mathematics Department, and based on the amount of time she spends there, it's not far from the truth.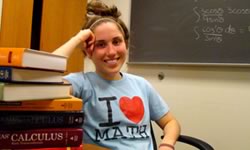 When the junior Mathematics Secondary Education major is not observing in the classroom, she can be found proctoring exams, grading quizzes, tutoring students, chatting with professors, or working in the math office. "Freshman year I was always the kid who was there getting help from others or trying to help myself; sitting in math classes, in office hours with professors, or studying and doing homework," Egan says. "Two years later and now I am the one that is giving the help!"
"Tutoring is the best part for me because not only do I get to tutor math classes I truly enjoy, but I also get to interact with other students and tap into my love of education too," she adds.
"The one-on-one and group tutoring is great practice as a future educator because I get to practice my mathematical presentation skills, learn how to work with students, and am forced to understand material at a deeper level," Egan continued. "Knowing mathematics is completely different than being able to explain mathematics. As a teacher in training I am required to be skilled more conceptually with the latter of the two."
Becoming a teacher had never been a question for Egan. "I think growing up I was one of the only kids around who had a daily countdown until the first day of school rather than a countdown to when summer was going to begin!" she says. "My parents have always stressed the value of education and instilled in me the idea that being a good student was my job, a job I should take pride in." Ever since those days of "playing school" in the basement, she knew the classroom setting was where she belonged. The math part came later.
"My interest in mathematics education was first sparked by two of my greatest life role models in my high school geometry and calculus teachers. However, it was not until after my freshman year at TCNJ that I felt 100% confident that more important than being a teacher, I was meant to be a math teacher," said Egan. "But, ironically, it was my freshman year struggle that led to my eventual love and respect of the subject."
Sure enough, mathematics here at the College is no joke.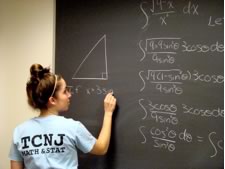 "I began to look at mathematics as a sport that requires daily rigorous practice, persistence, a fearless attitude, and most importantly teamwork, all within the field of the classroom. Everyone wants to win at math," Egan explains. "After freshman year I knew I wanted to be the coach that would lead everyone towards their own success."
Unlike some School of Science students who spend their time researching in a lab, Egan is out in the field flexing her teaching wings. Currently she is at Dunn Middle School in Trenton, where she says the students' energy and enthusiasm matches her own. With the added challenge of keeping the children motivated and interested, Egan has honed the skill of being both an educator and an entertainer.
"As math teachers we're teaching math skills, but we're also teaching students critical life skills as well; we analyze, solve, compare, explain, justify, connect, and prove. The two go hand in hand!"
One of the ways she approaches this understanding is by looking at mathematics as a 'light bulb subject.'
"I know each of my students has a switch inside of them that is waiting to be turned on, but the challenge is that not every student has the same switch," she explained. "As math teachers we have to grab that challenge by the horns, be creative, and prepared to represent concepts with variety to find it. Eventually that light bulb is going to go on."
But teaching mathematics is more deeply rooted than conveying procedures and example problems for Egan, it is a well-rounded mathematical education.
"I want to stress to my own future students something that I have learned throughout my years here at TCNJ surrounded by my peers and professors, that math is a way of life," Egan said. "You have to be a problem solver, have to make connections, have to think, conclude, question, and approach life with the attitude that you will conquer it. I'd argue that our students are the best on campus, we understand this and that's what makes our department such a wonderful place to be."
College is the time to discover where your future is headed. Some students change career paths once, twice or more. But Egan seems to have found her calling.
"I really am thankful that I have found two things in life I feel equally as passionate about in mathematics and education," she notes. "There's nothing better than being able devote my time, energy, and commitment to a career that incorporates both."
Back at TCNJ, Egan approaches each day as a learning opportunity and is fully dedicated to her own studies. She feels these qualities are instilled in the students here under the guidance of the Math and Statisics professors.
"TCNJ Math & Stat is a team sport, made up of students and faculty that are committed to making our department the best it can be. Our captains are our professors who are passionate about what they do both within their own research and inside the classroom as our teachers."
When not in class, Egan devotes her time to her position as co-vice president of the Math and Statistics Club, as well as serving on both the School of Science and Department of Mathematics & Statistics student advisory boards. In both roles, she says her goal is to make the department feel like a community.
"Walk into any class and you can tell the room is full of friends who support and respect each other and our academic growth both inside and out of the classroom," she explained. "It's a rarity that you are given the opportunity to come to a building every day and work in a pleasant environment with community who works together and learns from each other through a common love."
"That is our department and I couldn't be prouder to be a part of it."
– Jessica Corry