While most students simply roll out of bed and trudge across campus to get to Dr. David McGee's lab, Ulrike Labahn and Daniel Schwandt traveled thousands of miles. Joining the Physics Department from Beuth University in Berlin, these two exchange students offer physics majors the chance to engage in a key element of scientific research: international collaboration.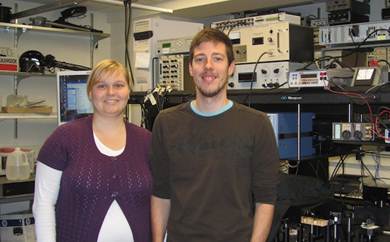 "Perhaps one of the best advantages of this program is having U.S. physics students compare their educational experiences with similar German students," explained Dr. McGee. "Having a reference point like that can really give a student perspective on courses they should take and research experiences they should pursue. Culturally, it is likewise a fantastic experience."
Dr. McGee has supervised undergraduate research projects in experimental physics and chemistry for the past 15 years. Throughout that time, he concluded the lack of international participants was the missing element in an otherwise realistic experience. So, he approached the German Academic Exchange Service (DAAD) with the idea of hosting German undergraduate science students in his lab. With support from DAAD and a grant from the National Science Foundation (NSF), Dr. McGee welcomed Ulrike and Daniel this fall as the second pair of students joining his lab for a 9-12 month research experience.
Adapting to life at a suburban college was a bit of a culture shock for the pair. "Life is different in Ewing," noted Daniel. "We like it here," added Ulrike, describing the campus as very much a "community." The purpose of their year-long study at TCNJ is to complete their senior thesis, accomplished in part by their participation in Dr. McGee's laser and optics lab. "They are not taking courses, so they are in the lab most of the time," said Dr. McGee. "This means that TCNJ students always have someone to answer their questions when I'm not available." An added benefit is that Daniel and Ulrike are not lab technicians or PhD students, but peers from whom undergraduates can learn a great deal.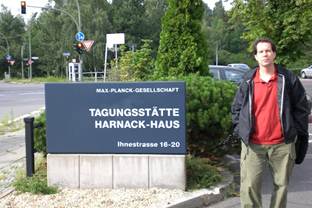 Over the past decade, Dr. McGee has wanted to develop an international course on the history of atomic physics and chemistry, which had its roots in Berlin, Munich, and Gottingen. Now he has gotten his chance to do so. "I've returned to planning that course, and the best part is that I'll incorporate the visiting students for their expertise in German culture, language, and of course, physics," he said.
Thanks to the extensive support infrastructure at TCNJ from the Center for Global Engagement, Dr. McGee says he expects to continue this relationship with Beuth University and is investigating ways for TCNJ students to do a semester at Beuth in Berlin.
In the meantime, Ulrike and Daniel are wrapping up their year abroad at the College. "They are both great to have in the lab and to socialize with," said Dr. McGee. The feeling is mutual, says Ulrike. "What is really great is Dr. McGee takes care of all his students," added Daniel. "If you have a problem and talk with him about it, he will get you the answer."